The Republic of Ireland take on Italy in tomorrow's international friendly (kick-off 5.30pm Irish time) and it will mark a significant step in the career of Rianna Jarrett.
The striker is back in Colin Bell's squad for the clash and is looking to get her Ireland career back on track after injuries caused repeated disruption to her involvement in the senior set-up.
Despite her young age, the 24-year-old, from Wexford Town, has been extremely unlucky with injuries and is keen to put the stop-start nature of her playing days behind her and become a regular fixture back in the group.
"It's been about six months now since I was last in the squad, that was for the Poland game, so I was delighted when I got the call-up for this camp. With it possibly being the last game before the qualifiers staring in September, I'm especially glad to be back in," said Jarrett.
Explaining the nature of her injuries, the player said she "did a lot of hard work" in order to put herself back in Bell's sights.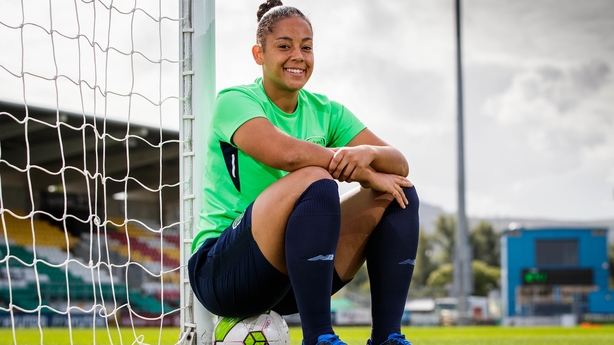 Jarrett said: "I have been unfortunate enough, I'm 24 and I've had three ACL injuries. My first one happened when I was 18. I did my right knee twice and then my left one. So that gave me about a three-year gap.
"But I've been back playing now since June 2017 and it's going good so far. The knees are holding up, but then I fractured my fifth metatarsal in October in the Poland camp. But I've been working hard for the last number of months and I've been back since the start of the season and am doing well with Wexford Youths."
Her absences have given Jarrett an added aspect to her game, as she used her time off to increase her involvement in coaching and is delighted to be back working with the Irish back-room team.
"There's no stone unturned with Colin. As a player, I feel anyone is only going to improve under him"
She said: "Obviously, I've spent a lot of time injured over the last few years, so I did a lot of coaching during that time, with Under-14s and Under 16s, while I couldn't actually play myself. Now that I am back playing, I've taken a step away from the coaching to concentrate on training and playing myself.
"It's a different approach than any other manager I've played with. Colin (Bell) has vast experience in the Women's game, and he knows a lot about every opposition team we come up against. Also, tactically it's great working with him. There's no stone unturned with Colin. As a player, I feel anyone is only going to improve under him."
Being involved in such an important camp and game for the squad is exactly where Jarrett wants to be.
She said: "I'm looking forward to the game. It's another different sort of opposition for us, they are a top seed and are preparing for the World Cup, so it's not going to be easy. They are going to be physical and have good players. But Colin has been speaking all week about the progression we are making from camp to camp, so as a squad we're looking to build further on that and repeat what was positive, but also work on what didn't go so well. And that's what this week, and this game, is all about."
And the striker is determined to show that she could have a strong role to play in the squad in future campaigns.
"I do feel that as an attacking option, I bring something different to the 11 from the likes of Leanne (Kiernan) and Amber (Barrett) who also play up front. I like to hold up the ball, bring the ball to feet, bring other players into the game, whereas the two girls would be quicker than me.
"I'm good at finding space and linking in with the likes of Denise (O'Sullivan) and Katie (McCabe).
"A squad does need different options and I'm glad that Colin (Bell) sees that in me. I know I have a lot of work to do myself to get more minutes and to be able to maintain that on the pitch, but I'm working on that. And building towards the camp in August/September is what my eye is on."
Republic of Ireland WNT squad v Italy
Goalkeepers: Marie Hourihan (Brighton & Hove Albion), Grace Maloney (Reading)
Defenders: Harriet Scott (Birmingham City), Louise Quinn (Arsenal), Niamh Fahey (Liverpool), Diane Caldwell (SC Sand), Claire O'Riordan (MSV Duisburg), Megan Campbell (Manchester City), Zara Foley (Cork City), Eabha O'Mahoney (Cork City), Megan Connolly (Brighton & Hove Albion)
Midfielders: Tyler Toland (Kildrum Tigers), Denise O'Sullivan (North Carolina Courage), Jessica Ziu (Shelbourne), Niamh Farrelly (Peamount United)
Forwards: Amber Barrett (Peamount Uinted), Leanne Kiernan (West Ham United), Emily Whelan (Shelbourne), Katie McCabe (Arsenal), Rianna Jarrett (Wexford Youths)