Speaking after finishing as runner-up in the first Formula One Grand Prix of 2019 in Australia, Lewis Hamilton said his race was 'done and dusted' after failing to lead after the first corner.
The SSE Airtricity League is not such a scramble out of the blocks, but a good start is important.
Most managers will have repeated the importance of starting the season well in pre-season interviews and talks with players. Those managers who haven't got the results they wanted have probably now shifted lanes to stress that it is too early to look at league tables.
One such manager may be John Caulfield.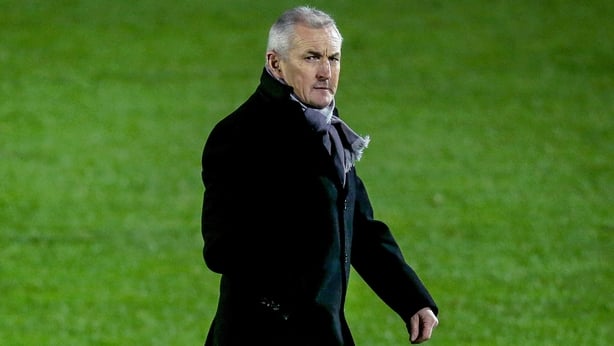 His Cork City team sit in the bottom half of the table with as many losses as wins and as many goals conceded as scored. It is the fewest points and goals scored totals they have had after seven games under Caulfield. And the most goals conceded.
It is particularly concerning for Cork, as they have specialised in fast starts as the basis of their success under their former striker.
In games played from February to July between seasons 2014 to 2018, Cork have actually taken more points than Dundalk (261 vs 260) despite playing one fewer game. Their difficulty in keeping pace with Dundalk has been towards the end of the season's journey.
What is also of concern is that Dundalk, though not considered to be at their brilliant best yet this season, have the same number of points after seven games than they had last season while Shamrock Rovers have six more than they did after nine played in 2018.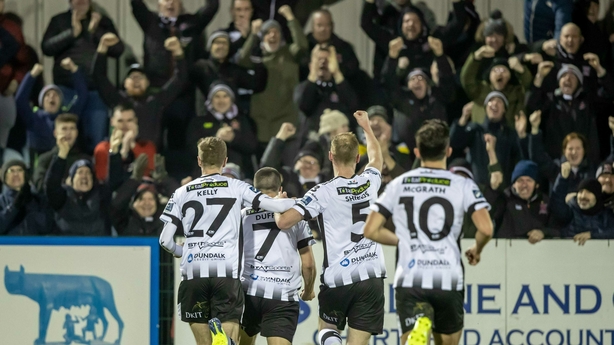 If Dundalk were to match their blistering pace from last year and equal their record 87-point total, then the Rebels can only afford to drop nine points in their remaining 29 games. They have already dropped 11. Critical will be taking points off their title rivals if there are to turn the corner and claw their way back into another title drive.
Doing so against Dundalk will be tough. Having lost to them last Friday night, it is now five wins in a row for the Lilywhites in that fixture, the longest winning run for either team since the storied rivalry began in 2014.
There is an opportunity this Friday against Shamrock Rovers but the track record there is also not strong. Cork have just one win and two goals scored in the last six against Stephen Bradley's emerging team.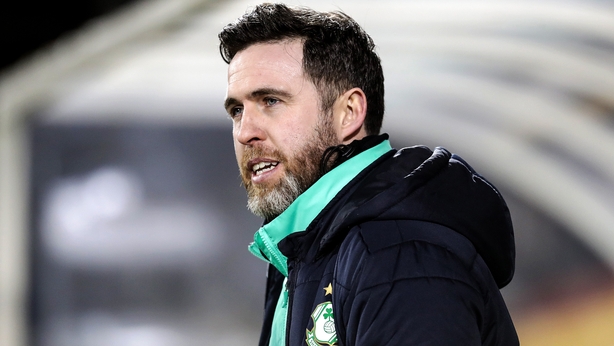 Adding to Caulfield's problems is that Cork appear to have broken down at both ends of the pitch.
Their goalscoring, at 1.14 per game, is over half a goal less than their previous worst with Caulfield at the wheel. They have failed to score four times which is equal to their 2014 and 2017 season totals already.
Five of their eight goals have come from set-pieces; the other three were wonder strikes from the boot of Gearoid Morrissey. This shows that Cork have been unable to open teams up from play. The amount of possession they are having is the same at an average of just over 50% but they are taking two fewer shots per game compared to 2018.
Departed creative trio Kieran Sadlier, Barry McNamee and Jimmy Keohane had 14 assists from open play last season and to date their less heralded replacements are not filling the void.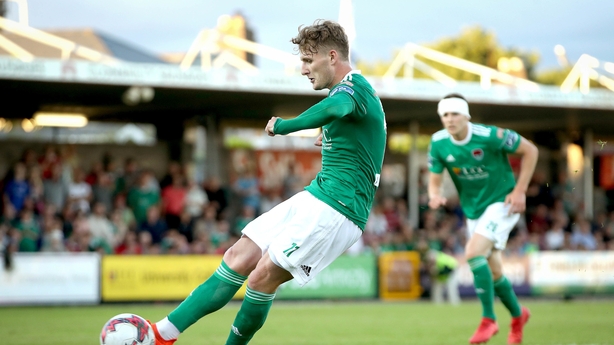 Defensively, having conceded 1.14 per game they are almost half a goal worse of also. It's resulted in just two clean sheets. This is only superior to the bottom three teams, Sligo Rovers, UCD and Finn Harps.
They had conceded the league's fewest goals from crosses in 2018 at six, but already four have gone in following deliveries from wide. That inability to stop crosses and prevent players from getting space in the box proved costly against Dundalk in Michael Duffy's game winner.
"In the last 24 years, no team has lost three of their first seven games and gone on to win the league"
The history of recovering from such a false start is not encouraging. In the last 24 years, no team has lost three of their first seven games and gone on to win the league. Only three teams have even lost two of seven.
In 2010, Shamrock Rovers did register just two wins for nine points at this stage but they are the only team with fewer than 10 points from seven to become a league-winner. They are also the only champions in 24 years to have fewer than Cork's current goal total of eight after seven games.
Keeping pace with that team may not be enough. No team in the summer era has won the league title finishing with a lower point-per-game total than that Shamrock Rovers side. They were also missing key player Gary Twigg through injury during the spluttering early run. Cork do not have a player of that calibre waiting to return.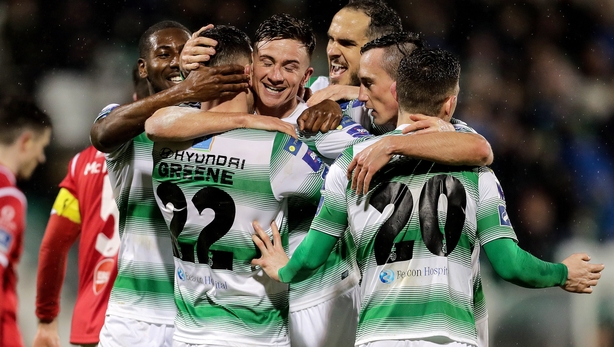 The current model of that Shamrock Rovers team, who they meet head-on this Friday, are moving in the opposite direction.
Their 22 points from nine games is three more than their previous best nine-game start in the summer era. It has come with seven wins having never had more than five. Defensively is where they are ahead most with the three goals conceded as few as they have had.
Since last June, the Hoops have allowed just eight goals – five fewer than next best Dundalk and less than a third of Cork's 25. Only once, on the final day of last season at Sligo Rovers, has their defence been beaten more than once in a game.
But how much can be taken from the small number of games played to date?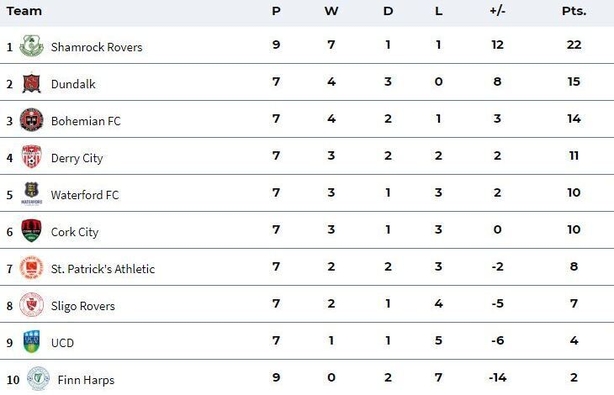 League position after 10-12 games starts becoming an accurate predictor of where a team will end up. Over the past six seasons, 30% of teams finished the season in the exact position they were after ten games. And 67% of teams finished at or within one position of where they stood after 12 games.
So with seven games played for most this season, we are soon approaching the stage where league position can be taken seriously.
If history is anything to go by, catching first place may already be beyond Cork City.
If they are even to overtake Shamrock Rovers as the leading challenger to Dundalk's title, they need acceleration and they need it soon. The clash on Friday may be one of the most significant challenges John Caulfield has faced.
Watch live coverage of Cork City v Shamrock Rovers at Turner's Cross from 7.30pm (kick-off 7.45pm) on RTÉ2 and RTÉ Player