John Delaney has said that his new role in the FAI has come about as a result of his increased workload within the association, where he was attempting to carry out "three jobs".
And the former chief executive, who has now moved to a newly created role of executive vice president, admits that he is looking forward to his new role, which, he believes will work "for the good of Irish football" in future years.
The decision to step aside comes amid controversy around a €100,000 bridging loan which John Delaney provided to the association in 2017 which was repaid to Mr Delaney within a matter of weeks.
In a statement sent immediately after the 1-0 Euro 2020 Qualifier win over Gibraltar, the FAI said the decision to split the roles was taken following a report into governance at the association undertaken by Jonathan Hall which recommended that oversight functions should be split.
Sport Ireland, who provide the FAI with almost €3million in state funding each year, are due before the Oireachtas Transport, Tourism and Sport Committee this afternoon, where they will state the FAI "did not sufficiently explain" the circumstances of the €100,000 loan.
FIVE OIREACHTAS COMMITTEE QUESTIONS FOR JOHN TREACY
However Delaney said his commitments to grassroots football, leading an association of 200 staff, while also fulfilling UEFA duties had become too much to handle, and resulted in the association commissioning an independent report to "split the duties".
The Waterford native, who grew up in Tipperary, was back in his hometown at the weekend to present the Peter O'Reilly Cup to 2019 champions, Cahir Park, and spoke to Tipp FM's Extra Time Junior Football podcast, providing a "flavour" of his new role within the association.
"I've been trying to attend grassroots football functions and games every weekend and I have given my life to it, I love it, I get great energy out of it, " said Delaney.
"I love helping the clubs, I love meeting the volunteers, I love grassroots people. And then during the week, there is an organisation with a turnover of €50 million and 200 staff, so it is a huge organisation now.
"And then there is a huge international dimension, I'm on the board of UEFA.
"But apart from that, there is a feasibility study to do a World Cup bid with England, Scotland, Wales and Northern Ireland, there are meetings in England next week on that, and that is making significant progress."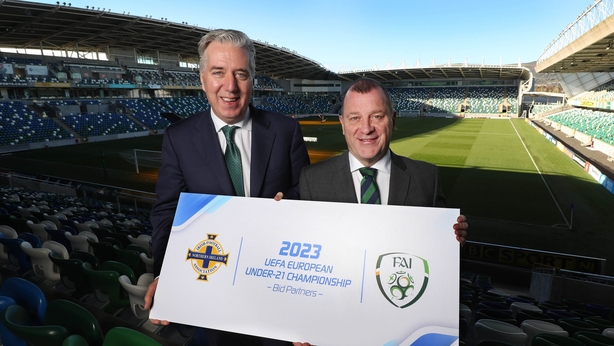 Delaney, who is set to appear in front of an Oireachtas committee next week, added that he will spend the next few years working on such projects, with the aim of increasing revenue for the association, through the hosting of international tournaments, centralised television deals, while also tapping into the Irish diaspora around the world. 
"There's an Under-21 bid for the Under-21Euros with Northern Ireland in 2023, and it is amazing that that round ball, the football can unite two organisations in that regard," said Delaney.
"There are centralised television deals to be done and we are starting that process of negotiating that with UEFA, which is a lot of money for the FAI, which means that it is a lot of money for grassroots football and other projects, and I could go on...
"There is the generation of revenue in other parts of the world in America and Australia, with the Irish diaspora, which we have never really looked at yet.
"They are just a snapshot of the projects that I am now turning my attention to, and it really was impossible to do the three jobs I just laid out to you for one person.
"And that is why the association commissioned an independent report, just to split the duties.
"We had the European draw in December, which brought huge business into Ireland so I'm giving you a flavour of what is ahead for me and I know there is a lot that we can deliver over the next number of years, internationally, for the good of Irish football from a funding perspective and for hosting major tournaments."