Former Republic of Ireland striker Kevin Doyle believes a fan protest during Ireland's 1-0 Euro 2020 qualifier win over Georgia was "harmless" and rejected suggestions it could have affected players.
Thirty-three minutes into the match at the Aviva Stadium, fans threw tennis balls onto the pitch in protest at recent developments at the FAI.
Supporters were making their feelings known after last week's news that John Delaney was stepping down as chief executive for a newly created 'executive vice-president' position in the wake of revelations around a bridging loan he paid to the FAI.
Ireland scored the game's only goal - a Conor Hourihane free-kick - when play restarted and Doyle believes that the incident added to the atmosphere around the stadium.
"The whole tennis ball thing or whatever, I thought that added to the whole thing," he said on 2fm's Game On.
"I thought it was harmless, tennis balls on the pitch. I've played for teams where there was proper protests. There was no one ripping seats out of the stands or whatever. They got a few tennis balls on the pitch.
"It doesn't affect the players, they know the protest wasn't against them. They're going out there, they know the reasons for it. I actually thought it livened up the atmosphere in the stadium.
"As protests go, they got their point across, it was over in a minute or two and I wouldn't be worrying too much about it.
"We've seen protests, I've played in games where there were pitch invasions. I got relegated twice with Wolves and they were proper protests. This was tame enough. It was actually half funny and half serious and I think the point was made."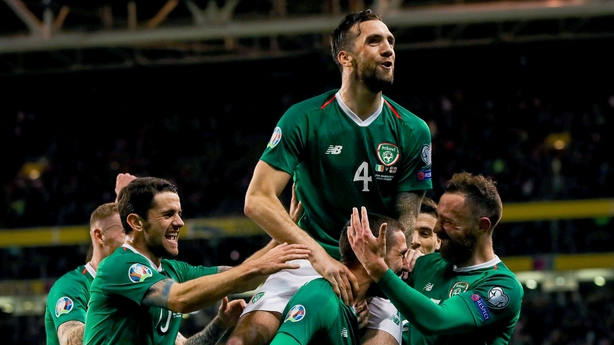 Doyle was pleased with the performance from the Ireland team and he thought there was a newfound sense of confidence among the squad.
"They always show team spirit and they fight, but I just thought last night they looked together," he said.
"They looked to be up and closing teams but doing it well, playing with a purpose and not people going off on tangents and one closing and one not.
"It looked like they really were all on the same page.
"Speaking to people who watch Ireland, I would hear it all the time, 'Jesus Ireland were terrible last night' for the last couple of years.
"But today for the first time [it's been] positive comments. Everyone I bumped into, it was 'great game' and 'Ireland were good to watch'.
"Everyone seems so positive and so happy with the team and the way they played and I was the same. I thought everyone played well. Looking at the players they looked like they enjoyed it.
"David McGoldrick was fantastic but there were a few players that could have got [the man of the match award]."