It was a mad minute really.
After David McGoldrick got chopped down 25 yards from goal and Giorgi Loria assembled his wall, there was a tiny window of serenity before the tennis balls came. And they came from every side of the Aviva Stadium - dots of luminous green puncturing the black Dublin sky before nestling on the turf.
This was in the 33rd minute, the timing presumably choreographed in reference to former FAI CEO John Delaney's infamous 'Team 33' suggestion for the 2010 World Cup, as Irish fans let their deep unhappiness at the organisation and Delaney himself be known.
Thirty seconds later, the ball was in the net. Conor Hourihane bent a wicked free-kick home and Glenn Whelan expertly caught a rogue ball mid-celebration before tossing it into the stands.
Welcome back Mick.
The off-field circus has made this a more trying week than he would have anticipated but McCarthy has played it well. He rightly stressed his only focus is on getting results on the field of play and it's been so far, so good on that front.
The trip to Gibraltar may not have been negotiated with much conviction, but Tuesday night's victory and performance against Vladimír Weiss's tidy Georgians was a desperately needed shot in arm and a reminder of what McCarthy brings to the party. He's here for a good time, not a long time, and that might just suit everyone in this eight-game qualification sprint.
This is a manager who has twice won the Championship, led Ireland to a World Cup and eked out a long career squeezing a lot out of clubs with limited resources. Mick McCarthy's managerial style is not without its flaws, but he knows how to galvanise a bunch of players.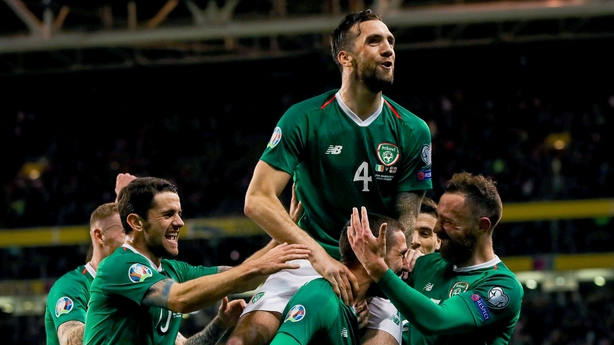 Momentum is everything in this five-team group and now we have some.
Let's not get too carried away. Georgia were missing their excellent teenage playmaker Giorgi Chakvetadze - who has attracted the interests of Spurs and Barcelona - and they will be more formidable on their own patch when Ireland make the trek there in October.
Georgia could have nicked a draw too and will point to Valeriane Gvilia's golden chance on the stroke of half-time as well as Jaba Kankava's late rasper that kissed the outside of Darren Randolph's post.
The real tests are yet to come for McCarthy and Co. Still, it would be remiss not to acknowledge the feelgood vibes in the ground last night. It felt like there was a mass sigh of relief when Ireland stormed out of the traps in the first 15 minutes, every man in green playing quick progressive football and hounding the visitors into submission.
As Hourihane told RTÉ Sport afterwards, "there was a little bit of freedom".
For the last two years Ireland have played like a side crippled by the awareness of their own limitations. McCarthy has simply flicked a switch and decided this team will now play to their strengths. How far that takes them time will tell, but at least Ireland look like they have a bit of conviction again.
There was a plan too. "We watched clips of how Switzerland played against them and pressed them high," Jeff Hendrick revealed. "We knew that's what we needed to do."
And they did it.
Set-pieces were varied and looked rehearsed. Ireland players moved around, exchanged positions, asked questions of their opponents by drifting into areas their markers didn't want to follow them to.
It wasn't revolutionary stuff; just a bit braver, a bit more daring.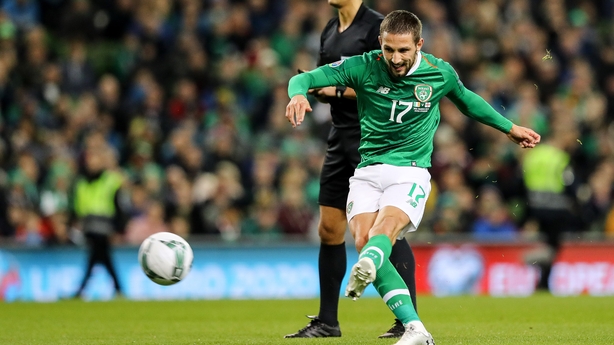 Don't underestimate the positive impact Terry Connor has had either. McCarthy's long-serving assistant is well liked and widely respected. He got to work immediately with the Irish midfield and attack to try and address a chronic lack of creativity. Robbie Keane doubtless had some input too.
The movement was much better, Hourihane and Hendrick joining in with attacks at every opportunity while the full-backs Seamus Coleman and Enda Stevens got license to steam up the flanks on the overlap.
"That was a tough game for us," Georgia boss Vladimir Weiss said. "Ireland started very well... with the highest tempo and the highest level. It was problem for us in the first 20 minutes in the game, this tempo."
Tempo.
The last time these sides met Georgia had 79% possession. Ireland utterly ceded possession of the ball to their opponents. That's hard to watch and it must be hard to play in too.
Ireland will face sides loaded with so much quality that the focus will have to be on nullifying the opposing threat. They'll also take on teams with no more ability than they have. They should act accordingly.
Last night they did that. It wasn't perfect, but it was positive, the excellent showing of Glenn Whelan at the base of midfield in tune with a more cohesive, organised showing overall.
Whelan's unexpected return to the fold made sense when you watched him stationed behind two men ordered to explore the opposing half. Unfairly scapegoated in the past, the Dubliner is a master at reading the game and protecting his back line.
Ireland have been so negative in recent years that he's often found himself as one of three deep-lying midfielders, thus rendered - if not redundant - then far less effective.
His value was clearer last night.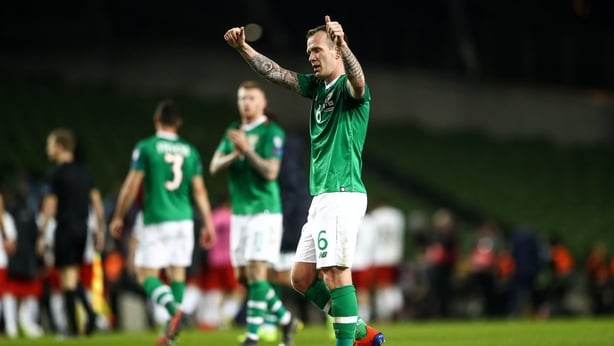 "Age is just a number to Glenn," cooed Hourihane. "He keeps going and going and going. He's a fantastic role model, been around the mill many times. He's top class."
Hendrick kept the theme going, adding: "It's brilliant to have Glenn here, just in training, the high standards he has. He's a great lad, talks to everyone. He sits there, keeps the ball moving and he calms us down at times."
It was a redemptive night for the 35-year-old, who afterwards said: "I know where I stand. I know I'm getting on a little bit. If I come and do my part, I'm more than happy."
You feel he'll have a big part to play yet.
Ireland take a breather now until June when they head for Telia Parken in Copenhagen before hosting Gibraltar. After that we'll already be halfway through qualification with the biggest hurdles ahead of us.
"In life you get some opportunities," Hourihane told Tony O'Donoghue when reflecting on his two Ireland starts in three days.
With the slate wiped clean and the mood in the camp buoyed, opportunity abounds for McCarthy's work in progress.