Mick McCarthy's last reign as Ireland manager came to an end shortly after two disappointing defeats to Russia and Switzerland in September and October 2002 respectively.
The following summer Gibraltar were in Guernsey to compete at the biennial Island Games – a tournament for non-sovereign territories of European nations.
Gibraltar had to settle for second place in their four-team group, despite a remarkable 19-0 victory over Sark.
The Iberian side went down 2-1 to the Isle of Wight but edged Greenland 2-1 with all three teams finishing on six points.
Gibraltar would miss out on top spot by virtue of the Isle of Wight sticking 20 (TWENTY!) past the Channel Island side Sark, who somehow shipped 55 goals in three games. Questions must be asked of Greenland who could only manage 16 in their win.
Gibraltar would rally with a 7-1 thrashing of the always unpredictable Orkneys, but missed out on a place in the semi-finals, going down 2-0 against Ynys Mon - a team representing the Welsh isle of Anglesey, home of the Holyhead port - in the fifth-place match.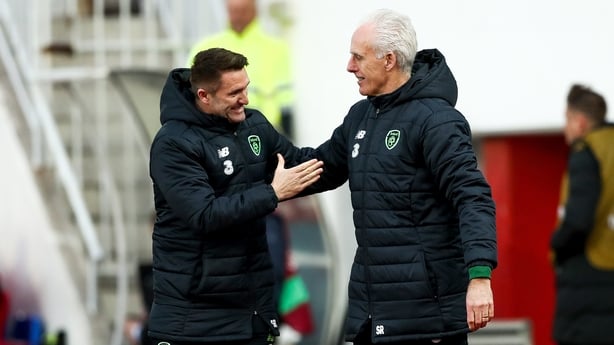 Fast forward 11 years and Gibraltar were mixing in much more esteemed company, drawn alongside Ireland, Germany and Poland in the Euro 2016 qualifiers.
But while things appeared very professional off the pitch, gaining UEFA membership, the team itself were a bit of a laughing stock, going down 11-0 to Ireland on aggregate, while Germany and Poland also punished a team that was way out of their depth.
On to Georgia and McCarthy has just experienced a week-long crash course in 2019-style international football.
In the intervening years, Gibraltar gained full membership to FIFA, will compete in the qualifiers for the 2022 World Cup, and more importantly, have taken their football a lot more seriously with the appointment of Julio Cesar Ribas as head coach.
The UEFA Nations League was created for such teams and as a result gave sides like Gibraltar a chance to compete in a competition for the first time.
And they made the most of it, beating Armenia and Liechtenstein in their group.
Which brings us to Saturday's Euro 2020 qualifier, and while Ireland were essentially breaking in a new team and a new manager's tactics, Gibraltar came into the game, knowing their role and quietly confident of causing an upset.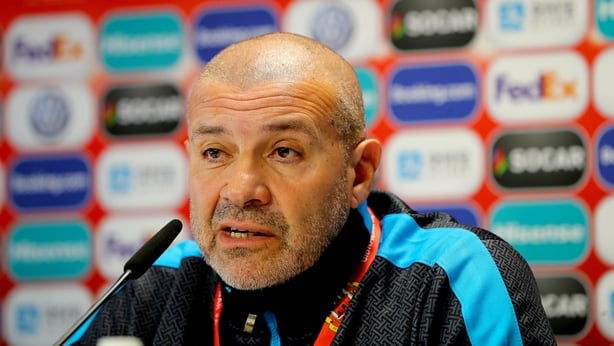 It didn't come, of course, but they gave Ireland one major fright in the process, creating chances, retaining possession, sitting back and making it hard to penetrate when required, while playing the conditions and local knowledge to perfection.
A remarkable journey for players like Roy Chipolina and Lee Casciaro who both played in that Island Games tournament back in 2003.
"This was set up for an upset. Playing on plastic, blowing a gale, against a team who have been playing well together and have some decent players," said McCarthy after the game.
And there is every chance that the shock would actually have materialised had inspirational captain Roy Chipolina's powerful header handed the home side the lead.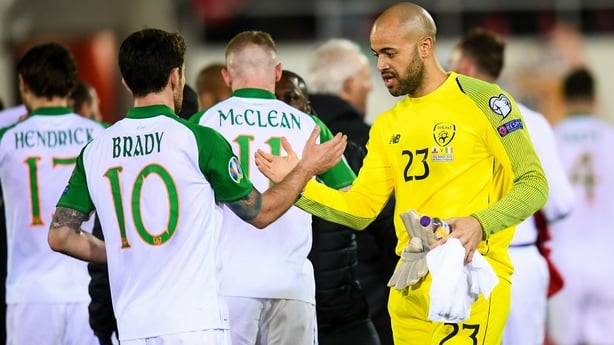 Such is the nature of these games, that fortune often favours the favourites and needless to say, Darren Randolph's world-class save was followed up moments later by Ireland's goal.
McCarthy is a long time out of international management, and while he spoke recently suggesting that there were no real easy matches back at the turn of the millennium, there is no doubt that the gap is continually closing between the top sides, those loitering about the middle of the rankings and the supposed minnows.
The volume and quality of players still exist in accordance with the rankings, however, thanks to tactic templates devised by managers such as Jose Mourinho and, to his credit, Martin O'Neill, lesser teams on paper have worked out how to get results.
It's not always pretty, but it remains a results business. The four points that Ireland took off World Cup winners Germany leading to qualification to the big summer showdown is a prime example.
As a result, this offers associations more revenue and national spotlight to develop their game, bring more players through and progress to compete at a higher lever – in theory at least.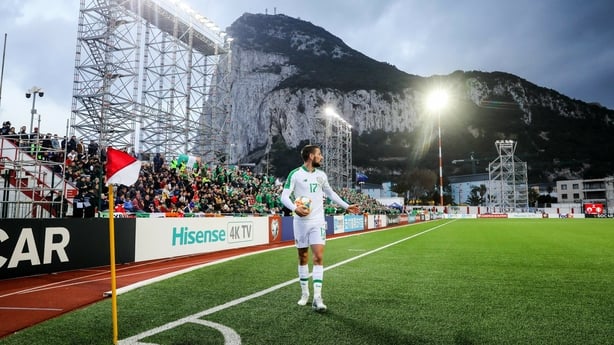 So back to the game at the Victoria Stadium, and while all eyes were on McCarthy's charges to see how they would fare in their opening game, all ears around the media centre were alert in rumour-radar mode, as many mouths whispered in hushed corners about things happening off the pitch.
As a result, the match and fortuitous result were overshadowed with initial rumours and then confirmation that FAI chief John Delaney was set to step aside – or sideways perhaps.
The usual press room etiquette went out the window as phone calls were being made and received, while the Gibraltar coach Ribas was continuously interrupted by jostling in and out of the room.
A unique occasion, no doubt, but when off-field issues are taking over from matters on the pitch, the football family and those charged with guarding the interests of all who play and are involved in the beautiful game need to sort out the issues promptly.
In the modern world of sports administration and accountability, the old ways are just not acceptable any more.
It's a story that is set to run and run, yet needs resolution as soon as possible.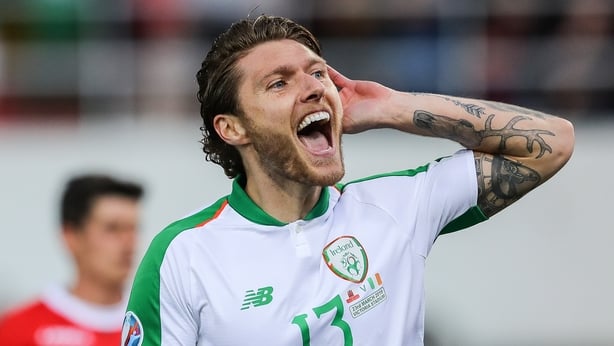 Back to the football and while McCarthy and Ireland leave with three points – or "that bulge in my pocket", as the manager joked to locals who were giving him stick throughout the game – the match and performance offered a steep learning curve for the new man in charge.
Anyone who set foot inside that stadium on Saturday will testify that the swirling wind was certainly something that most players have never experienced, making it nigh on impossible to play good football, so the overall performance will probably get a free pass regarding real scrutiny on this occasion.
Yet team selection in such howling conditions has to be questioned to a certain extent, while some of the decisions of those playing also have to be appraised.
Attempting 60-yard crossfield balls in such conditions or just getting too panicked with the ball at feet showed up several players, which is why ball-players like David McGoldrick, Seamus Coleman, Enda Stevens and Conor Hourihane stood out as positives from the game.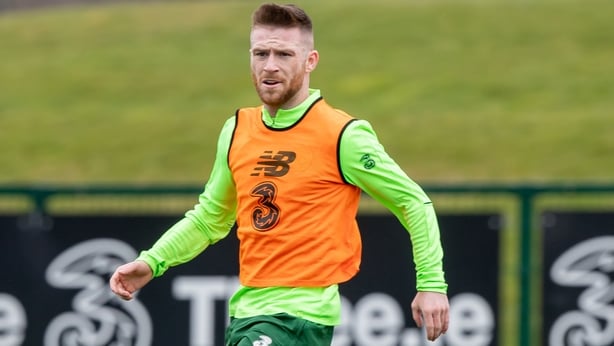 Matt Doherty was also one of the players bringing an element of calmness to proceedings, notably in the first half, yet the tactics of playing him on the right in front of the captain did not go as planned and the Wolves man was subbed off shortly after half-time.
Players like Alan Judge and Jack Byrne, you might imagine, would have thrived in the testing conditions, keeping the ball below the wind with quick, effective short passing.
But again in defence of the manager, it was his first time back in charge and probably felt obliged to start with some of the older and more experienced heads at international level, instead of opting for some of the newer players in the senior squad.
On to Georgia and McCarthy has just experienced a week-long crash course in 2019-style international football.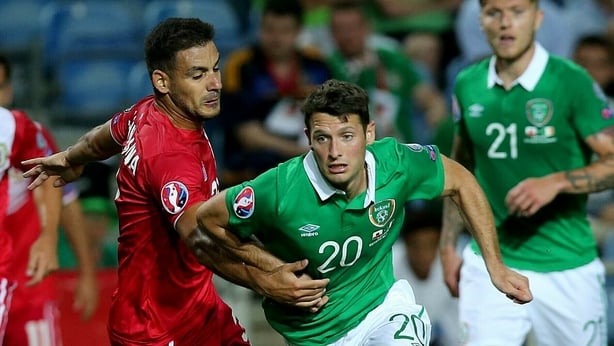 McCarthy now has to build a team around his way of thinking and playing, to win at this level, and will at least have been pleased with Jeff Hendrick getting on the scoresheet following the training drills aimed at creating more chances.
The safe port of the Aviva Stadium will offer more familiar surroundings for Mick and his new team.
However, if the trip to the Rock has taught the new manager anything, it is that there are much tougher tasks and tests ahead, with daunting away trips to Copenhagen and Geneva, not to mention a return to the old haunt of Tbilisi.