Even though he spoke about possibly building a team around Declan Rice, Republic of manager Mick McCarthy was ultimately not surprised that the West Ham player opted to pursue an international career with England.
It's now two weeks since Rice informed the world of his decision, and so McCarthy can now properly focus on the upcoming Euro 2020 qualifiers which begin with a game away to Gibraltar on 23 March
At the launch of the FAI's new premium ticket scheme, the Irish boss told RTÉ Sport that he had believed a couple of months that Rice would not be committing to the Irish cause.
"I didn't think for one minute he was going to join us," he said.
"I was hopeful. Was I optimistic? No.
"He had played three games for Ireland. If he wanted to stay, all he had to say was 'yes it's no problem'. The longer it went on I was confident in my own head that he wasn't coming.
"Now, I don't have to talk about him anymore. Good luck to him, he's got his own career to look after now and I've got mine."
McCarthy revealed that Rice rang him to make him aware of his decision before he released a statement confirming that he would be seeking the transfer of his international registration.
However while the Irish boss was grateful to finally get a decision from the West Ham midfielder he admits that it was a short conversation.
"Yes. That's what he said to me. 'Mick, it was an honour' and I said 'hold on, I don't want to hear that, if you're not playing for us then crack on, good luck'.
"That's what I said and I thought I was a little bit curt at the time, so I sent him a nice text to wish him good luck.
"I've known for two months. I told him 'Declan, I've known for two months you wouldn't be playing for us, I just wanted you to confirm it.'
"When he did, that's it. Done."
McCarthy has since turned his focus to recruiting players to the Irish cause with varying degrees of success.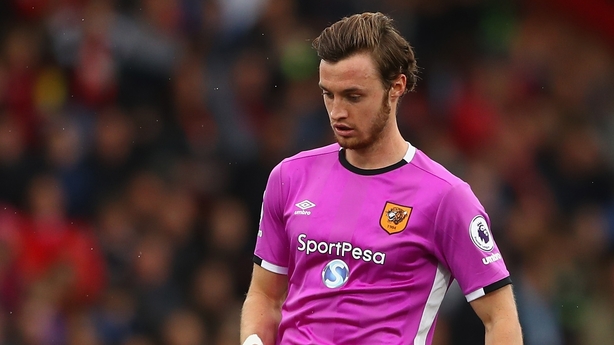 While Ipswich's Will Keane is eager to play for the country of his father's birth, McCarthy is less sure on Leeds striker Patrick Bamford and Southampton's Nathan Redmond. 
McCarthy revealed that while he has spoken with Redmond's agent, he has yet to hold talks with the player hmself.
"I am [interested]," he said. "I've spoken to his agent, I've tried to met up with him and it's not been successful yet. I think he has already played with England, hasn't he?
"I think he's been playing well, he's been having a good season so maybe he is still harbouring hopes he is going to be picked for them."
It's a similar situation with Bamford, the Irish manager revealed: "Yeah, I'm waiting for a call from him. We have had a litany of messages with him, to try and arrange to meet for a coffee and a chat with him and his Dad, then he was injured, a game got cancelled, I couldn't go and see him...and he played there the other night and scored on Saturday.
"I'm waiting for him to say, 'Come and meet me', and I'll drive to wherever it is and meet him and his Dad and we'll get it sorted out."
However, McCarthy is pleased to have recruited Keane and the wheels are in motion for him to make the switch to Ireland, having previously represented England at underage level, while his twin brother Michael went the other way, opting for England after playing U17 and U19 for Ireland.
"That was a straightforward one. I rang him up, [he said] 'Yeah, I'd love to', he's started the process [f transferring] and he is in that process now, and he's sadly out injured. He got injured on Saturday and out for six weeks.
"He was straightforward in going ahead with the process. Look, he is only 26 and is still a young man but has been blighted by injury and is sadly injured again. I've seen him play twice for Ipswich, and he played very well."
One player that McCarthy has yet to watch playing is former Arsenal player Dan Crowley
Crowley, who now plays for Dutch side Willem II, and has declared his intention to play for Ireland, having played for England at underage level.
While Crowley is on McCarthy's radar thanks to the FAI's Player Identification Manager Noel King, he admits that he hasn't seen him play.
"No, I haven't looked at him. It's funny I've been driving around England looking at players all over the place and someone throws Dan Crowley in the mix and I'm supposed to go 'Oh yeah I've seen him I've been well aware of him' I cannot be aware of every player although I was aware that might be going to declare because of Noel King.
"Noel is going to go and watch him. So for me to say "Oh yeah I know all about him I'll pick him..' we need to watch him and if Noel says 'by the way you better get your backside over there to watch him then that's what I'll do."