Neil Lennon claims to have 'mellowed' since the last time he took over as Celtic manager.
The former Northern Ireland international was in charge at Parkhead between 2010 and 2014 and he has been appointed manager until the end of the season in the wake of Brendan Rodgers' sudden departure for Leicester.
Lennon has long been a divisive figure in Scottish football and he departed his role as Hibernian boss in January following a falling-out with the club's chiefs.
But though he says his energy and will-to-win remain the same, he is a calmer person now than he was nearly a decade ago when he took over Celtic for the first time.
"I've mellowed since I last took over, but I've still got the energy and the will-to-win," he said, in his first media conference since his appointment was confirmed on Tuesday.
"I'm not as volatile I don't think. I wanted to take on the world when I first took over
"I don't want to be compared to Brendan. He has his way and it's been fantastic, and I have my way. I'm always learning and that will go on.
"The thunder is here. I don't need to bring that back. I want to bring trophies back; that will be my remit. The supporters will be feeling agitated. I understand that, and it's up to me to try and soothe that."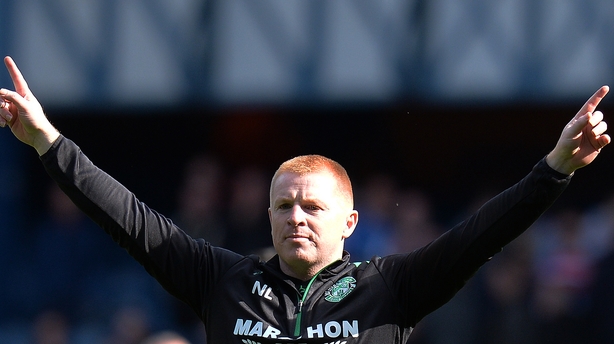 Lennon, who won titles as a player and manager with the Bhoys, says he always hoped that he'd return to Parkhead some day, though he admits it has come sooner than he expected.
"You dream you can always come back, you don't believe it. It's come sooner than I thought," he said. "The club comes first. It's about the club and the players. They're the most important aspect of my job at the minute.
"It was a no-brainer. I'm very grateful to be here. The board have put faith in me to see out the rest of the season and the most important thing is the club.
"I've got big shoes to fill, they've lost a manager who will go down as one of the greats, but I'm looking forward to the challenge, very much so.
"I'll be leaning on (assistant manager) John Kennedy a lot, he knows the machinations, and I'll be relying on John very much so.
"It's a different challenge, different circumstances. The team has been unbelievable. I haven't got much to time to adjust, but we need to adapt very quickly.
"This is a club that means a hell of a lot to me - as a player and as a manager. It's a privilege. These opportunities come around once in a lifetime, and for me it's come up twice."
Former Ireland international Damien Duff has been promoted as part of a Parkhead reshuffle brought about by Lennon's arrival and he will be part of the new manager's backroom team.