Bohemians striker Dinny Corcoran said his side were picking up from where they left off at the end of last season as a 1-0 win over city rivals Shamrock Rovers preserved their 100% record after three games.
The teams occupied the top two spots in the table ahead of tonight's encounter in Dalymount and Bohs' 1-0 win, coming courtesy of a Corcoran penalty midway through the second half, leaves them sitting alone atop the Premier Division table.
Not only are they the only side to have claimed maximum points in the opening three games, Keith Long's team have yet to concede in 270 minutes of football, a feat made all the more impressive by the turnover in personnel during the off-season.
In tonight's grudge match, their cause was aided by Aaron Greene's sending off just before the half-hour mark, which left Bohs with a numerical advantage for the bulk of the contest.
Match-winner Corcoran acknowledged that Bohs-Rovers clashes are often frantic, scrappy affairs and paid particular tribute to his defensive colleagues.
"We've carried on from where we left off last season. We finished strongly last season," Corcoran told RTÉ Sport after the game.
"Even though there was big changes to the squad, we've started very well. Three clean sheets, great defensive displays and let's try and keep it going now.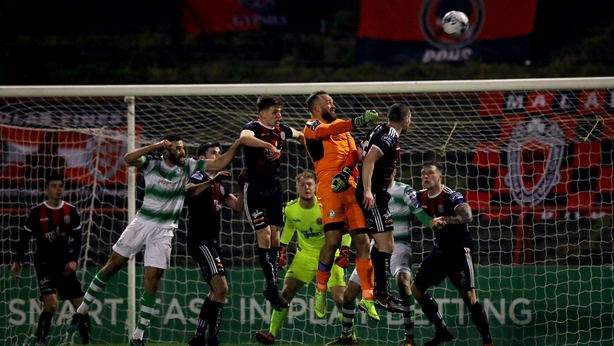 "They're usually quite scrappy affairs against Rovers. Both teams are afraid to try and win it, they'd rather not lose. It's kind of tense.
"It was even enough for the first 25 minutes until they got the man sent off. It still makes it hard for us because they put everyone behind the ball and were hard to break down."
Bohemians brought in a host of players in the off-season, with five of tonight's starters - James Talbot, James Finnerty, Conor Levingston, Luke Wader-Slater and Daniel Mandriou - recruited from cross-channel clubs.
Corcoran heaped praise on the technical ability of the recruits and promised they were only likely to improve.
"It's a whole new dressing room, more or less. We lost a lot of personalities. We lost a few leaders so I wasn't sure how things were going to go.
"We signed a lot of young lads coming back from England. But so far, they've been top-notch and they're great technical players. I think they're going to get better and better and we'll get better as a team then.
"It's very early days, things can change quickly. But if we keep going how we're going, I don't see why we won't keep picking up wins. There's no easy games in this league so we'll just have to look forward to Friday against Waterford. Another tough one.
"These are the fixtures the fans look forward to. We've a good streak against them (Rovers) at the moment so I think the fans are enjoying it. Five wins and a draw in six, it's very good. But they're always tight, tense games. For the fans, it's perfect."