It's been quiet a couple of years for Declan Rice.
Roll the clock back 24 months and the then-18-year-old defender was one of just a number of promising prospects in the West Ham youth team set-up, having moved from Chelsea in 2014. At Stamford Bridge, he didn't quite make the grade.
Rice's rise through the ranks at the Hammers has been meteoric since then. He made his debut for the senior side in April 2017, and only a year later he was named as the runner-up for the club's player of the year award as well as firmly establishing himself as a fan favourite.
However, before he was even a blip on the radar for even the staunchest of West Ham supporters, Rice was making waves for the Republic of Ireland.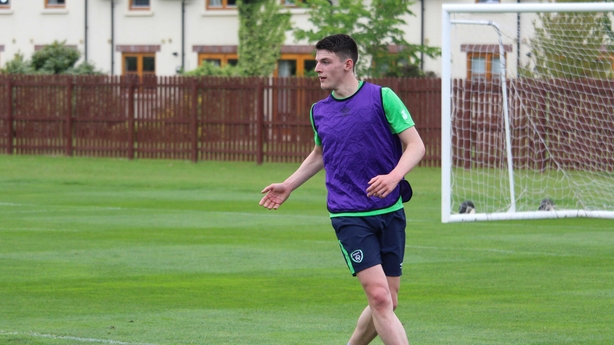 Spotted by Mark O'Toole, the FAI's scout whose job it is to pinpoint talented England-based players of Irish descent, Rice had been involved in the Irish set-up since 2015 and represented the country at all age grades from Under-16 right up to the senior squad.
O'Toole knows how to spot them and as Rice progressed up the age groups with Ireland, expectations surrounding him grew. Named the Under-17 and Under-19 player of the year for Ireland, Rice was starting to draw attention from those outside of the Irish camp, including one Gareth Southgate.
It was last January when the England senior manager started name-checking Rice. Tentatively at first, Southgate revealed that he was "aware" of Rice and that he'd been keeping tabs on him.
Always mindful of the fact that the West Ham man had already pulled on the jersey of another country, Southgate courted Rice from a distance at first and there didn't really appear to be much reason for the FAI and Irish supporters to worry.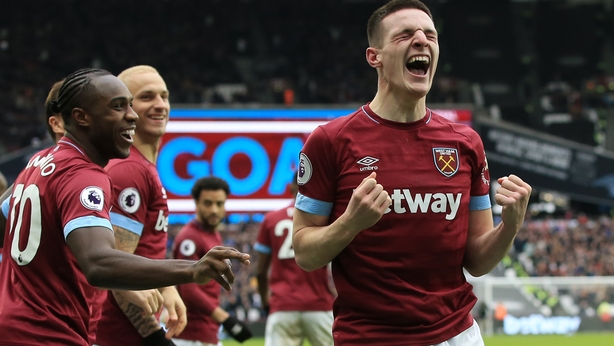 Indeed in March of 2018 Rice publicly declared his loyalty to 'his country' when picking up his Under-19 award and he spoke of his relationship with O'Toole, the man who convinced him that his footballing future lay with the country of his grandparents.
"I haven't had a call from anyone at the FA," Rice said at the time. "Not at all. England have never wanted me at underage level, it's always been Ireland.
"When your country comes calling and you get a chance to put on that green shirt, you're going to jump at it.
"He [O'Toole] had been watching me for a while. It was my dad that took the call. Mark said, 'look, there's a training camp coming up, you're eligible to play for Ireland through your nan and granddad, would you like to come along?' Straight away - I was only 15 years old - I said, 'of course'.
"Mark has been excellent for me. I see him as a father figure, to be honest. He looks after me. He's always there for me."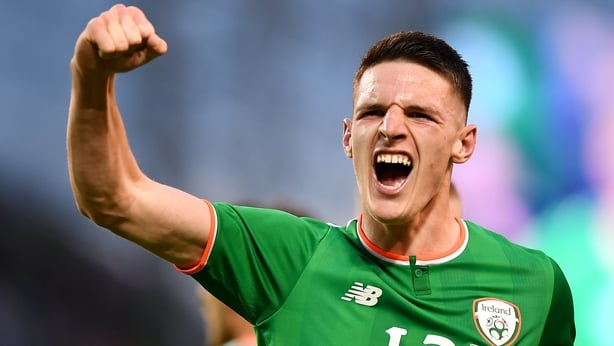 There's a couple of very telling lines in there from Rice, not least the revelation that up until that point, England hadn't been interested in him.
The England underage scene is viciously cut-throat and for every player that gets spotted and makes his way onto the radar of the Three Lions coaches, there are hundreds that are overlooked and slip through the cracks.
Rice, like Jack Grealish before him, was one such player and O'Toole's job is to squirrel out such talents; lads who haven't managed to attract the attentions of the England underage teams but might be good enough for Ireland and crucially, have a granny and/or granddad that qualifies them to play for us.
O'Toole's job must be half football scout, half genealogist at times and the easiest part would often appear to be convincing these players to sign up to the Irish cause.
As Rice himself revealed, at 15 and having failed to make any impact on the underage squads of his country of birth, it's an easy choice to make when you're offered an alternative path to international football.
Snubbed, or at least overlooked, by England, when the next best thing comes knocking on your door, saying yes is the obvious decision and as a young teenager there's going to be a big sense of validation with it. So what if England don't want you? You can play for Ireland.
"When your country comes calling and you get a chance to put on that green shirt, you're going to jump at it."
That approach has been a fruitful avenue for Ireland when it's come to picking up players down the years and it was usually a straight-forward system. Not good enough for England but have a granny from Glenamaddy? Well come and play for us.
The problem we've seen in recent times is this: when it turns out a guy may be good enough to play for England after all, is Ireland still such an attractive option. Heads have been turned.
Like Grealish at Aston Villa, Rice's breakthrough to the Premier League has quickly been followed by predictions of English caps to come and surprise from British pundits when it turns out he's already part of the Irish international set-up.
The freedom offered to young players to change their international allegiances before playing a competitive senior international is something that Ireland have exploited to their own ends and England are now cottoning onto the fact that nothing is decided until the player has played in a tournament or qualifier.
Why shouldn't they make overtures to players they may have overlooked at a youth level, if they prove to have international potential?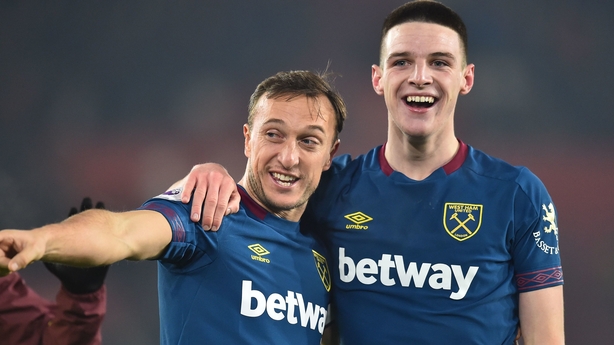 It's hard to blame England for going after a player who slipped through their underage net and, likewise, it's churlish to resent Rice for making the decision to play for them.
Sure, you can question the badge-kissing and the statements of loyalty to the Irish cause, but it's also easy to see how a teenager can just get caught up in the moment and say and do things with sincerity at the time, before circumstances change.
Rice is a London boy through and through, playing for the most 'Cockney' team in the Premier League - West Ham. Listening to him speak, he sounds like a cross between Danny Dyer and Jamie Oliver.
Ireland are always going to risk losing out the likes of Rice with their approach to hoovering up young players who have been overlooked by their own countries and as long as they continue to outsource their youth development programme to England, it will continue to happen.
The FAI are the victims of their own downfall in this situation and while on one hand they'll bemoan the loss of their investment in Rice, they'll continue their pursuit of the likes of Patrick Bamford, Will Keane and Nathan Redmond, all of whom are as Irish as jellied eels.
After all, investing in proper youth structures in Ireland and creating a real conveyor belt and career path for young players with League of Ireland clubs just isn't as easy as asking Mark Noble if he has an Irish granny.