England's World Cup-winning goalkeeper Gordon Banks has died at the age of 81, his family has announced.
Banks, who revealed in 2016 that he was battling kidney cancer for the second time, died peacefully overnight.
A statement issued by former club Stoke on the Banks family's behalf said: "It is with great sadness that we announce that Gordon passed away peacefully overnight.
"We are devastated to lose him but we have so many happy memories and could not have been more proud of him.
"We would ask that the privacy of the family is respected at this time."
Once a champion, always a champion 🦁🏆

We are deeply sorry to hear of the death of @England World Cup winner @thegordonbanks.

He was one of the game's greatest goalkeepers, a provider of stunning World Cup memories & a gentleman.

Our thoughts are with his family & friends. pic.twitter.com/tsD4c71Ixt

— FIFA World Cup (@FIFAWorldCup) February 12, 2019
Banks made 510 league appearances for Chesterfield, Leicester - with whom he won the League Cup in 1964 - and Stoke before retiring from the professional game at the age of 34 following a road accident which cost him the sight in his right eye.
He later returned briefly to the game in America and made one loan appearance for St Patrick's Athletic in 1977 against Shamrock Rovers.
But it was on the international stage that he established himself as a star, making his England debut in a 2-1 defeat by Scotland at Wembley in April 1963 and going on to win 73 senior caps, most famously in the 4-2 World Cup final victory over West Germany in 1966.
However, he will probably be best remembered for his heroics in Mexico four years later when he made the logic-defying save which was to define his career when he somehow managed to turn Brazil star Pele's header over the crossbar.
Writing on Instagram today, the man often acclaimed as the greatest ever to play the game paid tribute to his late friend and opponent.
"For many people, their memory of Gordon Banks is defined by the save he made against me in 1970," said Pele. "I understand why. The save was one of the best I have ever seen - in real life and in all the thousands of games I have watched since.
"When you are a footballer, you know straight away how well you have hit the ball. I hit that header exactly as I had hoped. Exactly where I wanted it to go. And I was ready to celebrate.But then this man, Banks, appeared in my sight, like a kind of blue phantom, is how I described him. He came from nowhere and he did something I didn't feel was possible. He pushed my header, somehow, up and over. And I couldn't believe what I saw.
"Even now when I watch it l, I can't believe it. I can't believe how he moved so far, so fast. I scored so many goals in my life, but many people, when they meet me, always ask me about that save. While it was indeed phenomenal, my memory of Gordon is not defined by that - it is defined by his friendship.
"He was a kind and warm man who gave so much to people.So I am glad he saved my header - because that act was the start of a friendship between us that I will always treasure.
"Whenever we met, it was always like we had never been apart.I have great sadness in my heart today and I send condolences to the family he was so proud of. Rest in peace, my friend. Yes, you were a goalkeeper with magic. But you were also so much more. You were a fine human being."
In a statement tweeted by Manchester United, Banks' World Cup-winning team-mate Bobby Charlton said: "Gordon was a fantastic goalkeeper and I was proud to call him a team-mate.
"He will be deeply missed and our thoughts are with his family at this very sad time."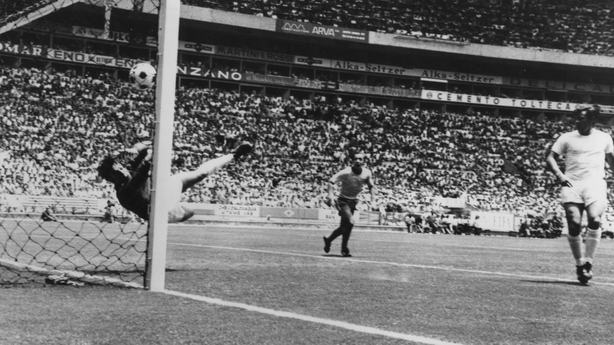 Peter Shilton, whose breakthrough at Leicester as a 16-year-old led to Banks being sold to Stoke, and then followed him as England number one, tweeted: "I'm devastated - today Ive lost my hero our condolences to his family rip Gordon."
Ray Clemence won his first of 61 England caps in November 1972, six months after Banks played his final game for his country. The former Liverpool and Tottenham keeper said on Sky Sports: "The whole football world is so deeply saddened by it, and particularly myself.
"What I loved about him was he made the game of goalkeeping look so ridiculously easy, and yet [was] capable of making incredible saves like the one against Pele. He will be remembered for that, but also he will be remembered for being a wonderful, wonderful person.
"He always had time for people, always had a smile on his face, never bragged about what a great, great goalkeeper he was.
England manager Gareth Southgate said on the Football Association website: "I am deeply saddened to hear of Gordon's passing.
"An all-time great for England, I was privileged enough to be in his company on a number of occasions.
"It was particularly special to be with him at a Football Writers' tribute dinner last year and wish him well on his 80th birthday.
"Gordon spoke to the room about that incredible save from Pele against Brazil back in 1970 and moments like that from his remarkable World Cup-winning career will continue to linger long in the memory.
"On behalf of everyone connected with England, I send my condolences to his wife Ursula, his family and friends."
Read next: The Save - Banks and Pele reflect on the stop of the century