Liverpool manager Jurgen Klopp has been asked to provide written observations to the Football Association over his comments about referee Kevin Friend.
The German questioned whether Friend's decision-making was compromised by him potentially finding out Liverpool's opener in their 1-1 draw at West Ham on Monday night had been offside in the build-up.
Klopp told Sky Sports: "We had good moments, coming through the channels and scored the goal, which I've now been told is offside. This explains a little bit the second half, because I think the referee knew at half-time.
"He knew it for sure at half-time, and then you saw a lot of strange situations. They were not decisive but just rhythm breakers. That obviously didn't help us.
"There were so many situations where it was 50-50 or 60-40... [he gave a] free-kick for the other team."
His remarks have attracted the attention of the FA, which has sought Klopp's opinion on the matter.
Klopp has warned his team they will face tougher tests than Monday's at West Ham before the end of a season in which they hope to be crowned champions.
The German remains without influential players including Jordan Henderson, Georginio Wijnaldum, Joe Gomez and Trent Alexander-Arnold, but he regardless insists his squad can handle the pressure of a title race following their latest setback.
"If you want to be at the top of the table at the end of the season, you have to deal with much tougher situations than we had [at West Ham]. That's the truth, that's always clear," he said.
"But of course you need players fit and available, that helps a bit.
"We have to fight, it's not about pressure, it's about enjoying the situation. We have 62 points, lost one game in a full season so far, which is very positive.
"I have seen your faces already, you feel a bit sorry with us, you don't have to, we are fine, everything is good. Tonight was just a tough game."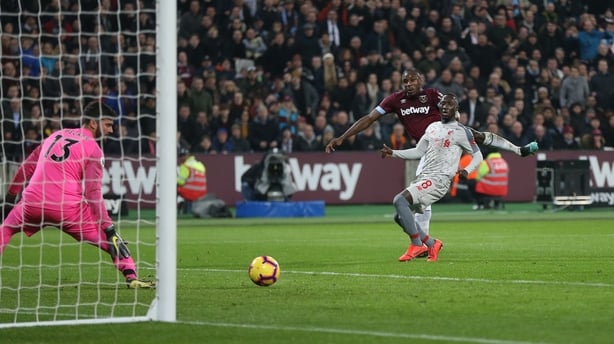 West Ham manager Manuel Pellegrini was frustrated his team were denied victory by a refereeing error.
However, following three successive losses, including an embarrassing FA Cup exit at League One Wimbledon, he was pleased with the performances of his players.
"Yes, disappointed, without any doubt," he said.
"If you create four chances and didn't score and they score a goal one metre-and-a-half offside, you must be disappointed and worried.
"I think we played in the way I like this team to play against every team.
"Maybe in the moment that we were [on a losing run], nobody believed that we could do it but I was absolutely sure and I trusted the players that we can play in the way we did.
"I think we did a complete performance, because against the team that has the best defence we created so many chances."