Martin O'Neill admitted it was a big learning curve for him as he suffered defeat on his return to Nottingham Forest as manager, with Bristol City spoiling the City Ground party with a 1-0 win.
Lee Johnson's side were more comfortable than the narrow scoreline might have suggested, as they notched up a fifth straight victory and an 11th game uneaten, thanks to a crisp, precise finish from Famara Diedhiou in the 70th minute.
Forest did have flashes of menace in front of a sell-out crowd, but were thwarted by some wayward finishing and some good saves from Frank Fielding, when they did hit the target.
"I was hoping that today, with the crowd right behind us and with that momentum, we could find a bit of strength," said former Republic of Ireland boss O'Neill.
"We will think about a lot of things over the coming week. But this is a learning curve for me and it is about players getting to know me as well.
"The players are very disappointed in the dressing room. We would have liked to have got a win and I would have liked to have got a win myself. But I don't want them to be too disheartened.
"It has been a tough couple of weeks. The players have lost a manager [in Aitor Karanka] and they were trying to adapt to a new system. Maybe we will go back; maybe we will change things around again. But I have a little bit of time to work on things like that."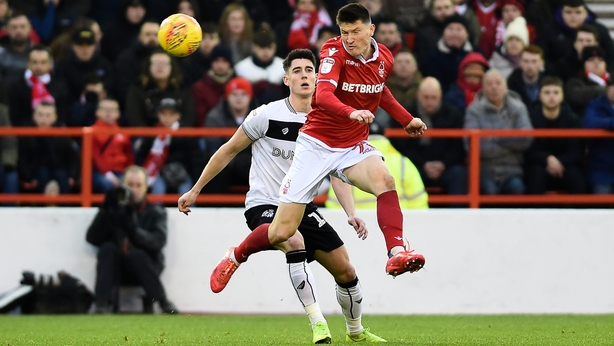 Forest switched to an orthodox 4-4-2 for the game, but seemed to struggle to adapt.
"The team were tentative in the first half. But perhaps that was to be expected. Maybe they were over anxious and trying to impress a new manager. Whatever it was, I thought we were on the back foot for most of the first half," said O'Neill. "But, overall, this was a big learning curve for me.
"We played two up top, which I hoped would put us on the front foot; that we would be able to play off Murphy and Grabban. In the second half we got more momentum going.
"They have generally played with one up front, most of the time, so to change that is a difficult thing to do, particularly with only a few training sessions."