Republic of Ireland midfielder Megan Connolly can't wait to "achieve something special" after returning to international duty for Sunday's friendly against Belgium.
The Cork-born international is ready to continue her international career after completing her Social Sciences degree at Florida State University last year.
Not only did she achieve success off the pitch but it was followed by significant success off it as the Florida State Seminoles won the NCAA College Championship with Connolly playing a central role.
Connolly is set for the next phase of her career as she looks to move into professional football and could make her first appearance for Ireland since the defeat in Norway last year, on Sunday.
"It's been an incredible four years and to win the Championship at the end of it is fantastic," said the 21-year-old.
"It's a really difficult Championship to win and to do it with what you consider your family is unbelievable really. I wanted to concentrate on my studies so to play for Ireland and study in America is really difficult to do.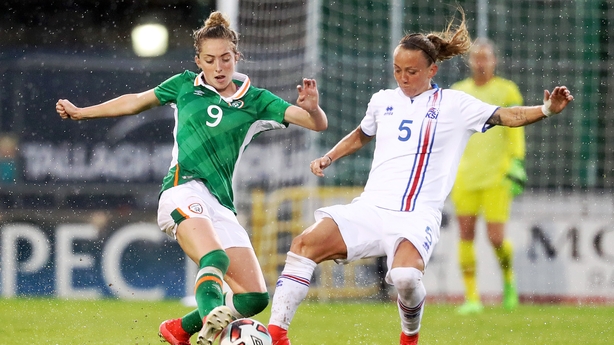 "Now it's done, I'm really excited to be able to fully concentrate on playing for Ireland and looking forward to the next step in my career. It's always fantastic to play international football and to be back in camp is great."
Colin Bell's side are currently preparing for their first game of 2019 against Belgium at the Pinatar Arena on Sunday, with kick-off at 2pm (3pm local time). Belgium go into the international friendly on the back of a 1-1 draw with Spain at Cartagena last night.
With UEFA 2021 European Championships qualifying set to begin in September, Connolly is aiming for a big year with the squad and believes Ireland can continue the progress they've made.
"It's incredible what the team achieved in the last campaign really. Going up and competing against Norway and the Netherlands shows how far we've come as a team and the work the manager has put in," Connolly continued.
"I really believe we can achieve something special. We've got so many talented young players and everyone is just getting better and better.
"Every time I come into camp, you can see the improvement and we've got to keep that up for the next few matches going into September. Belgium is one of the best teams in the world really so these are the tests we need."
Republic of Ireland WNT squad v Belgium
Goalkeepers: Marie Hourihan (Brighton and Hove Albion), Grace Moloney (Reading)
Defenders: Heather Payne (Bristol City), Diane Caldwell (SC Sand), Niamh Fahey (Liverpool FC), Harriet Scott (Birmingham City), Louise Quinn (Arsenal), Claire O'Riordan (MSV Duisburg), Eabha O'Mahony (Cork City), Shauna Brennan (Galway Women's).
Midfielders: Tyler Toland (Kildrum Tigers), Megan Connolly (unattached), Denise O'Sullivan (North Carolina Courage), Niamh Farrelly (Peamount United), Rebecca Cooke (Shelbourne).
Attackers: Katie McCabe (Arsenal), Emily Whelan (Shelbourne), Amber Barrett (Peamount United), Jessica Ziu (Shelbourne), Isibeal Atkinson (Shelbourne), Emily Kraft (FFC Frankfurt).