Padraig Amond still regards helping Carlow to a Leinster minor hurling semi-final defeat of Offaly as "one of my best achievements in sport", but the Newport striker admits it'll take something incredible to top knocking Leicester City out of the FA Cup.
The well-travelled Amond has enjoyed some great days in the famous competition.
Last year he scored against Spurs in the fourth round, though the Premier League giants levelled late on before winning the replay.
On Sunday, he coolly slotted home a spot-kick five minutes from time to send the Foxes packing.
Amond played for Shamrock Rovers and Sligo Rovers before a stint in Portugal with Pacos de Ferreira. After that he did the rounds in England's lower leagues, with Accrington Stanley, Morecambe, Grimbsy, Hartlepool and then Newport.
The 30-year-old has consistently scored goals, though his first taste of real glory came on a GAA pitch.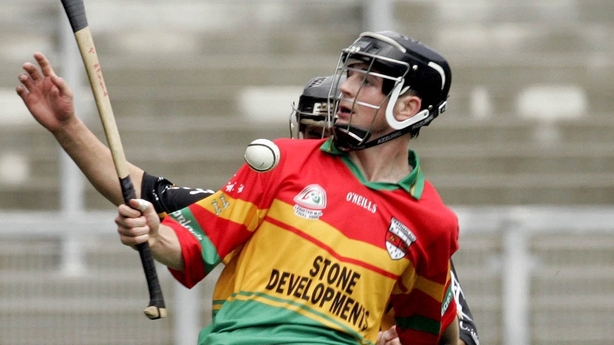 "It was in Portlaoise, we beat Offaly in the Leinster semi-final [in 2006]," he told The Today programme on RTÉ Radio 1.
"That's one of my best achievements in sport as well. I really loved that, playing for my county... it was brilliant. But yesterday will take some topping.
"It was unbelievable. It's a thing you dream of growing up. To knock out the Premier League champions from a couple of years ago was a massive achievement. It was fully deserved.
"[When Leicester equalised] I thought, 'here we go again' because it happened last year against Spurs. We went one-nil up and Spurs scored in the 82nd-minute to equalise.
"I'm surprised the referee gave the penalty to be honest. It should have been a penalty but usually the smaller teams don't get those decisions. I couldn't wait to get the ball in my hands to take it."
Amond admitted the celebrations were pretty muted as his shattered body curled up in front of the TV to savour the League Two outfit's performance.
"I was wrecked. I went home and had a couple of drinks with my fiancee. We watched Match Of The Day. I might have rewound and watched penalty a bit more than other bits.
"Watching Alan Shearer and Ian Wright talking about the game afterwards with Gary Lineker, stuff like that doesn't happen every week for players in the lower leagues like myself. You have to enjoy it."
Amond can look forward to tonight's fourth-round draw, hoping his side will get one of the game's giants.
"It makes it all worthwhile," he added. "It's not a job, it's a hobby. I love it. I love getting up int he morning to go and train. To go and play each week in front of a few thousand people, I'm living the dream.
"It might not be the dream of playing for Man United or anything like that, but anyone who can say, 'it's not a job it's a hobby', that's exactly what you want when you're growing up.
"It's not finished yet. The draw is tonight, we're looking forward to the next round and hopefully we can get a good draw and maybe cause another upset."