Liverpool boss Jurgen Klopp and Manchester City manager Pep Guardiola have been talking each other's teams up ahead of their crunch clash at the Etihad on Thursday.
The Reds go into the meeting with a seven-point lead over their title rivals at the top of the Premier League.
Klopp was keen to push aside the hype, saying he saw it "as a normal game against Manchester City".
"A very difficult one, one of the most difficult games you can play in the modern football world. We felt that plenty of times. It's a really strong football team with an outstanding manager.
"We have to be prepared as good as possible, we have to be brave, we have to be full of desire, angry, like in all the other games.
"But with the knowledge the opponent is, for me, still the best team in the world. Only the points changed, not the preparation for the game."
For his part, Guardiola claimed Liverpool were the best side in the continent.
"At the moment Liverpool are the best team in Europe for the way they play and control the details in their game," he said. "It's a good challenge for us."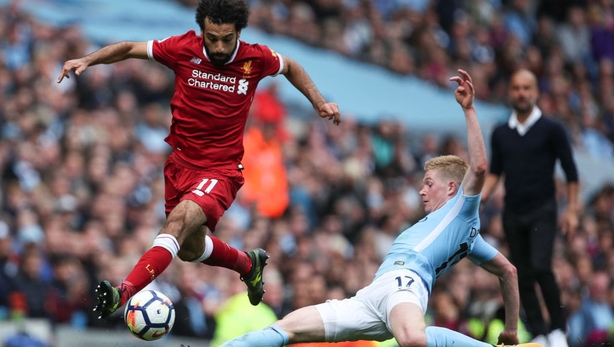 Guardiola believes City have an excellent opportunity to breathe new life into their Premier League defence when they take on the Reds tomorrow.
Surprise recent losses against Crystal Palace and Leicester have left City adrift but Guardiola insists his focus has not changed.
"I have the feeling it is a big opportunity for us to reduce the gap but our focus is the same," he said.
"Everybody asks what we are going to do if we lose but we are going to try to make our game and to win it."
While City have stuttered in recent weeks, Liverpool have been in fine form, winning their last nine games. They thrashed Arsenal 5-1 in their last outing and Guardiola claims City are the underdogs.
He said: "It is Liverpool, with (Manchester) United, the best team in England in history. But we can beat them.
"I know today nobody trusts us, nobody makes one coin for us, but it is what it is.
Liverpool beat City in three of their four meetings last season, including both legs of their Champions League quarter-finals.
Guardiola said: "I cannot figure out that what happened in the past is going to happen in the future. Every time we won a lot of games it doesn't mean it will happen in the future.
"I have a feeling everyone can beat us but also that we can beat everyone. Last year we beat them 5-0 here - but it doesn't count now.
"Of course if we win we will have more confidence, we will be happier than if we lose. We know exactly which opponent we play, the respect we have. That is the challenge.
"If we want to grow like a club, like an organisation and like a team, we have to face these kind of games with the pressure that means."
Midfielder Kevin De Bruyne missed City's victory over Southampton with a muscle injury but could make his return against Klopp's men.
"He trained today but tomorrow we need another check in the morning," said Guardiola. "But he is much better."