It's a big weekend for football fans as Liverpool host Manchester United in the Premier League on Sunday.
Enthusiasm levels vary between the two sets of supporters. Liverpool fans are full of beans and not shy about singing hosannas to their manager. Manchester United fans, by contrast, are noticeably less vocal these days and their displays of supportive stoicism towards the current regime are growing less convincing with each passing defeat.
The argument is gaining traction that we should simply make a concession to reality at this point and henceforth dub this fixture 'The Ireland Derby'.
It is this writer's belief (not RTÉ's) that if the worst ever happened and Ireland descended into Civil War again, the combatants would not be Treatyites and Irregulars, or Republicans and Unionists, but Manchester United fans and Liverpool fans.
Our comments section has served as a flashpoint in this bitter conflict for many years, with self-styled Mancs and Scousers ribbing and jibing each other long into the small hours, often displaying bewildering levels of stamina in the process.
I can't claim that moderating these fraught discussions has been one of the joys of my life but all of us here are nonetheless grateful to those people for engaging with the website.
In honour of the fixture, and the strong Irish links of both clubs, we have decided to pick a Liverpool-Manchester United combined Irish XI.
First, a couple of important notes here for the people who'll kick up afterwards. We are sticking with Republic of Ireland players (where possible, as you'll find out). Georgie Best and co aren't for this team.
Secondly, we will be giving more weight to their efforts for these clubs rather than their performances for Ireland. For the purposes of illustration, we'll let you know here that Johnny Giles and Robbie Keane have both missed out as a result.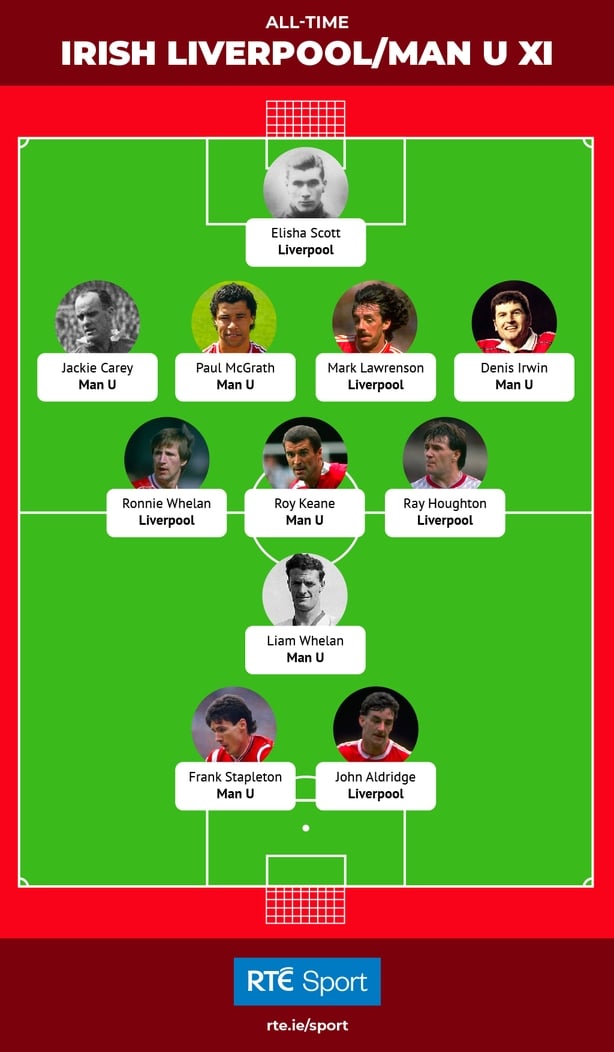 Elisha Scott
A Liverpool-Manchester United combined XI they said. Be easy they said. Little did we know it would run aground so early.
Yes, both sides may have been stuffed with Irishmen through the 70s and 80s but the Republic has never done much for either team in the goalkeeper department.
Young Caoimhin Kelleher has played pre-season but we'd suggest it's a bit early to be tossing him into a historical XI.
So we are plumping for Belfast's Elisha Scott, Liverpool's great goalkeeper from 1919 to 1934. Crucially, he made his debut for the IFA Ireland team in 1920 - prior to partition and the establishment of the FAI.
Therefore, he represented this island as a single entity at football. In the context of the slim pickings we're working with here, that is good enough.
His greatness is not in doubt. Everton's legendary striker Dixie Dean once said: "Elisha was the greatest I've ever seen. You can have Swift, Trautmann, Banks, Wilson. You can have them all. I'll take Elisha Scott."
Jackie Carey
A legend of both Manchester United and Ireland, Carey signed for the club from St James's Gate in the mid-30s and stayed at Old Trafford for almost two decades.
Captained the side to the FA Cup in 1948 and a long awaited League title in 1951/52 season.
1949 was an especially memorable year as he was named Footballer of the Year in May and then captained Ireland to beat England at Goodison Park in September.
He was also, according to the FAI website, selected as a Dublin minor in the 30s before the GAA realised his predilection for dabbling in foreign games.
Paul McGrath
We toyed with the old Jack Charlton gambit of playing him as a holding midfielder to accommodate others but ultimately decided against.
Sketching biographical details seems a bit superfluous here. Younger readers may associate him more with Aston Villa and it's true that he probably performed better for the Birmingham club.
But he was a central figure for Man United for most of the 80s, being named man of the match in the 1985 FA Cup final win over Everton.
Mark Lawrenson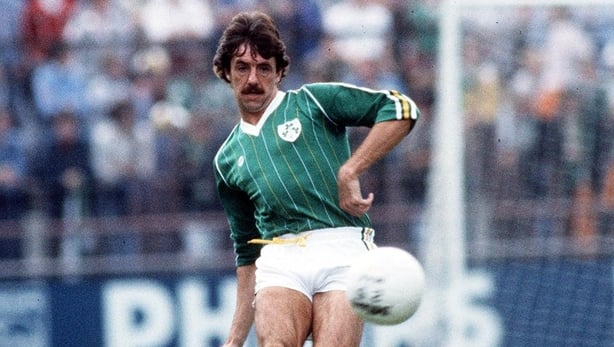 Lawrenson cheerfully admitted that he had never set foot on the island of Ireland until he was selected for his senior debut against Poland in April 1977.
Lawrenson was still a teenager at Preston at the time - his Irish connections were first twigged by Alan Kelly Snr - and he subsequently switched to Brighton before eventually transferring to Liverpool in 1981.
He won five League titles and a European Cup medal in seven seasons at Liverpool before his premature retirement through injury in 1988.
That same Achilles injury robbed him of the chance of appearing at Euro 88, a tournament he had done so much to help Ireland qualify for alongside Liam Brady in midfield.
Denis Irwin
Another one we hardly need to justify. Irwin was famously beloved of Alex Ferguson, who post-retirement insisted he would be the one certainty for a place on his greatest United XI.
As the Guardian's Rob Smyth noted when including him in Fergie's Greatest XI, "He (Irwin) probably had the highest median and mode performance of any Ferguson player, with one bad game a season if that.'
He was less probably celebrated for Ireland, suffering badly in the heat against Mexico in Orlando '94.
But his performances in the his final campaign, the Euro 2000 qualifiers, were exceptional and he slammed the ground in despair when the last-minute goal from Macedonia denied Ireland automatic qualification.
Ronnie Whelan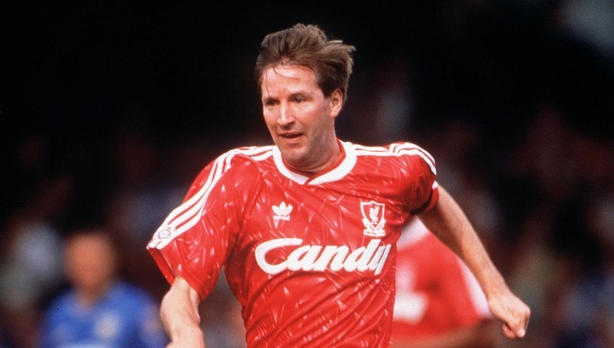 Whelan signed for Liverpool after two seasons in the League of Ireland with Home Farm. His father was an LOI stalwart, scoring the winning goal when a League of Ireland selection beat the English First Division XI (whose team contained Bobby Moore and Martin Peters) in 2-1 in Dalymount Park in 1963.
Whelan made almost 500 appearances for Liverpool between 1979 and 1994, collecting six League medals and a European Cup in 1983-84.
Played continually for Ireland through the 80s and was a central figure at Euro 88. However, he was restricted to cameos in '90 and '94, as he found himself marginalised by the Charlton way.
Roy Keane
Be insulting to go into too much detail on Keane's biography.
Keane is often incorrectly stereotyped as simply a midfield enforcer. In fact, he was one of the best and tidiest passers around in the 90s and noughties.
Sits alongside McGrath, Brady and Giles in the pantheon of greatest ever Republic of Ireland players.
Ray Houghton
His greatest hits for Ireland have been fairly well flagged at this point. Houghton was already an Irish international when Kenny Dalglish signed him from Oxford United in the summer of 1987.
Was a vibrant presence in Liverpool's all-singing, all-dancing side which swept the league title in 1987-88.
Continued to shine as a buzzing, creating player in the years after, adding another League title (Liverpool's last) in 1990, and FA Cups in 1989 and 1992.
Souness offloaded him to Villa in the summer of '92, preferring to pin his hopes on the emerging Steve McManaman.
Liam Whelan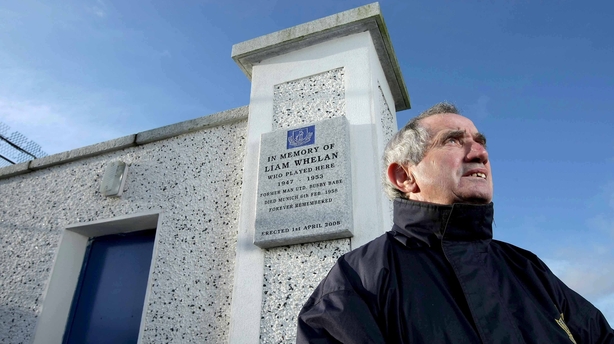 An inside forward in 1950s parlance, we have placed him just in behind our two front men.
Whelan spent five years at Manchester United and was a leading attacker for what Matt Busby later described as easily the best of the sides he created.
They won two league titles in a row, at a canter, in 1955-56 and 1956-57. In the latter season, Whelan emerged as top scorer, netting 33 goals in all competitions as the side secured back-to-back titles and reached the semi-final of the European Cup.
He was only 22 years old when he died in Munich.
Frank Stapleton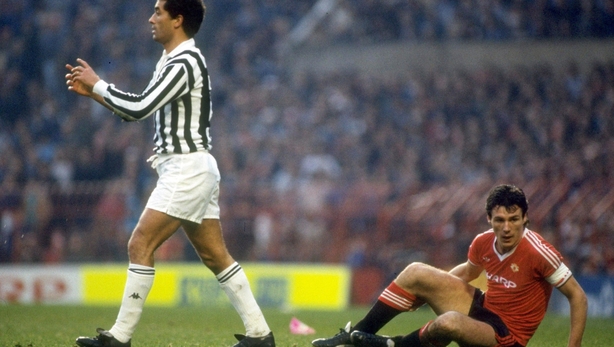 Stapleton sat at the top of the Republic of Ireland goalscoring charts for many years before Niall Quinn finally hit the 21-goal mark and then Robbie Keane soon arrived to smash all records.
The Dubliner made history in 1983 by becoming the first man to score for two different clubs in FA Cup finals. He headed home Arsenal's second in their victory over Man United in 1979 and then grabbed the equaliser against Brighton in the drawn final of '83.
Probably peaked as a player during his early seasons with Man United and was on the wane by the time Alex Ferguson arrived. Captained Ireland at Euro '88 but makes no bones about not remembering the Charlton years fondly.
John Aldridge
He only spent two full seasons at Liverpool but still racked up a phenomenal number of goals. He hit 29 in all competitions in 1987-88 and 31 in 1988-89.
However, the return of Ian Rush after his ill-fated spell at Juventus - Rushie gets upset at the 'it was like living in a foreign country' jibe - saw Aldridge squeezed out at the beginning of the 1989-90 season.
He set off for Real Sociedad and remained there for two years.
All the while during his hot streak for the 'Pool, he couldn't buy a goal for Ireland, partly thanks to Charlton's insistence that he spend games running the flanks and chasing long balls from the full backs.
It took him a full 20 games to score for Ireland, finally getting off the mark against Tunisia in late 1988. Thereafter, the goals flowed a bit more freely and he managed a total of 19 from 69 appearances.