Georgia head coach, Vladimir Weiss believes that his side are playing "better and better" and is hoping to cause some surprises in Group D alongside Ireland, Switzerland, Denmark and Gibraltar.
Weiss also stated that he was happy to be drawn alongside Ireland as they are a side that he knows well, having played four competitive games against the Irish in consecutive qualifying campaigns for Euro 2016 and World Cup 2018.
Georgia have just won their Nations League group, which has instilled a winning mentality in the team, and Weiss is hoping to bring that form and confidence into the Euro 2020 campaign.
"It's not an easy group. We are trying to improve step by step. We're playing better and better," said Weiss, speaking after the qualifying draw in Dublin.
"We won the Nations League Group D. We have hope for the future."
Georgia finished fifth in their World Cup 2018 qualifying group managing just five points in ten games, but their points tally hardly does them justice considering some of the performances that they displayed in what was a difficult group playing Ireland, Serbia, Wales and Austria.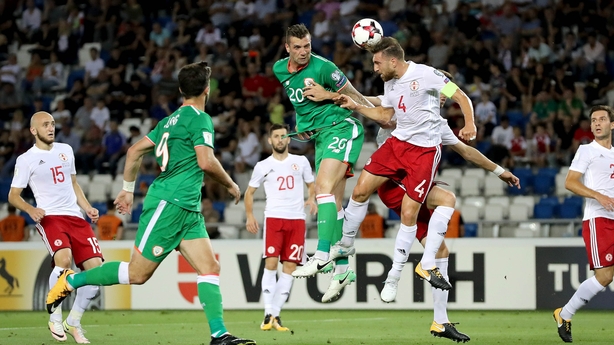 Weiss' side caused Ireland severe problems at Lansdowne Road and were unlucky to be on the wrong end of a 1-0 result, while they put a severe dent in Ireland's qualifying campaign by securing a 1-1 draw against Martin O'Neill's side and could arguably have taken all three points.
Likewise, Georgia gave Wales real problems in the group, drawing 1-1 in Cardiff in a game that, again, they should have won, while they also secured a point in a 1-1 draw with Austria in Vienna.
In fact, Georgia only lost one game by more that one goal, losing 3-1 to at home to Serbia, while they only lost 1-0 in Belgrade.
So it is no wonder that Weiss is feeling upbeat about his side's chances of making a real impact in this group.
"Again, we play Ireland. For me, it's good, because we know the Ireland team.
"I like playing against them. But the favourite in the group, of course, is Switzerland and Denmark, they have a lot of good players that play in England in a good league.
"But we'll try to make a success of the results and we hope we are stronger in Tbilisi, but we'll try to do something also away in Dublin, Denmark or Switzerland."
Weiss is hoping to make the Boris Paichadze Dinamo Arena a fortress throughout the campaign and the recent good results in the Nations League where they won five and drew one game – albeit against Latvia, Kazahkstan and Andorra, have brought a real buzz to their home games.
Only 22,000 people turned up for the national side's opening Euro 2016 qualifier, where Aiden McGeady's brace handed Ireland a last-gasp victory in what was Martin O'Neill's first competitive match in charge of Ireland.
Compare that to the 52,220 spectators that paid in to watch last month's 2-1 win against Kazahkstan, showing the support that the team and this manager have built up over the past three years.
"You have more experience, more confidence, and when you win, it's better than [when you don't].
"[Bad results] are not good for your head, for your quality and for your future.
"We played in the last European qualification, good matches against Ireland, Austria and Serbia, a draw or 1-0 loss, it was near. But we'll see with this team how much quality we have."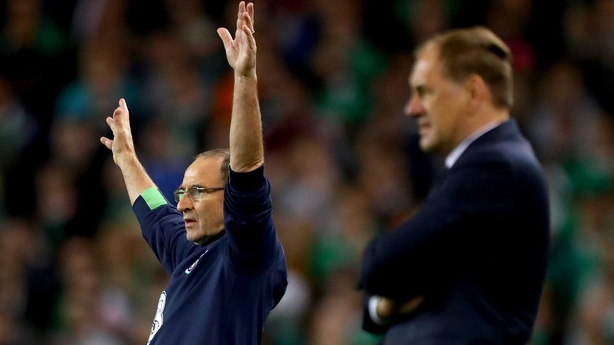 "The group is open," according to Weiss.
"We try to be a success, we'll play with heart before our fantastic spectacle in Tbilisi, every game is 55,000 [spectators] now.
"The people love football and the Georgian national team, but we will see, we'll try to [qualify]."
Weiss took time to pay his respects to outgoing manager Martin O'Neill, while also praising the new appointment, who he believes will bring "something new" to the Ireland set-up.
"Ireland have a new coach. This coach has a lot of experience with the national team and the Premier League. And a new coach every time brings something new to the team, emotion, quality or tactics.
"I loved Martin O'Neill so much. He was my good friend. I wish him all the best.
"But it's the start of a new era in the Irish team. We were fighting against him.
"We are better and better each year. I am three years now as coach of the Georgia national team. We will hope [we are better]. But I believe in these guys now."
Georgia will be in Dublin for the second game of the qualifying campaign on 26 March next year, McCarthy's first home game back in charge of the Ireland side.
And Weiss is hoping to improve his overall record against Ireland, which currently stands at just one draw and eight defeats.
"We have one draw against Ireland in the history. It's time to change something.
"But every game starts at 0-0, we try to win against every team. We have to focus step by step to the future and the next game.
"We cannot say we are prepared for the Euro 2020 play-off now. We start in March 2019.
"We'll prepare with a good team, we have more experience than three years ago. We'll try to be successful."