Liverpool manager Jurgen Klopp apologised to his Everton counterpart Marco Silva after running on to the pitch in wild celebration of Divock Origi's 96th-minute winner in the Merseyside derby at Anfield.
"I have to apologise for how I reacted," Klopp said after Liverpool's 1-0 win in the Premier League. "I did immediately afterwards to Marco Silva; I didn't want to be disrespectful but I couldn't stop myself."
Everton looked to be on course to deny Liverpool the victory they needed to close the gap on Manchester City at the top of the table but Origi's first Liverpool goal since May 2017 snatched all three points.
Toffees keeper Jordan Pickford was to blame after he parried a high ball back into play from over the crossbar, which allowed Origi to head home.
Anfield erupted after the fortunate winner, with Klopp also getting carried away and running on to embrace his goalkeeper Allison but Klopp said he had meant no disrespect.
"The game was what we expected. It was unbelievably intense and hard for both teams. Both had chances and both goalkeepers had outstanding performances and a very weird goal. I can imagine all the disappointment of Everton in a situation like that.
"We got it (the win) and we'll take it and it was a brilliant night. If I could describe (how he felt when Liverpool scored) I could control it and I probably wouldn't run on the pitch. Today because of the intensity, I cannot hide my emotions, I did it. I'm not sure what the FA will do in this situation.
"The plan was not to run and when I stopped I was close to Alisson. He was surprised -- you should have seen his eyes."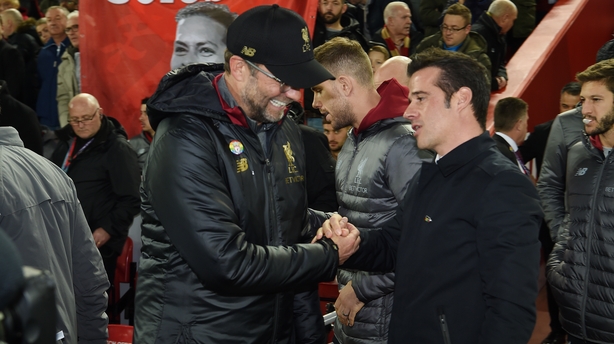 Silva, whose team last won at Anfield in 1999, said the result was unjust but he played down the significance of Klopp's celebrations.
"It was a lucky day for Liverpool because they didn't deserve to win," Silva said. "In the second half we started to control the match on the field and we didn't deserve this result, it should have been a draw.
"I didn't see Klopp run on the pitch; if he did run on the pitch in the moment, I wouldn't see it as disrespectful."
The Portuguese admitted he had never seen anything quite like Origi's winner but attached no blame to Pickford for the defeat.
"It's the first time but you know football gives you always new things every day," he said. "In every match all things can happen. It is tough in the dressing room at the moment but tomorrow is a new day.
"I told him (Pickford) in matches before he has done amazing things and today he was very, very good as well," he said. "Nobody expected that from the shot. You see Van Dijk how he starts to run back to the middle, he starts to organise the defence, that shows how bad was that shot.
"It was lucky, lucky for Liverpool. Lucky because they don't deserve to win. I think a draw was the fair result."
Silva also said he had not seen Klopp's celebrations but said he felt no disrespect was intended.