With no more international football to be played in 2018, it would be hard for the year to get any worse for the senior international side.
The final match of the year, a dour scoreless draw in Denmark, signalled the end of the Martin O'Neill era and the appointment of Mick McCarthy has given most Irish football fans something to cheer about as we head into the final month of the calendar year.
And with the festive season now officially upon us, it would certainly be appreciated by all with a vested interest following the fortunes of the Irish team if Christmas came three weeks early at Dublin's Convention Centre on Sunday morning.
The Irish capital will, of course, take centre stage this weekend as the qualifying draw for Euro 2020 will take place ahead of the year-long process to determine 20 of the 24 teams that will qualify for the tournament proper in the summer of 2020.
Ireland will co-host the event, with matches played in Dublin and 11 other European cities, and Mick McCarthy's side will find out their qualifying group opponents on Sunday.
Ireland will be in either a five or six-team group, and will essentially be the third seed, coming from Pot 3, as a result of their poor UEFA Nations League campaign.
The top two from each group will qualify automatically with all games – either eight or ten in Ireland's case – taking place from March to November throughout 2019.
Should Ireland fail to secure automatic qualification, McCarthy's side still have a decent chance of making it through to the Euro 2020 play-offs in March 2020, should the groups play out according to their seeding.
So by 11:52am on Sunday morning, everything will be crystal clear as Ireland will know their group opponents as McCarthy starts his second stint in charge of the team.
But such will be the levels of enthusiasm and intrigue around the draw at the Convention Centre, you will, no doubt, want to know more, much more, about the intricacies of the draw as the UEFA carnival comes to town.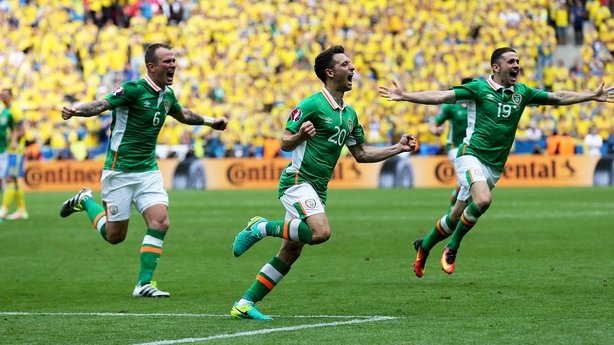 The Road to Euro 2020
The 2020 event will mark the 60th anniversary of the tournament, and such is the nature of this edition, with 12 cities hosting the matches, it will be the first time that no host nation will gain automatic qualification for the event.
So all 55 teams have been classified according to their UEFA Nations League rankings and will be vying for the initial 20 qualifying spots for the 24-team tournament, resulting in ten qualifying groups with five or six teams in each group. 
As mentioned, Ireland will be in Pot 3, while the four teams that qualified for the UEFA Nations League semi-finals will be placed in a separate Nations League Pot, and will be guaranteed a five-team group to allow them time on the calendar to play those deciding games next summer.
Six teams will be placed in Pot 1, with one of those teams also guaranteed a five-team group; the remaining five teams will be placed in Groups F to J, which will be six-team groups.
From there, the draw will, in theory, be quite straightforward with the Pot 2 teams shared among the ten groups, and so on for Ireland's Pot 3, Pot 4 and Pot 5.
Pot 6 only contains five teams and they will be placed in Groups F to J.
Draw Conditions
So that is the theory, however, in practice, there is going to be some moving and manoeuvring as UEFA has deemed that certain scenarios should be avoided, whether to ensure that all host teams can mathematically qualify, for seasonal and geographical reasons, and for political situations.
With only two teams qualifying from every group, no more than two host nations can be drawn in the same qualifying group – as a result, if a host team fails to qualify, it will be based solely on results.
Winter Venue Restrictions means that no more than two teams from countries that have traditionally severe winter weather can be placed in the same group, to ensure there will be space on the calendar – a UEFA-selected group of ten, containing, Russia, Iceland, Faroe Islands, Norway, Finland, Latvia, Belarus, Ukraine, Estonia and Lithuania.
Excessive travel restrictions are also taken into consideration, which is aimed at ensuring that teams from the geographical periphery of Europe do not have to travel too much throughout qualifying. This is mainly aimed at helping Kazakhstan, Azerbaijan and Iceland.
Certain fixtures have been awarded 'prohibited' status, which means that Spain cannot face Gibraltar, and Kosovo cannot meet either Serbia or Bosnia-Herzegovina. So they cannot be drawn into the same group.
While it all sounds a tad confusing, the on-stage comedy-effect should be limited as "the computer used to assist with the draw will indicate the group available", according to UEFA, thus preventing any deadlock situation.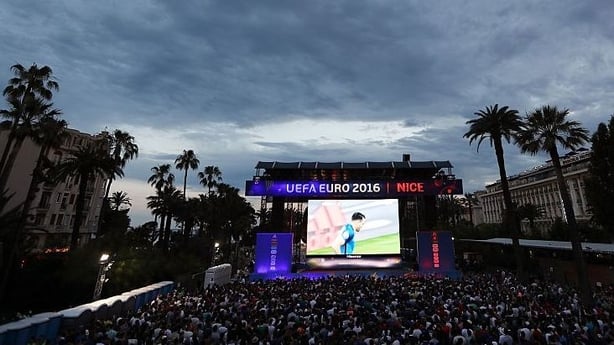 What does it all mean for Ireland?
The only guarantee that Ireland get for this tournament is that Dublin will host four matches, which will no doubt create a real tournament atmosphere about the city with the influx of competing teams and their fans, and the now obligatory "Fan Zone" getting erected within the city limits.
With Ireland placed in Pot 3, there is a real possibility that Mick McCarthy's side could be drawn with two very strong European sides, as the top seeds include World Cup winners France, beaten finalists Croatia, and semi-finalists England and Belgium, while Pot 2 contains Germany and recent foes Denmark.
The one benefit that Ireland can curry some sort of favour from is that they cannot be placed in the same group as two other host nations, which means that they have a better chance of avoiding Denmark and Germany, the strongest sides in Pot 2.
But Ireland will certainly have a tougher time of it as a result of their Nations League relegation. Had they finished first or second in their group, they would have been guaranteed a place in Pot 2.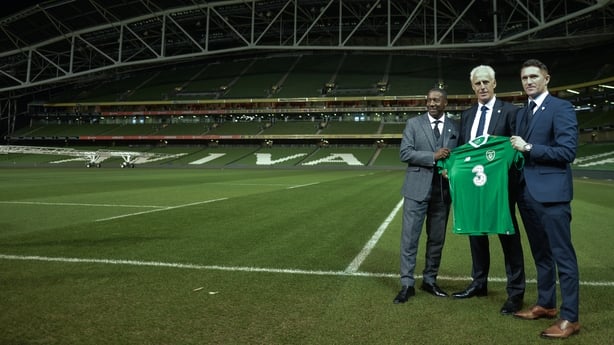 Best and Worst Case for Ireland?
Putting aside the "there's no easy games in international football" cliché, Mick McCarthy admitted that he was hoping for a favourable draw on Sunday.
So looking at the way the teams are classified, Ireland could find themselves in a very tough group or one that is considerably easier.
Tough group: France, Germany, Ireland, Romania, Belarus, Latvia.
Easier group: Poland, Iceland, Ireland, Slovenia, Gibraltar, San Marino.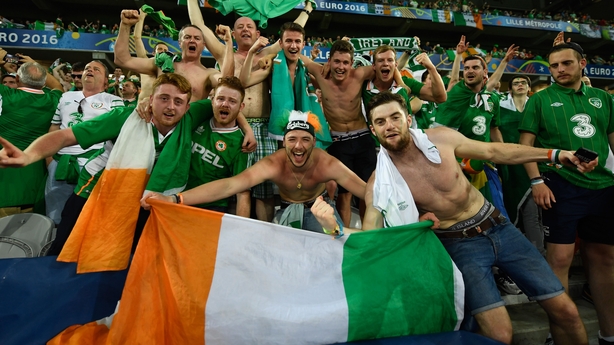 Should Ireland qualify…
Ireland would play their third group game in Bilbao, which has been twinned with Dublin to host the games in Group E during the tournament. That also means that if both Ireland and Spain qualify, they will be in the same group at the Euros.
The first game of the tournament will take place in Rome, while each of the six groups have two host cities.
Group A (Baku, Rome), Group B (Copenhagen , St Petersburg), Group C (Amsterdam, Bucharest), Group D (Glasgow, London), Group E (Bilbao, Dublin), Group F (Budapest, Munich).
Dublin will get one further game in the round of 16, but Ireland would not gain home advantage should then reach that stage of the competition.
The four quarter-finals will take place in St Petersburg, Munich, Baku and Rome, before London and Wembley stadium take centre stage for the two semi-finals and the final.