**Article first on published 24 Aug 2016**
It's often said that you don't know what you've got until it's gone and now that Robbie Keane has finally drawn the curtain down on an illustrious playing career, he might finally get the recognition he deserves.
The 36-year-old Dubliner made his farewell appearance against Oman, fittingly getting on the scoresheet to take his tally to 68 goals on his 146th and final appearance for the Boys in Green.
The years appear to have finally caught up with Keane, who saw his playing-time dwindle for Ireland in the last couple of seasons and his slowing pace and Martin O'Neill's style of play limit his chances in front of goal.
The facts are undeniable and speak for themselves, however. Keane is the best goal scorer that the Republic of Ireland have ever had and he stands among the true greats of the game.
Keane's days with the Boys in Green https://t.co/L8sWFLoizY

— RTÉ Sport (@RTEsport) August 24, 2016
There are only 14 players who have scored more international goals than Keane and the LA Galaxy striker sits comfortably above some of the biggest names in football in the international scoring charts.
David Villa, Didier Drogba, Zlatan Ibrahimovic, Lionel Messi, Thierry Henry and both of the Ronaldo's are all behind Keane's 67 goals for Ireland and yet there's the sense that this contribution to Irish football isn't always recognised for the great sporting feat that it is.
It's hard to know exactly why Keane hasn't been held in the acclaim in which his record as a player deserves.
Maybe it's the nature of his game, Keane was a real throw back to the old-fashioned goal poacher that doesn't seem to thrive as much in the modern game.
Rarely a player to embark on mazy solo runs from midfield or cut inside from the wing at pace, Keane in an Ireland shirt, was a player who did his best work in and around the penalty area, where his goal scoring instincts shone.
That's not to say that there wasn't moments of real beauty from the front man but his biggest contributions to the Irish cause were always more about his knack of being in the right place at the right time.
Even Keane's most memorable goal, scored in the 2002 World Cup in that unforgettable 1-1 draw with Germany, came from the edge of the six-yard box.
There have been attempts to diminish his record and even his commitment to his country have been used as a stick to beat him with.
Never one to shirk a call-up for Ireland, Keane has put his country ahead of his club commitments time and time again.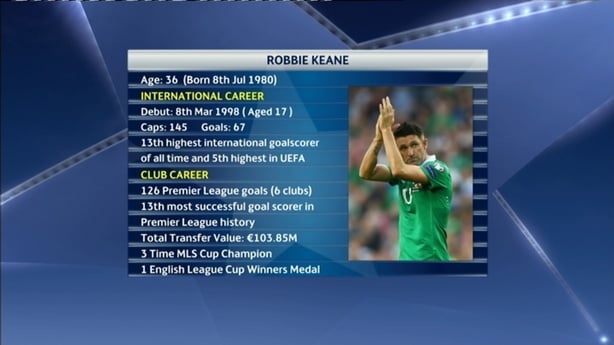 In 2009 when current Ireland assistant manager Roy Keane made an embarrassing attack on players for turning up for international duty whatever the occasion, the feeling was that Robbie was one of those players he had in mind.
"I think players have agendas, certain players come over all the time no matter what," Roy said at the time. "Maybe they want to get 50 caps or 100 caps and a pat on the back for it."
Attitudes such as that seek to diminish Keane's scoring record, along with that tedious old claim that 'most of his goals came in friendlies', but the facts just don't back that up.
Of his 68 goals for Ireland, just under two-thirds were scored in international qualifying events or finals.
Keane has proved himself time and again against the best teams in the world in his club career and for Ireland he has been the man to get the goal when it was most needed.
The nerve he displayed to score an injury-time penalty against Spain at the 2002 World Cup, his third goal in that tournament, was equalled only by his coolness when he found the net away to the Netherlands in the qualifiers for that tournament.
His strike against France in the 2009 World Cup play-off against France is a goal that gets lost in the memory of that night and Thierry Henry's handball, but it was Keane's neat finish from just outside the six-yard box that gave Ireland something to lose.
'He only scored against the small teams', is another refrain that you'll hear thrown around in many discussions about Keane and his place in the list of Irish greats.
The biggest issue with that statement is that it's complete nonsense. Unless Germany, France, Spain, Holland, Italy are to be considered small teams - he scored in competitive games against those sides. 
And even in the grand scheme of things, Keane spent his international career playing for one of the small teams, so if he's scoring goals against small teams, which he did as well, well – what's the problem?
Ireland have spent most of the last decade outside the top 30 teams in the FIFA World Rankings and have dipped as low as 67th place.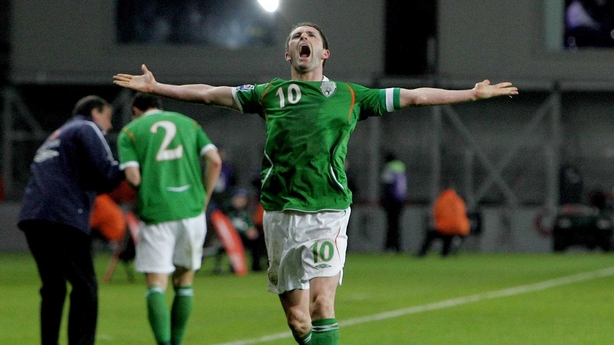 We aren't a France, Italy or Germany who can take qualification for major tournaments for granted and no Irish supporter should ever be above celebrating a goal against Georgia, Gilbraltar, Macedonia or Cyprus.
Indeed two of Keane's more important goals for Ireland came against Cyprus in the qualifying campaign for the 2010 World Cup. The first was the only goal in a 1-0 victory over the Cypriots at Croke Park. The second was the winner in the away clash as Giovanni Trapattoni's side edged to a 2-1 win.
Those two goals earned six points for Ireland which were the difference between finishing second and qualifying for the tournament and finishing below Bulgaria.
Ireland have never been so good that results against teams like Cyprus can be taken for granted and fans should be grateful that we had Keane to give us the edge over teams like them.
The very least that a servant of his stature should get is the chance to say goodbye to the supporters he's served so well down through the years. However, what he really deserves is to feel the appreciation of the country that he's given so much to as a player.
John Giles, Liam Brady, Paul McGrath and Roy Keane are always mentioned as the most talented players to have ever donned the green jersey and that may well be true, but when it comes to commitment for the Irish cause, there's no-one to touch Robbie Keane.