Stephen Kenny didn't have to beat out a host of candidates for his first job in senior football 20 years ago.
Longford Town FC wasn't regarded as the sexiest destination or an auspicious launchpad from which to build a stellar career.
Michael Cox, the chairman who hired him, tries to remember the state of affairs at the time.
"The season before, I think we ended with five or six points, if we even got that."
It was 12 actually.
"Oh was it 12? (laughs)... Look to be honest with you, we were going nowhere, it was simple as that. We were at a complete dead end.
"So it wasn't that big a punt to give Stephen the job at the time."
Longford Town had been paddling around the nether regions of the second tier for almost the entirety of their existence in the League of Ireland.
They were, by that stage, veterans to the business of seeking re-election, the process by which the team who finished bottom of the second tier was retained in the league for the next season. The phrase 'seek re-election' existed as a kind of humorous euphemism on the terraces of First Division grounds (most of them were all terrace) in the 1990s ("will we have to seek re-election this year?")
Always noted, and self-identifying, as a soccer town, their election to the league in 1984 had been contentious in some circles at least.
Eamon Dunphy, then a trenchant critic of the 'Chicken League', castigated the decision to elevate them to League of Ireland status in his column in the Sunday Tribune.
When the local press took umbrage, Dunphy was given a right of reply in the Longford Leader, reiterating that the club were only elevated because a "powerful administrator used muscle to have them elected."
Naturally, it was widely predicted we'd witness another Thurles Town scenario.
The club at least exceeded these lowly expectations, proving more dogged and resilient than their Tipp predecessors. But there was never a doubt that the lower half of the First Division was their natural habitat and they were forced to seek re-election on four occasions in their first fourteen seasons in the league.
They bottomed out in the 1997-98 season. At the beginning of the year, an FAI official arranged a meeting with the club elders at the now defunct Camlin Court Hotel and gently suggested that they might be better stepping down for a breather in the Leinster Senior League.
Michael Cox was not even a member of the board at the time but he trooped along to the meeting with an acquaintance, more out of curiosity than anything. He found the greasy pole of Longford Town FC administration alarmingly easy to scale.
"I knew bright well that if the boys went down into the Leinster Senior League, they'd never get out of it. At the time, it was nearly a tougher place to be than the League of Ireland.
"So I says, 'who are you to come down here to tell us what we can or can't do? We are quite capable of making up our own minds.
"The upshot of it was that I went into that meeting as an observer. And before I came out of the meeting, I had been nominated and elected the chairman.
"Christ, did I get a rude awakening after that. The first year was a nightmare."
Amid stiff competition, the 1997-98 season emerges as the worst in the club's LOI history.
At the time, the team seemed to consist primarily of players deemed too old to cut it at Athlone Town anymore.
Worse still, the squad cost a considerable amount. The players' wage bill totaled £2,000 a week at the beginning of the season. With an average gate of something in the region of 50 people, this was obviously unsustainable and Cox was forced to whittle it down dramatically to £1,200.
As the season drew to a close, it was cut further. This appeared to have the effect of damaging morale. And the players soon lost what motivation they had for busting a gut each week.
The manager, Michael O'Connor, was an Athlone Town hero, the Westmeath club's all-time top scorer and a member of their League winning sides of 1981 and 1983.
He had also served as player-manager of his hometown club with reasonable success in the early 90s.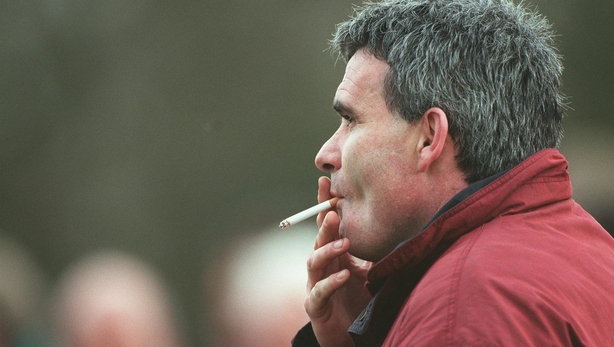 He and his 'Athlone Town legends' outfit (somewhat simplistic, there were players from elsewhere) failed to replicate that success 50km to the north.
They finished the season with 12 points, winning two games, drawing six and losing the other 19.
It was into that wasteland that Stephen Kenny arrived in the summer of 1998.
"Stephen found us. We didn't find him," says Cox. "Stephen approached one of the boys (on the board). I was away on holidays that particular week. It was coming to the end of the season.
"He knew more about Longford Town than we did. He was able to tell him about every match we played for the previous 12 months. He was able to tell us about this player and that player that we had. And he said they were all journeymen. And he says that if I get the job, every one of them is going.
"He said there'd be a new team of young players coming in and they won't cost a fraction of what the old team cost. And he was right there because his average player was on about 50 quid a week.
"They had met in the Tally Ho (bar in New Street in Longford). So I said I'd meet him there at half two on the following Tuesday.
"The first thing he did say to me was 'Mick, can I have a private word with you?' He said, 'let's be straight about this. If I get this job, this will be the last meeting we will hold in a public house.'
"He wasn't into that. He wanted everything done privately where nobody could hear what was said. He laid down the law very early.
"I looked at him and said 'Stephen, hold up now a minute! I'm only off the plane and back here in Longford. I hadn't a clue where ye wanted to meet. I have no problem whatsoever. Ye can meet where ye like after this.
"But anyway, after listening to him and talking to him, I said if you want the job, it's yours.
"We knew he knew his stuff. He wasn't a chancer. And the one thing that really did impress us was that he said straight away, "I won't be bringing in these boys that ye have. I'll be bringing in young lads from Dublin that are hungry for football and it's not money they're interested in.

One of those hungry players was goalkeeper Stephen O'Brien, who'd spent a season and a half as understudy to Alan Gough at Shelbourne, then perennially chasing the Premier Division title under Damien Richardson.
As with Cox and the Longford Town board, Kenny almost spooked O'Brien with the extent of his knowledge of his career.
"He knew an awful lot about me, where I played schoolboy football, that I had played over in the UK in Gillingham, that I was a schoolboy international...
"Typical Stephen, he'd really, really done his homework. He basically said to me 'you're going to be playing every Friday night, every Saturday night, whenever we're playing. Although it's the First Division, it could be a stepping stone back to the Premier'. Listen, from the start, he was very convincing."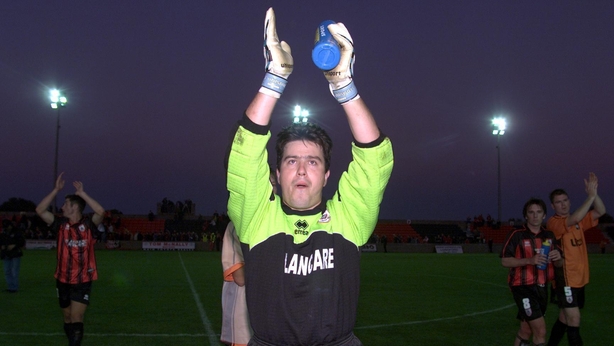 With more or less the entire 1997-98 squad having bolted for the exit door - local player Enda Kenny was one of the few retained - the new manager stitched together a team of young players using his intimate knowledge of the scene in Dublin.
"He got a load of hungry players in," says O'Brien. "I was very hungry because I was a reserve at Shelbourne. I wanted to prove myself. And he got in a lot of players of that mindset. The likes of Vinny Perth from Cherry Orchard, Paul McNally from St. Francis. He signed Alan Merriman and Shay Zellor from Tallaght Town, he got Keith O'Connor who was at Bluebell I think."
For the Dublin-based players, arriving at Mullologher, the club's ground since they moved from Abbeycartron in the early 90s, was a "shock to the system".
There was a scaldy little Guinness sign behind one of the goals. On one side, there was a little shed and a terrace you could stand on
"When you drove up the main road from the town, you'd pull into the ground and there was a little standalone dressing room right alongside the car park.
"Literally, there was four walls around the place. When you walked from the dressing rooms and through the tunnel, there was a scaldy little Guinness sign behind one of the goals. On one side, there was a little shed and a terrace you could stand on. So, there was nothing there like.
"But the pitch was always very good."
The training set-up was similarly ramshackle but Kenny's resourcefulness made it work. Most importantly, the quality of the coaching was excellent.
"Stephen would have been on an absolute shoestring. He got us training up at Celbridge golf driving range. There's a five-a-side astro there which we often trained on and at the top of the driving range, there was actually a patch of grass.
"And Stephen being Stephen, he gets on with everyone so he convinced the lads at the top of Celbridge golf driving range to put floodlights up there for him. So, we were able to train on that patch of grass and that's what we did at the start. It was mostly Dublin-based lads and he had a couple of lads from Longford mixed in with us.
"But the training was fantastic."
Kenny encouraged his players to play without any fear.
"His biggest strength is his belief in players. He really put confidence in you to go out and play football. He insisted that you be brave on the ball," said O'Brien.
"His balance on the team was very good. He started off playing 4-4-2 and he always had good wingers. It was always attacking, exciting football and he always got full backs overlapping."
The first few months of the 1998-99 season were a somewhat disorientating experience for the club's (then) small band of supporters.
Long-time followers who'd come to regard Longford Town's presence near the foot of the table as a simple fact of life were now having to acclimatise to life at the top, adjusting to this strange new reality in which their team was winning games on the regular.
Limerick City were battered 3-0.
Monaghan United were dispatched 2-0
Kilkenny City and Cobh Ramblers dismissed 3-1 and 2-0 respectively.
After each home win, the small cluster of supporters would depart via the quickest route, namely, by striding casually across the pitch and trooping down the players' tunnel into the car park.
The dressing room door was usually ajar with the players towelling down. Kenny would be standing at the entrance, smiling and bidding goodbye to the supporters as they passed.
Cox remembers the startling turnaround.
"From going out to matches where there wouldn't be 50 people at the games, where you know you were facing defeat before a ball was kicked, all of a sudden we were playing a totally different brand of football. We now had young fellas playing football and keeping the ball on the ground."
By the end of November 1998, Longford Town, a distant bottom at the end of the previous season, were top of the league.
Their form tapered off somewhat in the second half of the 1998-99 season though they still finished in the relatively lofty position of fourth.
Kenny added to his squad in the off-season, drafting in former club hero Richie Parsons, the Town's leading scorer during the modestly successful Dermot Keely years in the early to mid-90s.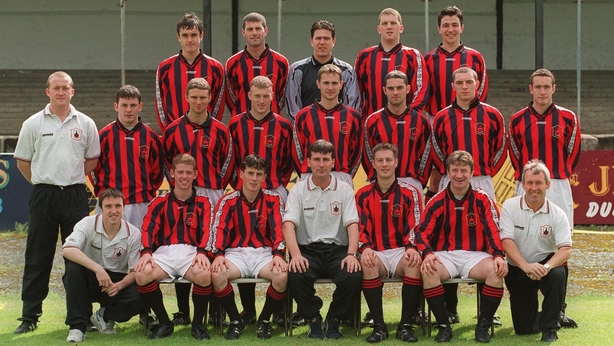 He formed a striking partnership with Keith O'Connor and their goals powered Longford Town to the top of the First Division scoring charts in 1999-00.
In the penultimate match of the season, at home to Monaghan United, the pair grabbed a brace each in a 4-1 win and Longford Town had effectively confirmed their promotion to the Premier Division for the first time.
To the shock of the dressing room, Parsons wasn't offered a new contract in the off-season.
"The thing with Stephen is, people think he's a little bit soft, because he's quietly spoken and he's a gentleman." says O'Brien. "But there's a ruthless streak in him.
"He got rid of players who got us promoted. He got rid of Richie Parsons. And Richie was brokenhearted. He was a big favourite at the club and had previously been at the club.
"The players were dumbfounded. Because Richie had played in the Premier for Bray and we thought he was a shoo-in to stay. But that's Stephen. He thought he was improving things that way. Now, he still he gets on very well with Richie. He just moved him on.
"He made a fantastic signing with Stuey Byrne. He was picking players who he knew would do a job for him. Stuey had played in north for Crusaders and had fallen out of love with the game was thinking about giving up. But Stephen got him in and he was a revelation. He played in the centre of midfield and was fantastic. We made it to the Cup final."
Their first season in Premier Division was an unqualified success. They easily survived in the top flight and reached the FAI Cup final at Tolka Park.
And because Bohemians won the Double, that meant Longford Town were bound for the UEFA Cup. The seated Main Stand had already been erected for the inaugural season in the Premier Division. The arrival of European football meant that seats had to be hastily installed in the rest of the ground.
When he arrived three years earlier, the ground consisted of a few rickety, standalone sheds and a pebbly incline on the dugout side where the loyal supporters congregated.
By 2001, the so-called 'Flansiro' had been born.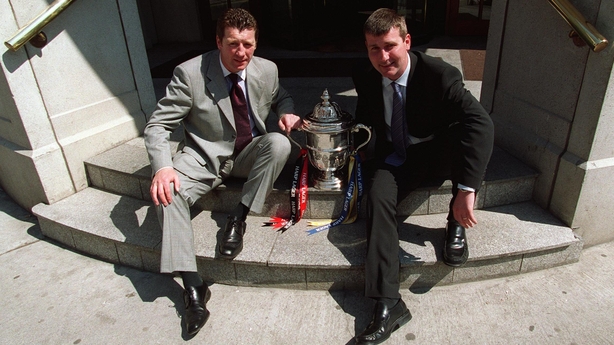 Midway through the following season, he was gone, snapped up by the faltering defending champions Bohs.
"I'd say it's the same at whichever club he's left," says O'Brien. "He phones you personally. He's gutted down the end of the phone.
"He's almost apologising for leaving. But ultimately, he has this streak in him where he knows where he wants to go.
"He left Longford after three and a half years in a much better position that he found them. And the players he brought there, he made their careers much better than they were before he arrived. I had a fantastic time down there. It was the best time of my career."
O'Brien, who likes that Kenny is getting two years with the U21s to adjust to international management, says the Republic of Ireland manager elect will not blindly judge players based on the club they're playing for.
"He's a real believer if you're good enough, you're old enough. And he would pick a player playing for Longford Town to play for Ireland if he thinks he's good enough. And he won't care.
"Because he's good at spotting players and he knows what they can give him. So, he won't care if you're playing Wolves or Ipswich or Gillingham or non-league.
"It'll be his team, he'll expect them to behave in a certain manner and he'll expect a certain performance from them... Anyone who thinks Stephen will have a problem managing Ireland, they're severely mistaken."
In the first game after his departure, and before he had taken over at Dalymount Park, Longford Town met Bohemians at home.
A sheepish looking Kenny arrived at the ground for the game. He received a prolonged ovation from the home crowd. The team he had built proceeded to beat the team he was due to take over 2-0.
Five and a half years later, Michael Cox, alongside Longford Town stalwarts like Noel 'Butch' Treacy and Donald Keogh, were invited guests at the Scottish Cup final at Hampden Park, where Kenny's Dunfermline played Celtic.
"Everyone in Longford would be delighted to see him getting the Ireland job," says Cox. "Personally, I'd have been delighted to see him getting it now! He did a lot for football in the county.
"Only for Stephen Kenny went to Longford, we would have gone nowhere."