Leinster Senior League club Ballybrack FC have issued an apology for a "gross error of judgement" after it emerged that the club falsely reported that one of their players had died last week. 
Ballybrack were due to play Arklow Town on Saturday afternoon but the game was postponed after the south Dublin club informed the league that one of their players, Spanish native Fernando La Fuente, had died in a traffic accident on Thursday evening. 
A minute silence was held in the player's honour at all Leinster Senior League games played at the weekend. 
The League posted notice of the player's death in the Herald on Monday, offering their 'heartfelt condolences' to his family and the club itself.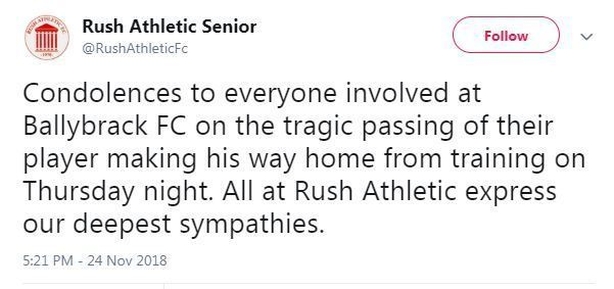 However, the League confirmed this afternoon that they had learned that the player was not dead and were told he was back in Spain. It later transpired that he was in fact in Galway.  
Speaking to RTÉ Sport this afternoon, Leinster Senior League chairman David Moran said that he had been unable to contact the club
"We can't get confirmation from Ballybrack FC but we got confirmation that their secretary had resigned this afternoon," he said. 
This evening, the club have issued a statement on Facebook in response to media reports, in which they described the false reporting of the player's death as a "grave and unacceptable mistake" from a member of the senior management team. 
This person, they said, had been relieved of all of his duties within the club, though they stressed that the error was "out of character". 
The club said they had contacted the player in question to confirm his whereabouts, and said they were "thankful for his acceptance of our apology on the matter."
They apologised to the League and Arklow Town FC and said they were "taken aback" by the turn of events. 
LSL chairman David Moran had earlier told RTÉ Sport that the club's story started to unravel on Monday. 
"We were told last Friday morning at 8.00 that the young lad had died. Their game was called off against Arklow. And then the story started to unravel yesterday.
"So, I had no option but to issue that statement (below). Because the initial statement that we had issued to the Herald for Monday was gone. 
"He's in Spain apparently, thanks be to God. That's the one good thing about the story. The young lad didn't die in a motorbike accident last Thursday. He went back to Spain four or five weeks ago apparently.
"The Leinster Senior League rang yesterday morning. We wanted to show our sympathies and go to the Mass and maybe meet the family and see what we could do to help in this horrible situation. 
"And we were told he was flown back to Spain on the Saturday. Straight away, that rang alarm bells for us. How would you die early on Friday morning and be flown back to Spain on the Saturday? 
"It started to unravel then. We rang and we couldn't get any answers out of them (the club). 
"We checked the hospitals, we checked everywhere. Nobody could find anything about this young fella. Obviously, some of his teammates released stuff on social media saying he went back to Spain four weeks ago.
"We don't honestly know why they did it. It seems a bit extreme to do something like that to get a game off. All they had to say was they were giving a walkover and they'll get their fine and that's the end of it. 
"It's very extreme to get a game off. We acted in good faith. We had a minute silence at the weekend for that young lad. It's absolutely ridiculous.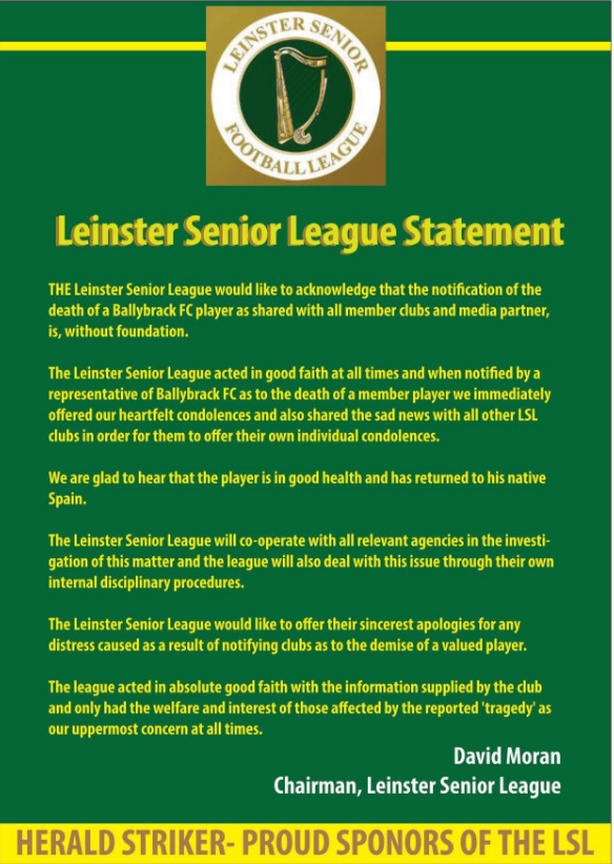 Here's the statement that the League released this afternoon, promising to investigate the matter. 
"The Leinster Senior League would like to acknowledge that the notification of the death of a Ballybrack FC player as shared with all member clubs and media partner is without foundation.
"The Leinster Senior League acted in good faith at all times and when notified by a representative of Ballybrack FC as to the death of a member player we immediately offered our heartfelt condolences and also shared the sad news with all other LSL clubs in order for them to offer their own individual condolences.
"We are glad to hear that the player is in good health and has returned to his native Spain.
"The Leinster Senior League will co-operate with all relevant agencies in the investigation of this matter and the league will also deal with this issue through their own internal disciplinary procedures.
"The Leinster Senior League would like to offer their sincerest apologies for any distress caused as a result of notifying clubs as to the demise of a valued player.
"The league acted in absolute good faith with the information supplied by the club and only had the welfare and interest of those affected by the reported 'tragedy' as our uppermost concern at all times."
The Leinster Senior League will meet tomorrow to decide what sanction to apply to Ballybrack.