Ian Wright has revealed how he overcame his deprived childhood, an abusive step-father and a spell in prison to become a professional footballer.
In a candid and moving interview with the Players' Tribune, the former Crystal Palace, Arsenal and England striker, 55, also paid tribute to the people who had helped him to finally beat his demons and realise his dream.
"I know a lot of people think of me as some happy-go-lucky guy," the Match of the Day pundit said.
"They see the gold tooth and the hat and think I must be joke joke, joke, joke. But, I'll be honest with you, it's been hard to earn this smile.
"For a large part of my life, I was angry. I was always angry."
Wright's father absconded and left mother Nesta to raise her family in a one-bedroom house in Brockley, South London.
"That house wasn't a good place for me, which is probably why I would stay outside kicking a tennis ball against a brick wall for hours on end," Wright said.
He was bullied by an older step-brother, but it was his step-father's cruelty which caused him most pain.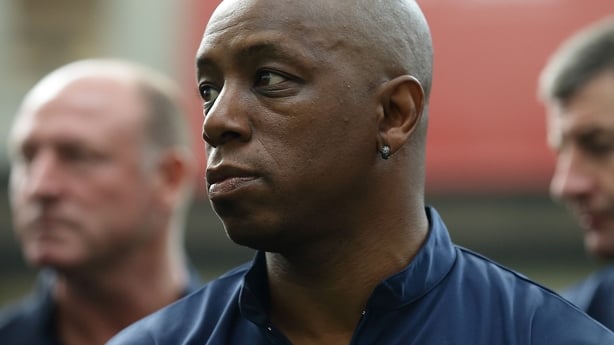 "He was a weed-smoking, gambling, coming-home-late, gambling-his-wages, womanising kind of guy," Wright said.
"He was rough with my mum and rough with all of us kids. And I don't know why, but he didn't like me in particular.
"One of the few things my brother and I looked forward to in the house was Match of the Day, and my stepdad used to take that away from us - just because he could.
"Depending on what mood he was in, he'd come into the bedroom just before it started and he'd say, 'Turn around. Turn around to the wall.'
"We had to face the wall the whole time Match of the Day was on. And the really cruel thing was that we could still hear everything. It was awful. I would cry myself to sleep whenever he did it.
"I carried that with me for years. Whenever I heard the Match of the Day theme music come on, I would feel that pain in my chest. And I'll be honest with you, it still gets to me every now and again.
"The first time I went on the show as a presenter, Des Lynam walked up to me and said, 'Ian Wright, welcome to Match of the Day.
"I nearly broke down crying. I told Des,'This is my Graceland."'
We need your consent to load this YouTube contentWe use YouTube to manage extra content that can set cookies on your device and collect data about your activity. Please review their details and accept them to load the content.Manage Preferences
Wright fondly recalled primary school teacher Sydney Pigden, who taught him to read and write and made him register and milk monitor, plus Tony Davis and Harold Palmer, who ran local football team Ten-Em-Bee.
"They used to come to my house to pick me up and drive me directly to training.  I didn't realise it at the time, but they were doing all they could to help me avoid getting in trouble with the police.
"And then I blew it anyway and ended up in prison when I was 19."
Wright spent two weeks in Chelmsford Prison in 1982 for non payment of driving fines and, having already been rejected by Brighton, quit football to become a labourer.
He married first wife Sharon and adopted her son, former Manchester City and Chelsea winger Shaun Wright-Phillips.
Wright signed semi-professional terms with Greenwich Borough while still providing for his family as a plasterer and turned down three approaches from Crystal Palace before impressing then manager Steve Coppell in a trial.
"It was only a three-month trial but I'd done it: I was able to call myself a professional footballer," Wright said.
"Nearly 11 years of rejection, bullying, prison and all sorts of nonsense, and I had finally gotten my dream."
Wright's brilliant career with Palace, then Arsenal and England has been well-chronicled, but memories of his troubled past will never leave him.
"The truth is, I spent so much of my life angry and trying to catch up after a bad start," he said.
"Maybe now that you've read my story, you'll see me on the television flashing a smile and you'll really understand that I wasn't born with it. I earned it."