Brendan Rodgers claims it is unfair to blame his Celtic players for the actions of opposition fans.
The Celtic manager defended his players' right to acknowledge their own supporters after the publication of a police memo which claimed they had provoked an angry response from Rangers fans following their 1-0 home win in September.
An unnamed superintendent claimed there had been a "clear link between the between the actions of the Celtic players [which immediately inflamed an already delicate situation] and subsequent response of the Rangers fans".
Another police report, which was published following a Freedom of Information request, claimed: "Celtic players did a lap of the pitch before stopping in front of the Rangers supporters and celebrating which incensed the Rangers supporters. Public order officers intervened to prevent disorder and them entering the pitch."
The police debrief stated they would liaise with clubs over "post-match celebrations on the pitch".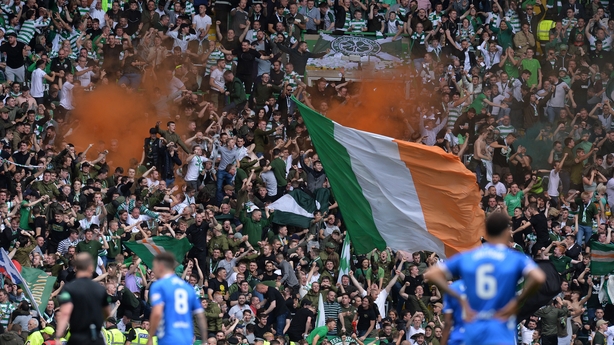 However, Rodgers insisted there was nothing untoward or unusual about the players walking round the pitch to salute their fans.
"I think it's a little bit unfair on the Celtic support," he said when the comments were put to him. "I don't know what's been said.
"When I first came into Celtic, from my very first game and the week leading into my first game, I said to the players what was going to be absolutely critical for us is going to be the connection between the players and the supporters. That synergy, that connection is absolutely vital if we are going to succeed.
"And I made sure that after each game, whether we win, lose or draw, we always acknowledge the supporters. Because they travel from far and wide, up and down Scotland, across from Ireland, from all over the world. And it's something that the players and myself have always done, is recognise that.
"So whether we have won, whether we have lost, whether we have drawn, whether it's against Rangers, whether it's against Inverness or Ross County or Livingston or Hamilton, we always do it. So it's not so much a lap of honour in that last game.
"But I also think it's unfair to put the responsibility of away supporters on to Celtic players.
"We show our appreciation and respect for the incredible support that we get. Our aim is never to antagonise or provoke any support, and especially in a Celtic-Rangers game, because I as much anyone, understand the delicate nature of it.
"But we will always respect our own supporters and want to acknowledge the incredible support that we get, and I repeat, whether we win, lose, or draw, that will always be the case."