FAI chief executive John Delaney believes the appointments of Mick McCarthy and Stephen Kenny have formed "a plan, pathway and vision" for Irish football and that both managers are content with it.
Delaney, under fire throughout the week after the parting of ways with Martin O'Neill following a series of bleak performances, has taken the unusual approach of naming then next two managers of the senior team.
McCarthy leads the team until the end of Euro 2020, when new Under-21 manager Kenny will then step up.
Delaney told RTÉ Sport: "I'm delighted with the appointments today. Mick McCarthy is coming in to get us to the Euros which is obviously very important.
"Mick has been the second most successful manager in Irish history, next to Jack Charlton, getting to two play-offs and qualifying for 2002 World Cup.
"The other significant announcement is Stephen Kenny will take over as Under-21 manager and be responsible for all underage male teams.
"Stephen will then take over as the senior international manager after the Euros in 2020."
"Today is a very positive day for Irish football and it sets out a plan, pathway and vision for the next four years."

John Delaney spoke to @corktod about a frenetic week in that ended in two managerial appointments #rtesoccer pic.twitter.com/hPXOLG1Tu0

— RTÉ Soccer (@RTEsoccer) November 25, 2018
Talks with Kenny were completed on Saturday, with Delaney admitting it took some time to convince the Dundalk boss and he needed the carrot that he will take over in two years.
He feels the learning curve of the Under-21s will be a big help to the 47-year-old.
"I think it took a number of discussions. Stephen is an outstanding football manager and an outstanding person. I have known Stephen a long time.
"We were just talking about it yesterday when I was secretary of Waterford and he was with Longford Town.
"We have a relationship going back many, many, many years. He wants to manage the senior team. He will get the opportunity in 2020. In the mean time he is going to play a huge role in Irish football.
"He is a very experienced manager and he has done absolutely brilliantly with Dundalk in the League of Ireland and the Europa League and Champions League. He needs to get into international football now.
"I spoke to him earlier. He is absolutely excited about going around Europe, looking at different styles, players, talking to international managers and learning from Mick McCarthy on what it is like because you don't get the players every day.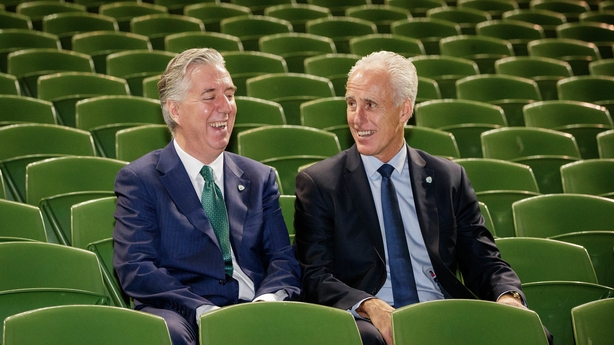 "They come in for a short period of time and you don't have as much time to work with them. He is really looking forward to it.
"Today is a very positive day for Irish football and it sets out a plan, pathway and vision for the next four years.
"The most important thing for Stephen is he would get the opportunity to manage the senior team. That is in 2020.
"In between he has a big job of work to do, a big job of work. He'll be immersed in Irish football and learning how international football works. It's a big difference."
The main element of surprise to the arrangement was McCarthy buying into it  - a manager notorious for long-term and consistent results in jobs.
Delaney revealed: "Mick was great about it. Mick understood the vision, what we're doing. Mick just wants the opportunity. It's not an inconsiderable thing. He is setting out his stall to get us qualified for Euro 2020.
"The draw is in Dublin next Sunday with 140 million people watching it live. This is our chance to qualify for our third European Championships in a row and host four games, with two of them Ireland at home."