New Ireland manager Mick McCarthy will meet with Declan Rice in December to discuss the player's future international allegiance and whether he could be a part of Ireland's Euro 2020 campaign.
Rice has already played three times for the Ireland senior side, however, the West Ham midfielder has yet to play in a competitive fixture for the national team and recently put his international future on hold.
McCarthy was unveiled as Ireland manager at the Aviva Stadium earlier today and revealed that he had already spoken to the player's father and would meet with Rice next month.
"I spoke to Declan's father, Sean, today, and I had a really good conversation with him.
"Just to clear up a few things, Declan wasn't here for the games because he had a fall out with Roy or Martin, He has the utmost respect for those guys.
"But he was asked by Gareth Southgate to go up and see St George's Park and to see whether he could be enticed to play with them.
"Of course, there was a hue and cry then that he shouldn't play and lots of different opinions.
"And he didn't say he wanted to or didn't want to, but he found it overwhelming."
Mick McCarthy spoke to Declan Rice's father in recent days. He clarified the situation and will take up the conversation again with the player and family next month. #rtesoccer pic.twitter.com/BzYCVioFbh

— RTÉ Soccer (@RTEsoccer) November 25, 2018
McCarthy certainly saw nothing wrong with Rice's decision to step away from international football while he was concentrating on establishing himself in the West Ham first team.
But the manager will, no doubt, look for further clarification when he meets with the player directly.
"I remember saying to myself, 'he should just get in the West Ham team and take a back seat'.
"Well he has got in the West Ham team, he is going well and I am going to speak to him in December when his father is around and I'm going to sit down and have a chat with them both."
McCarthy, of course, returns to the Ireland set-up having managed Ireland from the end of the Jack Charlton era in 1996 through to the start of the Euro 2004 campaign, having secured qualification to the Japan/Korea World Cup in 2002.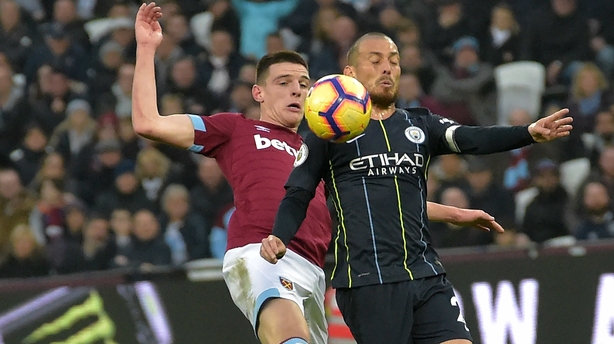 And the former Ireland captain admitted that only time will tell whether it was a good decision to return for a second spell as international manager.
"We'll see, won't we, whether it's a good decision to come back.
"If, when, how we qualify for the Euros and how successful I am. I was never even going to turn down the chance to take the job.
"It has been mooted on a number of occasions every time a new manager was going to be selected.
"My answer was always, 'if I'm out of work and the job comes up and no one is there, of course I'll take it'.
"We'll see if it was a good decision in two years time. But I'm looking forward to it."
The former Sunderland and Wolves manager will now lead the team through to Euro 2020 as Ireland look to qualify for the tournament that they are co-hosting, before handing over the reins to Stephen Kenny who will take on the role for the 2022 World Cup campaign.
How will Mick McCarthy feel if he does well and then he has to stand aside for Stephen Kenny in 2020? @corktod asked the question. Mick may head for China..... #rtesoccer pic.twitter.com/5tz4rzxPIX

— RTÉ Soccer (@RTEsoccer) November 25, 2018
And while the new man admits that he may not want to go at the end of the two years, he accepts that the situation was made clear during a meeting with FAI chief John Delaney, and accepts that he will depart following the 2020 campaign.
"It was explained when I went to see John and Ruud [Dokter] and I am happy enough with that it is for two years to qualify for the Euros.
"If we do really well and we get to the finals and win it, there might be a push for me to stay, but then there might also be a job in the Premier League.
"And if I do badly and we don't qualify, you won't want me here anyway. It kind of fits for me, it works."
And while McCarthy admitted that he did not know Stephen Kenny very well, he revealed that they would meet for dinner following the press conference and hopes that he can make the 2020 transition as seamless as possible.
"I hope that I leave a team that has qualified and a good team and a good squad behind that he can take over and try and qualify for the World Cup in 2022."