Ray Houghton says Mick McCarthy believes he has 'unfinished business' with the Republic of Ireland and understands well the issues dogging the squad in the past year.
It is understood that McCarthy is on the verge of being offered a two-year contract as Republic of Ireland manager, 16 years after his previous stint in the job concluded.
Speaking to RTÉ Sport, Houghton, who played alongside McCarthy at Euro '88 and Italia '90, and also played under him during the ultimately doomed qualifying campaign for France '98, says his old team-mate knows the ropes and will be primed for the challenge.
"Mick's been there before. He's got huge experience. He'll probably tell you he's got unfinished business at international level. He's currently out of work and he's desperate to get in.
"Mick's a manager first and foremost. He talks about football all the time. I've been at a few golf days with him and all he's talking about is getting back into the game. He'll certainly be ready for the task. He knows the job inside out."
Ireland endured a dismal 2018, winning just one game from nine - against an under-strength USA side in June - and suffering relegation in the inaugural Nations League.
The dearth of goals was the primary issue, with Martin O'Neill's team finding the net on only four occasions all year. Houghton is not inclined to wallow in negativity and disagrees with the assertion that the past year represented an "all-time low".
"I don't think it's at an all-time low. I think we're going through a tough time. We've had the one win in 2018 against the USA. Last four games we haven't scored a goal but we've only conceded the one goal against Wales. That shows you defensively, we have enough about us. We know how to get behind the ball and make things difficult. What we have to try and do is express ourselves more as an attacking team.
"Mick hasn't been on some island somewhere not watching football. He'll have been watching the Irish international team. So, they'll know exactly what's been going on and what they need to do. One thing they'll need to do is hit the ground running. You have to make a statement about what you're about and what your intentions are and your philosophy on the game."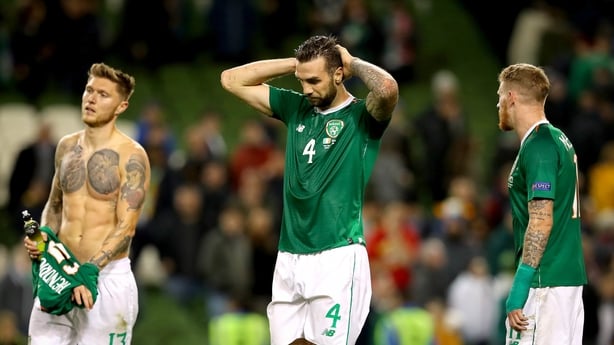 While Martin O'Neill was widely criticised over the perception that he wasn't issuing detailed instructions to his players beforehand, Houghton reckons the players themselves need to take more responsibility and make better decisions on the pitch.
"I don't always agree with that. I think that's an easy cop out. I think players have got to think for themselves. Even if your manager says to you to sit back a little bit deeper, if you win the ball, you've got to get yourselves higher up the pitch.
"To me, that's simple and players have to take a little bit more responsibility. It's not always about defending. Football's a two-sided game. It's about what you do with the ball as much as what you do without it.
"We know what to do without the ball. We've proved it. Now, we have to be more proactive in the final third. We need to get players higher up the pitch. We need to be a little more forceful in front of goal."
Prior to the disclosure that McCarthy's coronation was imminent, it was understood to be a two-horse race between him and Dundalk manager Stephen Kenny.
Houghton, who was involved in the selection committee that appointed Giovanni Trapattoni, praised Kenny's work at Dundalk and disputed the notion that one had to have managed outside Ireland to be eligible for consideration.
"There was a lot of talk about Stephen Kenny and rightly so. Stephen's done a fabulous job here in Ireland. I'm sure he was uppermost in the thoughts of the FAI. I'm sure in the future if he keeps doing what he's doing then he'll get his opportunity.
"I don't think you can undermine the job Stephen has done. He's been exceptional. The team plays with a lot of flair. Everyone knows their job and that's hugely important.
"And we've seen it before with Brian Kerr. Brian made that adjustment of being the underage manager to going in and taking on the senior job full-time. Without any experience of being a manager in England. I don't think you need to do that.
"What you need to do is be the manager of men. And I think Stephen has got that capability. It's just a matter that maybe he has to bide his time and a couple of years down the line."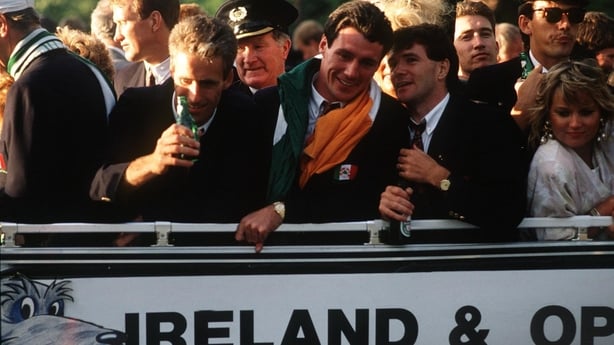 Houghton wasn't drawn on the question of whether Mick McCarthy will be able to coax Declan Rice back into the Irish fold and suggested that the prior long term focus should be on developing the next generation of stars within Ireland where the competition between sports has never been tougher.
"Where's the future? Where's the next generation of youngsters coming through? We need the next Robbie Keane, we need the next Damien Duff. Are they out there? And if not, how can we foster that?
"How can we get around the country and get youngsters of 9, 10, 11 playing soccer rather than going to the rugby, which is really high profile at the moment, more so than playing the GAA or the hurling or playing golf or any of the other variety of sports that there is in Ireland at the moment.
"We need to try to get more playing soccer and bringing the next generation through."
Irish football legend Ray Houghton launches The National Football Exhibition, which opens to the public on Sunday 2 December 2018, at the Printworks, Dublin Castle and will remain open until the 9 December 2018. The interactive exhibition, which is free to enter, celebrates 60 years of the UEFA European Championship and Irish football, hosting a range of iconic items celebrating Ireland's rich footballing history