Mauricio Pochettino is hopeful Tottenham will be in their new stadium in January or February.
Spurs' move to their new 62,000-seater home missed its August and September deadlines due to contractors missing deadlines and critical alarm system failures and last month the club announced that they would stay at Wembley until at least the end of 2018.
The club are still unsure at this stage when they might get the go-ahead to return to the White Hart Lane site and have yet to announce any test dates, with an update expected at the beginning of December.
The boss, who visited the stadium on Wednesday, is praying to move in by early 2019.
He said: "I am not suffering for things that have not happened or with a situation that we have not faced because it is not in my hands.
"Yesterday afternoon we were there, checking the facilities, the changing rooms and everything. We are so excited, we cannot wait to move there. We understand that it is a fantastic project for the future of the club that will be forever.
"To wait maybe one or two months more, we need to have patience. We are so disappointed because we expect to play in 2018 and it should be ready for play before the end of the year, but that is not going to be possible and we need to wish and hope that in January or February we can move there and it will be a fantastic moment for everyone, the supporters, the players.
"It will be a massive boost."
Spurs resume their 'home' campaign at the national stadium on Saturday when Chelsea make the trip across London for the tea-time kick-off.
The Blues are unbeaten in the Premier League under Maurizio Sarri this season, though they are only a point above Spurs, but Pochettino has suggested their good form may be down to their lack of Champions League action.
He said: "In the last 10 years I think Chelsea was so impressive with (Jose) Mourinho, (Antonio) Conte and they won titles. Of course they have an unbelievable squad.
"They are doing very well with Sarri this season, still unbeaten. It's true that first season with Conte they were not involved in the Europa League and the next season Chelsea struggled a little when they were in the Champions League.
"This season they are competing in the Europa League again and it's completely different for Manchester City, Manchester United, Liverpool or us because we're competing in the Champions League. It's a completely different competition.
"I am not surprised (by their start) because Chelsea have an unbelievable squad and players. This summer they invested. They signed players, quality players and they added to the squad. But it's normal, they have one point more than us. It's not surprised me that they're doing very well."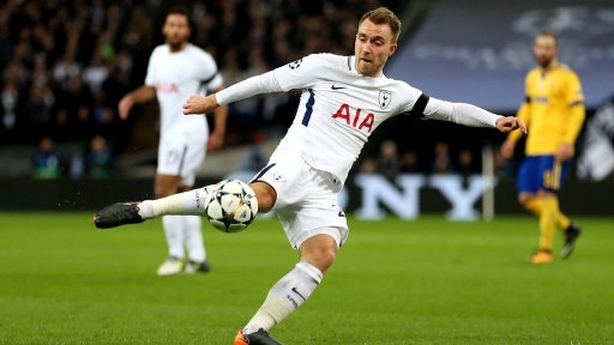 Meanwhile, Pochettino says the club is working hard to get Christian Eriksen to commit his future to the club.
Eriksen, who has been linked with moves to Barcelona and Real Madrid, still has 18 months to run on his current deal, but Spurs are keen to make him their latest star to sign a new bumper deal.
Pochettino himself, Harry Kane, Dele Alli, Heung-Min Son, Davinson Sanchez and Harry Winks have all signed new contracts in the last few months as Tottenham's incredible knack of keeping their key players continues.
The Denmark international certainly fits into that category and Pochettino would like to see a deal done.
"He knows, we know what we are doing and we are working hard," he said. "The club is working, trying to take the best decision, Christian is going to take the best decision.
"I am not worried. In football I am never worried, but I prefer he is going to sign the new contract and stay a long time at Tottenham. That would be fantastic."
Eriksen, 23, arrived from Ajax in 2013 for just £11million and that has proved a snip as he has been one of the top creative forces in the Premier League.
Asked whether - at that price - he has to be considered one of the best Premier League buys Pochettino responded: "I don't know. It's difficult to judge in this way. Five years ago, £11m means £100m today, with Brexit and all that effect on the political situation in Europe. I don't know.
"In this transfer market five years ago, Eriksen was £11m, so I don't know what another player costs! It's true Christian is a very good player and when he was signed he was a prospect, a very good player at Ajax but still young and Tottenham provided a very good platform to develop his quality.
"Eriksen and Tottenham, and Tottenham and Eriksen was a very good mix. Good for Tottenham, good for Christian Eriksen. That's why I hope Christian continues to develop his career his with Tottenham."