It's easy to forget now just how close Ireland were to the quarter-finals of Euro 2016, a tournament where Wales progressed to the semi-finals and unfancied Iceland overcame England in the knockout stages.
Having surprised many as they safely negotiated a group that contained Belgium, Italy and Sweden, Ireland were paired with Didier Deschamps' France side in the round of 16 and got off to the perfect start in the Parc Olympique Lyonnais.
With just one minute on the clock, Paul Pogba clumsily bundled into the back of Shane Long and Robbie Brady converted the spot kick.
Unfortunately for Ireland, France were able to regroup at the break and a second-half brace from Antoine Griezmann, coupled with a red card for Shane Duffy saw O'Neill's side eventually edged out by a French team that would go on to the final, where they were beaten in extra-time by Portugal.
There's a compelling argument that says that first half was the best 45 minutes of football that Ireland played under O'Neill.
This was a team sent out to attack and not just to frustrate, but to win against one of the best teams in the world. They played with a belief and swagger and attacked with a sense of poise and purpose that has been conspicuous by its absence over the last year.
Fast forward 17 months and Ireland took the field at the Aviva Stadium in a similar position to the one they found themselves on that summer's day in Lyon.
In the second leg of a play-off tied 0-0 after the first leg in Copenhagen they got that early breakthrough - as they did against France in the previous summer. With just six minutes gone Shane Duffy headed home his second international goal when the visitors failed to properly deal with a free-kick.
It was all downhill from there however. Instead of trying to press their advantage and add to their lead, Ireland sat back and attempted to play on the counter-attack while a sting of individual errors allowed Denmark to pick them off.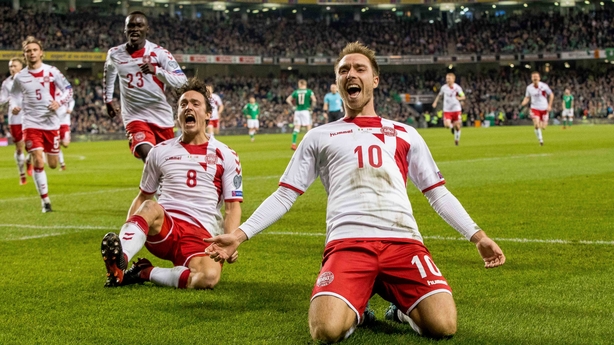 Two goals in two minutes from Christian Eriksen saw Denmark go into the break in front, but there was still hope, still time for Ireland to regroup and pull it around if the right changes were made at the break. They weren't.
O'Neill went full attack in the second-half, sacrificing his entire defensive midfield with David Meyler and Harry Arter going off for Aiden McGeady and Wes Hoolahan. Shane Long then came on for Ciaran Clark. It was all out attack from O'Neill and it failed utterly.
Denmark ran through an Irish midfield which until that point, had frustrated them. O'Neill's do-or-die attacking gambit saw his side concede three more goals as Denmark picked off a group of players that had no shape and struggled to interpret what appeared to be some very vague messages from their manager.
It was a result and a performance that appears to have left a lasting impression on the psyche of O'Neill and it was the last time we really saw him set up a team to go out and attack their opponents.
Since that chastening evening in Dublin just over a year ago, Ireland have won just one match, beating a second-string USA 2-1 in a post-season June friendly. That game was the only one in nine attempts that Ireland managed to score more than once as the goals suddenly disappeared.
Aside from that victory against the United States, Ireland netted just twice in the nine games they played in 2018 with O'Neill adapting not just a safety-first approach but a safety at all costs one.
The manager may point to player retirements, injuries and superior opposition for his and Ireland's woes but the fact is, O'Neill appeared haunted by that 5-1 defeat and stopped sending his teams out to win. They were instead tasked with not losing and maybe, if they could nick a goal from a corner or a free-kick, well then that was fine.
It was an approach that led to some deathly dull games, to relegation to the third tier of the Nations League and, crucially, to supporters losing interest.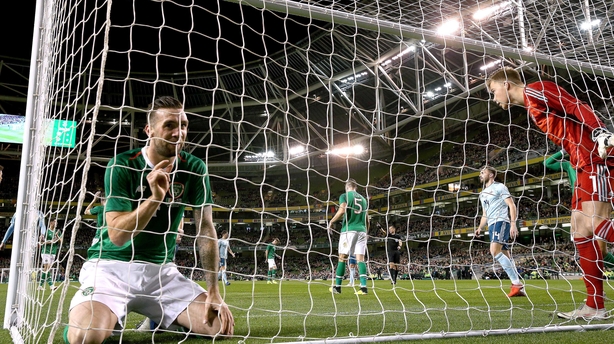 It's no coincidence that John Delaney and the FAI were spurred into action after last week's friendly with Northern Ireland was played in what appeared to be a half-empty stadium.
So where to now?
The FAI have plenty of options and interested parties but it's going to depend on just what kind of approach and how much long-term planning they're willing to commit to.
The concern, and it's one that's never far from the mind when talking about the FAI, is that we'll get the easy, short-term quick fix.
Qualifying for the Euro 2020, with Dublin set to host at least part of the tournament, will be paramount in the organisation's thinking. Given the expanded format of the tournament and the fact that Ireland will likely have the safety net of a play-off place should they not finish in the automatic group qualification places, the FAI will be desperate not to miss out.
That may lead them to giving the vacant managerial role to what they consider a safe pair of hands - an experienced Premier League manager, who has been around the block and knows how to deal with top flight players.
There's no shortage of them available with Mick McCarthy, Sam Allardyce, Steve Bruce and even Harry Redknapp being mentioned in connection with the job and if making sure that Ireland get to Euro 2020 is the only concern, they may even be suitable.
Ideally, from the FAI's point of view, the new man would be in place before the Euro 2020 draw takes place in Dublin on 2 December.
It's not hard to see someone like Allardyce - who must surely feel he has unfinished business and a point to prove in international football after the way his time at England ended - arrive in, gee-up the players and steer them through qualifying.
But it would be a short-term approach that would most likely leave Ireland in the same position when he goes as they are now. We know what's down that road when you have a part-time manager flying in from England who doesn't realise that home-grown League of Ireland players exist until they get a transfer across the water.
Then there's the other option and the one that seems to be gathering the most early support – Stephen Kenny.
The Dundalk manager has achieved everything he realistically could over the last five years, winning four league titles, two doubles and guiding Dundalk into the group stages of European competition.
Kenny is the very essence of a grassroots manager, finding and developing players other have discarded, moulding them into a force to be reckoned with and building on that each season. 
Working within the confines of a League of Ireland budget with year-to-year contracts, and players walking away for free at the end of the season because clubs can't afford to take a risk on tying them down to multi-year deals, is the perfect grounding for international football.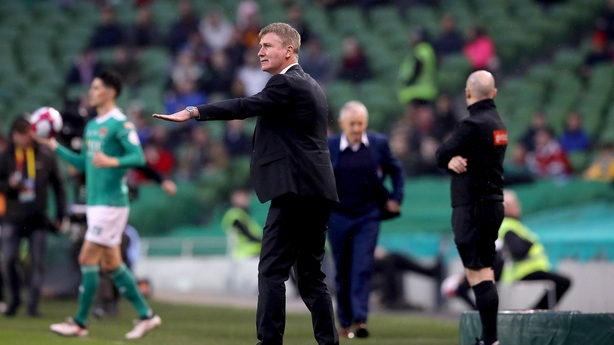 Kenny has proved that he can work with what he has and he can a make a success of it. There'd be no moaning about not having the players he needs - this a manager who develops the players himself.
That's not to say that appointing Kenny is without risks. He's spent just one season outside of the Airtricity League as manager, a year as manager of Dunfermline in Scotland. It's not regarded as a successful spell and following relegation and a poor start to life in Division One, he was sacked.
There's also the fact that Kenny has never really dealt with elite level players. Coping with the temperaments and expectations of Premier League and Championship players when you've only ever worked with domestic players would be a challenge that the Dundalk boss would have to overcome.
There is of course a genuine middle-ground to be found and it's the one that would take long-term planning and preparation from the FAI, something they're not always known for.
The importance of qualifying for Euro 2020 from a financial point of view is going to be paramount in Delaney's and the FAI's thinking. To that end he could appoint an old hand of McCarthy or Allardyce's ilk with a former Irish international along for the ride as assistant manager.
Robbie Keane or Damien Duff would be the two that spring to mind, but someone who has played alongside the bulk of the current squad would help to bridge the gap between the players and the new manager.
With the immediate 2020 future hopefully taken care of, it would be time for some forward thinking and to that end appointing Kenny to the vacant Under-21 position would be the next step.
After eight fruitless and frustrating years of Noel King, the Under-21 team has become a secondary thought with players quickly rushed through to the senior side if they're deemed to be anyway useful. They've constantly failed to qualifying for the European Championship and have become almost neglected by the FAI.
Give Kenny the responsibility of overhauling both the team, the selection and the approach to blooding players, linking up properly with the Ireland manager and his assistant to shape a group of players for the future.
There is no-one better placed to develop and exploit the rich untapped vein of youth players that we have in the League of Ireland.
Kenny as Under-21 manager should be positioned to eventually become the senior Ireland manager after Euro 2020 and with that in mind, would be bringing through players that he's worked with and has become familiar with during his time in charge of the underage side.
It's going to take a change of thinking in the FAI but with so much disquiet around the organisation and real questions now being asked of Delaney and his role, that's something they badly need.