The most controversial World Cup in the tournament's 92-year history will kick off in Qatar on 21 November, 2022 – four years tomorrow.
The tiny Gulf state was a controversial choice for World Cup 2022 for many reasons – its size, its location, its climate, its human rights record, its lack of football (or any sporting) culture, and the list goes on.
Whether or not the Republic of Ireland takes part may hinge on the size of the tournament.
Currently it's being organised as a 32-team event, but FIFA President Gianni Infantino is angling for an extra 16 to be added, four years ahead of a planned expansion to 48 countries in time for 2026 in Canada, America and Mexico.
Certainly, Ireland don't look equipped to qualify as it stands, but the extra capacity may see them slip in.
If they did qualify, it would be interesting to see how many supporters of the Boys in Green would actually travel to watch the team play.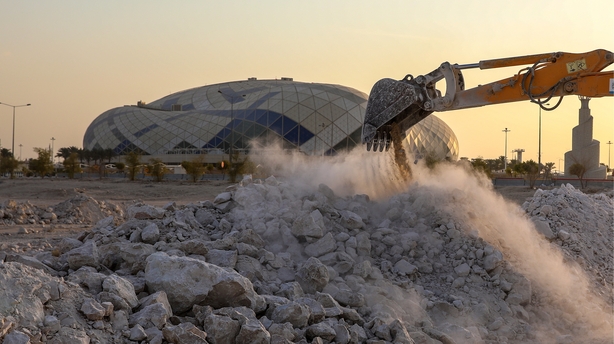 Qatar is expensive, it's very hot – the tournament will be played in November and December in specially designed, air-conditioned stadiums to make the temperatures more manageable – and its society's conservative nature may put off travellers.
Alcohol sale will be strictly controlled and it remains to be seen how the local authorities react to many of the public acts of drunkenness that are generally tolerated at such events.
LGBTQ supporters are highly unlikely to be packing their bags for Qatar given that homosexuality is illegal there.
Then there's human rights; most notably in the area of migrant workers' rights.
In the early seventies, when Qatar emerged from British rule, it had a population of just over 100,000. By 2004 that had grown to 755,555, which in turn has exploded to its current 2.5m, fuelled by enormous gas-wealth.
Almost 90% of that population are migrant workers, many of them men from poor backgrounds in the Indian subcontinent, afforded few rights.
It was estimated last year that since the tournament was awarded to Qatar in 2010 1,200 migrant workers from countries like Pakistan and Bangladesh had died during the construction of World Cup 2022's eight stadiums, many due to heat-related issues.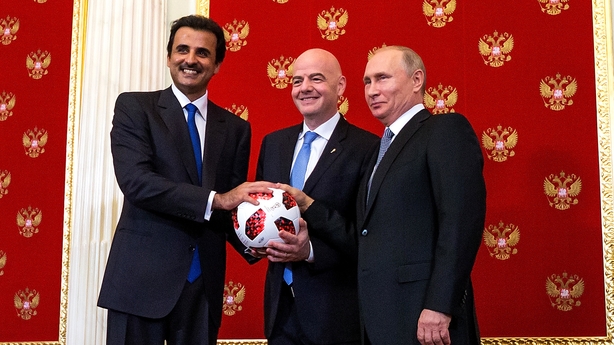 Amnesty International reports that migrant workers are treated little better than indentured slaves, over-worked, living in appalling conditions and subject to long delays in their meagre salaries.
The workers are constructing eight stadiums, seven brand new – the eighth is the recently reopened and refurbished Khalifa International, with the longest distance between any two just 72 kilometres. This World Cup will essentially take place in the capital city of Doha.
Fans, who may find themselves short on tourist attractions to visit when they're not watching football, will be staying in hotels as well as on cruise ships and in tents, with camping a popular activity amongst locals.
Qatar, who own and bankroll the big-spending project at Paris Saint Germain, is currently under blockade from four regional neighbours – Egypt, the UAE, Bahrain and the far larger Saudi Arabia, the only country with which it shares a land border.
They accuse Qatar of supporting terrorism and Iran, the Saudi's main local rival.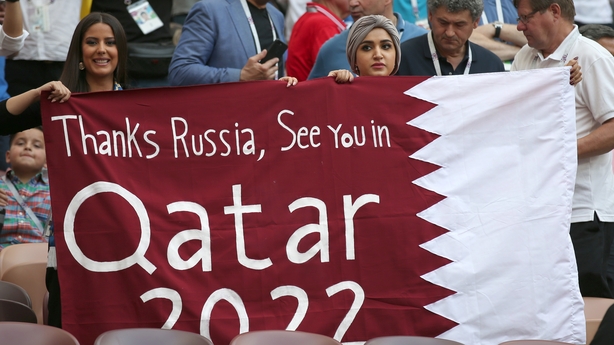 An expansion to 48 teams would in all likelihood require games to be played outside of Qatar, something the organisers are unsurprisingly not keen on.
"To think there are people in the region who might not enjoy the first World Cup in the Middle East is very disappointing," said Hassan Al Thawadi, who heads the local organising committee.
"We look forward to this matter being sorted out. Football is for the people and we want this tournament to reach the people of the region."
The blockade meant, for example, that Qatar could no longer import milk. First it sought other suppliers before deciding to buy 16,000 cows and build a super-farm, complete with visitors' centre, in the desert to meet the country's dairy needs. This is just one of the facts uncovered by David Conn's fascinating recent investigation for The Guardian.
This is a country and a region with bottomless pockets. Around $10 billion is being spent on stadiums with another $200 billion going on infrastructure, mainly high-speed rail-links between grounds.
Much about Qatar 2022 is unpalatable, but, much like the World Cup in Russia this year, most of this will be forgotten when the football finally kicks off.