Ray Houghton believes that the Republic of Ireland players need to take more responsibility for the current poor form and that not everything can be blamed on Martin O'Neill.
O'Neill has come in for growing criticism of his tactics and approach after Ireland finished bottom of their group in the Nations League and were relegated to the third tier of the competition.
Ireland now have just one win in their last 11 games and have failed to score in their last four matches.
While O'Neill might point to last night's 0-0 with Denmark in Aarhus as a decent result, it was against a side that had nothing to play for and who dominated in every aspect of the game apart from the scoreline.
Former Ireland international Houghton did at least see one positive and praised the way that Ireland have been defending, but admitted that the concerns about the lack of an attacking threat are far more pressing.
"One thing we've seen over the last four games is that we can defend," he told RTÉ Sport. "It's one goal we've conceded in those four matches.
"I know we gave up a lot of chances last night, the Danes had 26 attempts at goal and only hit the target once, which was more about how wasteful they were. The lads got a lot of good blocks.
"But the worry is the lack of creativity. We're not creating opportunities, we're not a goal threat at the moment and we didn't even have a shot on target in 90 minutes last night.
"So that's got to be something the manager is looking at and how we're going to improve upon that because it's two-sided football.
"When we don't have the ball we're fine, we get back into shape, everyone's working hard and you can't fault their attitude and commitment. But it's what we do when we've got the ball and that's the worry at the moment.
"There's a lack of confidence, players don't want to get on the ball, no-one's being courageous to make things happen. Our strikers aren't holding the ball up because they're not getting much service and we're not getting high up the field."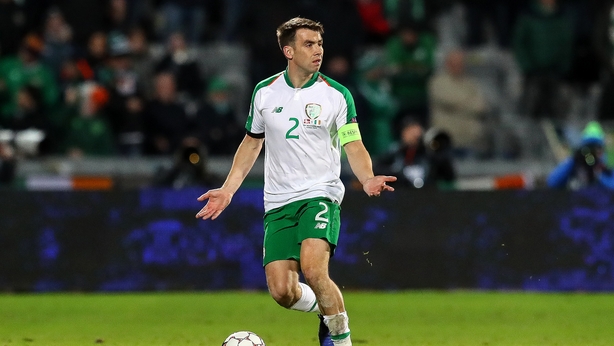 O'Neill's tactical approach and his work on the training ground has been questions by increasingly frustrated supporters but Houghton believes that it's down to the players to take the initiative and to show more desire to attack.
"When I'm watching the game I can tell who wants the ball and who doesn't and players are making angles to receive it. What you want in football is options, the more options you have the easier it is for the player on the ball.
"We didn't have that last night. We've got lads running around but what we need is a bit more structure when we've got the ball to get ourselves higher up the field.
"That's down to the players, it's not just down to the manager, confidence comes from within. As a player you've got to take responsibility, you've got to be big enough and brave enough to make things happen.
"I'm sure they haven't been doing things in training solely on defending. There is an attacking option as well that they should be looking at and it's up to the players to go out that and try that as well.
"Just lumping balls forward to O'Brien is not going to be the way forward for us."