Martin O'Neill admitted that Southampton striker Michael Obafemi may have a big decision to make about his international future but he has not ruled out playing the teenager in Monday night's must-win Nations League game in Denmark. 
Obafemi has been kept in the Republic of Ireland's trimmed-down panel for the friendly against Northern Ireland on Thursday and the trip to Aarhus four days later. 
He's played three times for the Under-19s but the Dublin-born attacker is also eligible to play for Nigeria, through his parents, and England, through the residency rule. 
Given how the Declan Rice saga has played out, O'Neill doubtless would be loathe to lose another promising talent and he revealed on Monday that handing Obafemi a competitive debut is a possibility.
"I don't think I could rule that out," the manager replied when asked if the youngster could feature against the Danes.
"I'd certainly have to have a discussion with him and I think members of his family too.
"Obviously he has decisions to make for his future. I would think that's something he will discuss with his family. There'll be no real pressure to make that decision in the next couple of days. 
"If he has decisions to make then I'd respect that."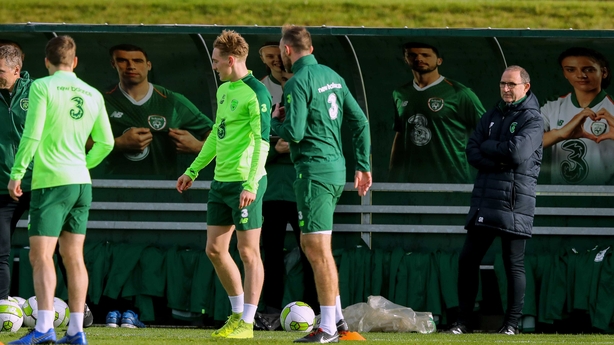 O'Neill has already seen English-eligible players Liam Kelly and Jack Grealish opt out of Ireland panels and anticipates that circumstance to play out more often. There are many footballers coming through the system now with at least two international options.
"It looks like that's going to be the case. If we consider [a player] to be good enough to be with us, it'll certainly be worth fighting for. I think it's something that is going to occur more and more.
"It's something that is going to crop up more often in the future than it might have done in the past."
O'Neill admitted he may feel the "occasional pang" when he leads his side into friendly battle with the North.
The Derryman was capped 64 times by Northern Ireland as a player and captained them to the World Cup quarter-finals in Spain in 1982.
Asked if he would be conflicted at the Aviva Stadium, he said: "Having spent that time in the North, having been capped 64 times, I think there'll be the occasional pang, yes.
"I naturally had a great time with the North. We had a very, very fine side way back, particularly in 1982, and the night in Valencia will be forever remembered.
"It was really great, beating the host nation, Spain, and getting to the quarter-final, so fantastic memories and great camaraderie with the team and some of the players, I stay in close contact with."