Republic of Ireland 2 Czech Republic 3
The Republic of Ireland Under-17s were denied a draw when the Czech Republic scored an injury-time winner at rain-sodden Tallaght Stadium.
After a bright opening, the visitors took the lead just before the half hour mark. David Pech glided past two tacklers to fire across goalkeeper Harry Halwax into the bottom corner.
Head Coach Colin O'Brien made three changes at the break and within five minutes of the restart his side were in front.
First Real Betis centre-half Anselmo Garcia MacNulty volleyed home a Festy Ebosele corner. That was followed up two minutes later with a fantastic finish from Sean Kennedy after impressive build up play from Ebosele once again.
Czech Republic levelled matters once again in the 63rd minute when Filip Silhart sent Halwax the wrong way from the penalty spot.
With 10 minutes added on at the end of the second half due to a lengthy stoppage, there was still plenty of time for both sides to try find a winner.
That chance duly came for the visitors on the break with David Pech finishing from close range to give the Czechs the win in this four-team international tournament, which is preparation for next year's Under-17 European Championships.
"It's a little bit of a different approach for this tournament. One of the key objectives this week is to make sure everyone gets game-time – and that's what we've done in the first two games," O'Brien said after the game.
"We were a bit tentative and nervy at times in the first half. Second half was much improved, better quality, we created better opportunities and scored two good goals. The result was very disappointing but there is a bigger picture to this tournament for us."
Ireland are back in action on Wednesday afternoon when they take on Germany at Tallaght Stadium.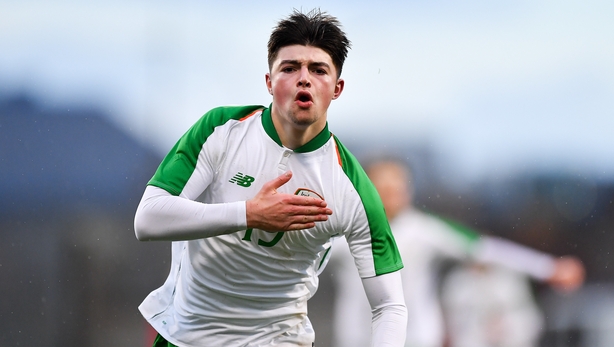 Republic of Ireland: Halwax; Dunne, Kelly (Turner 63), Garcia-MacNulty, Considine; Keogh (C), Martin-Conway (McKinley 46), Giurgi (Ebosele 46), Healy, Kennedy; Everitt (Carty 46).
Czech Republic: Tuma; Porc, Hellebrand, Sklenar, Stary; Pech, Kopacek, Lukavsky, Hajek (Hronik 90), Silhart(Kozeluh 82); Toula (Sejk 82).
Referee: Ivar Orri Kristjansson (Iceland).