Wexford Youths striker Rianna Jarrett has been named the 2018 Continental Tyres Women's National League Player of the Year.
The Republic of Ireland international is coming off the back of a fantastic season with the Women's National League and FAI Women's Cup champions, scoring 27 goals in the league alone.
Jarrett fended off competition from team-mates Kylie Murphy and Lauren Dwyer, Peamount United duo Amber Barrett and Niamh Farrelly, as well as Galway Women's Aislinn Meaney.
UCD Waves' goalkeeper Erica Turner was named the Young Player of the Year, beating Sadhbh Doyle of Galway Women's and Shelbourne Ladies' starlet Jessica Ziu.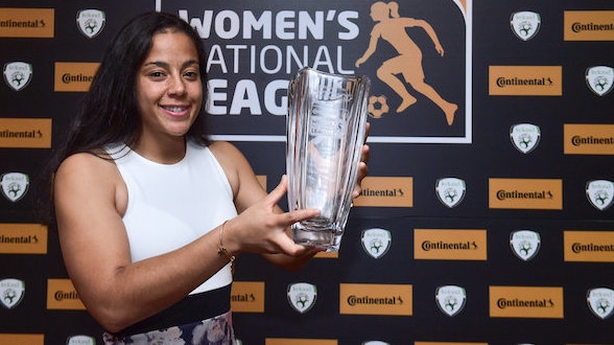 Turner, an Ireland Women's Under-19 international, has been a stand-out performer this season in the league and was also named in the Team of the Year.
Shelbourne Ladies' U17 striker Emily Whelan fought off competition from Galway Womens' Shauna Brennan and Limerick's Aoife Horgan to be named as the WNL Under-17 League Player of the Year.
Peamount United were heavily represented in the Continental Tyres Women's National League Team of the Season with four players named, including Niamh Farrelly, Amber Barrett, Megan Smyth-Lynch and captain Louise Corrigan.
Kylie Murphy, Lauren Dwyer and Rianna Jarrett were named in the XI from Wexford Youths, whilst Cork City's Eabha O'Mahony, Galway Womens' Aislinn Meaney and Shelbourne Ladies' Seana Cooke made up the team.
"It has been a fantastic season for me personally but also for the whole team. To win the League, Cup and Shield is an outstanding achievement and this is a special group of players to play with," said Jarrett.
"I had to work incredibly hard to get back from the injuries I've suffered over the years and to have a moment like this makes it all worth it."
The 2018 @FAI_WNL Team of the Season! 👌

Tonight caps off a memorable season for the league and a big thank you to all the players, staff and volunteers at every club for making it all possible! 🙌

We'll see you back in March 2019! #WNL 🍾🍾🍾 pic.twitter.com/i4ysOMeUy3

— ContinentalTyres WNL (@FAI_WNL) November 9, 2018
2018 Continental Tyres Women's National League Awards
Player of the Year: Rianna Jarrett (Wexford Youths)
Young Player of the Year: Erica Turner (UCD Waves)
U17 Player of the Year: Emily Whelan (Shelbourne)
Top Goalscorer: Amber Barrett (Peamount United)
Team of the Season: Erica Turner (UCD Waves), Seana Cooke (Shelbourne Ladies), Eabha O'Mahony (Cork City), Louise Corrigan (Peamount United), Lauren Dwyer (Wexford Youths), Kylie Murphy (Wexford Youths), Aislinn Meaney (Galway Women), Niamh Farrelly (Peamount United), Amber Barrett (Peamount United), Rianna Jarrett (Wexford Youths), Megan Smyth-Lynch (Peamount United)