Stephanie Roche admits that she has experienced a whirlwind few months, as the Ireland striker confirmed a move to Italian Serie A side Florentia.
The former FIFA Puskas Award runner-up has spent the last 12 months on the sidelines recovering from a broken leg, but is finally set for a return to action with her new club in Florence.
Roche has spent the last two months working on her fitness and travelling over and back to Italy in an attempt to secure a contract with the side who are currently fifth in the Italian top flight.
"It's been a long time coming but I'm really looking forward to it," Roche told 2fm's Game On.
"It was a bit of a whirlwind experience with the club but it has worked out very well.
"Florentia have been very patient with me as I get back to full fitness, so I am happy to sign here and looking forward to getting going again."
Delighted to announce that I've signed for @cfflorentia. A very ambitious club with a great work ethic and some excellent individual players. The team have started the season well and I can't wait to get involved and contribute for the rest of the season!! #SerieA #Florentia pic.twitter.com/OCUOjDPZUL

— Stephanie Roche (@StephanieRoche9) November 8, 2018
Roche revealed that she was unsure whether she would pick up a new club this season as she was still rehabilitating during the summer months as teams in England were putting their squads together.
But while her main focus was on English clubs, interest from Spain and Italy offered the former Peamount striker a chance to look elsewhere for the remainder of the 2018-19 season.
"It came about by chance through a guy I met in England," said Roche, speaking from her new surroundings in Tuscany.
"I had spoken to a couple of clubs in England and Spain. Then I came over here in September and I was just back from injury, doing contact training.
"Lucikly enough, Peamount United had let me train with them for two weeks before I came over.
"I had a trial and it went really well. But I was quite unfit so they gave me the opportunity to go home and get my rehab and fitness in place.
"Then I came back over at the start of October and had another week's trial, which went really well. And then they asked me to sign."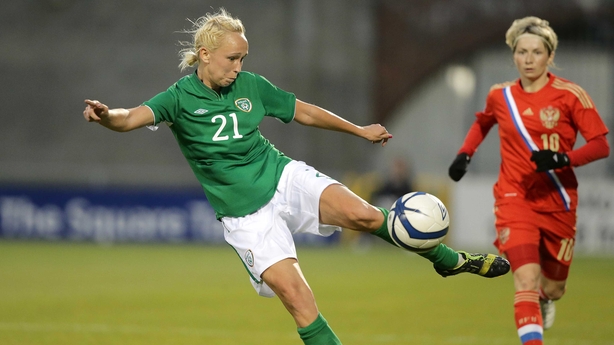 Roche also revealed that the long-term injury, which took a year of her career, meant that she had to start planning for the latter stages of her career, however, she never contemplated hanging up her boots.
"I'm at an age now where I've had to think about the latter stages of my career, [although] I was never in a position that I wanted to stop playing, so I had to keep working hard.
"My contract ended in June and I wasn't back playing until September. A lot of clubs in England had got their squads together in June or July so I was at a stage where I was wondering what I was going to do and whether England was my only option.
"But then I was lucky enough that a couple of clubs from Italy and Spain came in and I was able to get that opportunity to go abroad and try it out. And it has worked out."
And Roche, who has previously played her football in the United States, admitted that she was going to endeavour to really enjoy the Italian experience from both a footballing and lifestyle perspective.
"I'm in one of the most beautiful places in the world so I am going to have to enjoy the experience of being here and not just playing football but to live the life as well.
"And I have travelled the world with the Ireland team so I guess it is just one of the perks of playing professional football."
But looking ahead to her return to competitive action, Roche said that she is really anxious to make an immediate impact with the club, acknowledging the fact that her previous Puskas award has helped raise her profile in the women's game.
"The league is getting more competitive. Teams like Juventus, AC Milan and Roma have put women's team into it and the Italian FA have invested as well. So it was really exciting to see that I would be playing against teams like that.
"I am still doing a bit of rehab as I have an issue with my ankle so I think I will be fit for the Fiorentina game [on 2 December], which will be a local derby so I am looking to make an impact in that game.
"I know it made me famous and put my name out there, because it is the first thing people think when they hear my name.
"But I also feel I have a lot more to offer and I want to show the coaches here that I can score a lot of goals and not just the odd wonder goal.
"I have been out for over a year. Anyone who has ever been injured can relate to it. I just want to get back on the pitch and I'll be buzzing for that first game to make an impact."
We need your consent to load this SoundCloud contentWe use SoundCloud to manage extra content that can set cookies on your device and collect data about your activity. Please review their details and accept them to load the content.Manage Preferences