Stoke manager Gary Rowett has revealed that Republic of Ireland international James McClean has received abusive packages sent in the post to the club's training ground.
The annual controversy over the Derry native's choice not to wear a remembrance poppy on his shirt reared its head again at the weekend when fans from both sides booed him in Stoke's draw with Middlesbrough.
McClean responded with an Instagram post accusing some supporters of being "uneducated cavemen" and using an expletive that drew him a warning from the FA.
"He's been sent stuff which I've seen," Rowett told BBC Sport. "You can understand in a way why he reacts. He's only human."
"When you have those beliefs you appreciate that it's going to be a big situation at the weekend like that.
"We spoke to James about it and I think his response was out of frustration, probably ill-judged.
"Certainly criticising a minority of our fans is not the way to go and we spoke to him about that.
"We can't condone that but I think when you understand the background to his beliefs and you see that his family have had death threats, you see that his wife and kids have had abuse constantly, you see that he's been sent stuff in the post, which I've seen recently from fans and you can understand, in a way, why he reacts.
"We can't condone certain parts of those actions but we can understand some parts of it because the abuse is pretty, pretty bad. We will try to move forward. The club have spoken to James about it. It's certainly not something that we want to condone."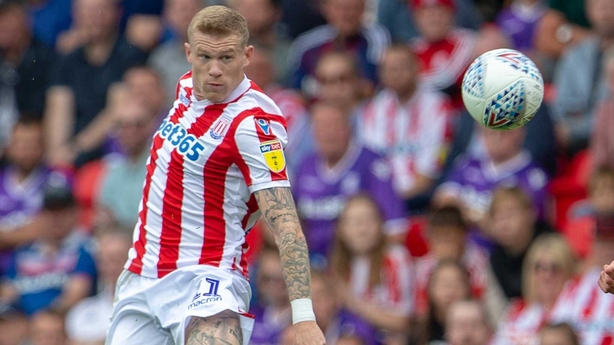 In the wake of the FA reprimand, McClean accused the Association of turning a blind eye to sectarian abuse, posting "If it was a person's skin colour or if it was anti-Muslim, someone's gender, there would be an uproar and it would be taken in a completely different way and dealt with in a different manner.
"But like in Neil Lennon's case in Scotland, because we are Irish catholics, they turn a blind eye and nothing is ever said and done."
The Professional Footballers' Association in England has joined its counterpart in Ireland and anti-racism groups on both sides of the Irish Sea in expressing support for McClean.
"The poppy symbol is an important recognition of the sacrifice so many made in the World Wars in the UK, however, it should always remain an individual's choice whether or not to wear it," the PFA said in a statement.
"There is no justification for the abuse he and his family have received for his beliefs and he should be supported in the same way as any other player who receives abuse based on his or her race.
"We call upon the other stakeholders in football to recognise this and support an individual's right to express his personal and religious beliefs without fear of threats and abuse."