What a weekend we have in store - a Super Sunday at the Aviva Stadium.
Two of the best teams in the country will battle it out in the Women's FAI Cup final at 12pm as league champions Wexford Youths face League Cup winners Peamount United.
Both teams are full of Ireland internationals and it really is a 50/50 game. I'm looking forward to seeing who comes out on top.
It should be a great curtain raiser to the men's clash at 3.40pm.
I think Dundalk will win the game, but I don't believe it will be the easy ride many people have suggested.
John Caulfield and Cork City will be right up for this one, and with their strongest team on the pitch, the fact they've lost the league without much of a fight and with a third cup trophy in a row within their grasp, they'll be doing everything in their power to win it.
The previous three cup final meetings produced no goals in normal time, so we could be in for a long afternoon on Sunday.
For Dundalk, it's a chance to win the double for the first since 2015, but really it's more than that; it's about winning the cup back, beating Cork again and ending their season on the ultimate high.
Their players have spoken this week about how much of a downer it would be if they lost the final, even though they won the league in style, that will be a distant memory if they are on the wrong side of this result.
Dundalk's push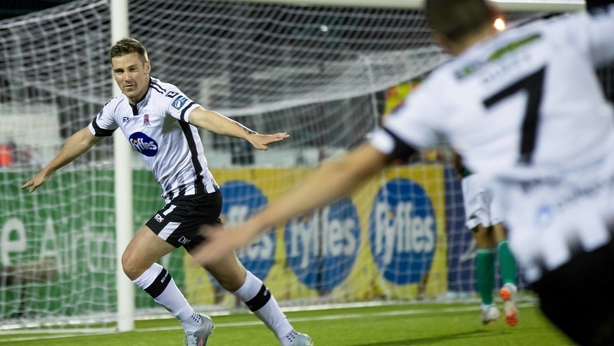 As they've shown in three of the four league meetings this season, if Dundalk play to their level, they will beat Cork City.
That has been the fact of the majority of games between the teams this season.
People say league form and previous results do not matter in the cup, but they do.
Dundalk know if they reach their levels, they have a great chance to win and Cork know if they allow Stephen Kenny's team to play as they've played against them this season, the afternoon will end in disappointment.
Dundalk's defensive record is the best in the country. Goalkeeper Gary Rogers should have been in the team of the year, and in Sean Gannon, Dane Massey, Brian Gartland and Sean Hoare, they have four of the most consistent defenders of the previous six years, with young Dan Cleary also ready to add to his impressive first season at the club if called upon.
It's been well documented how good Chris Shields has been. Alongside Robbie Benson and either Jamie McGrath or Patrick McEleney, that trio along with Michael Duffy have the capacity to do serious damage on the massive Aviva pitch.
John Mountney will give good balance on the right, and will have to track the runs of Kieran Sadlier.
Their main concern of course is the fitness of Patrick Hoban.
He has been chasing that scoring record for a number of weeks, but with the league in the bag and Ronan Murray and Georgie Kelly waiting in the wings, it may have been an idea to give Hoban a rest and mind him for the last couple of weeks, with Sunday in mind.
Stephen Kenny has said he'll give his marksman as long as possible to get fit, but in my experience, knocks like that take more than ten days to heal.
They'll strap him up and maybe give him an injection to play, but it's not what they need heading into this game.
I wouldn't be surprised if he's on the end of some heavy tackles early in the game.
The strength of their bench also could be key, if it goes the distance, as it very well could.
City's Cup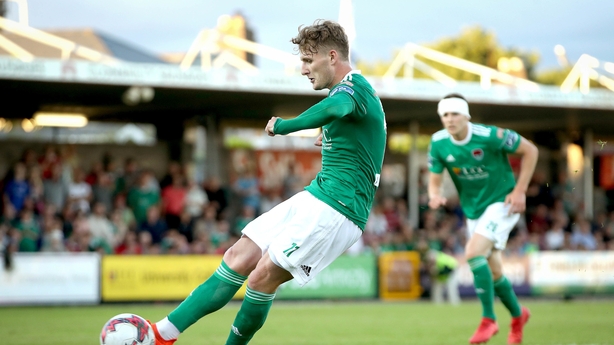 Cork City have won 24 of their 36 league games this season, and had a handy run to the FAI Cup semi-finals.
That game against Bohemians at Dalymount, the most talked about penalty in LOI history and the replay win has really galvanised them.
Since that victory, City have won three in a row, beating Limerick and Derry City 3-0 each, before a 5-1 hammering of Bray Wanderers.
They've still scored 11, kept two clean sheets and got that winning feeling back.
Key attackers Sadlier and Barry McNamee, who seems to be back in favour, have been in the goals and playing well. They'll need them on the top of their game on Sunday.
Sadlier scored the winning peno in the shootout win last year, he netted again from the spot to secure that replay against Bohemians, and despite reports it could be his last game for the club, he's likely to be on top form.
If City can't keep the ball, they'll find it very difficult to win the game.
Mark McNulty was the hero of the final win last year, and if Cork's starting 11 in their last game against Bray is anything to go by, Alan Bennett and Sean McLoughlin will be tasked with keeping Hoban [or Kelly] quiet.
Conor McCormack, Gearoid Morrissey and Garry Buckley are keys to keeping the ball, but also to stop Dundalk playing.
They'll need to supply McNamee, Sadlier and Graham Cummins with enough chances to score against the best defence in the country.
The managers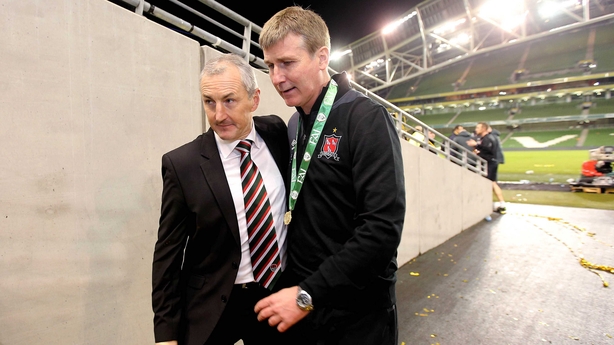 So what role will Kenny and Caulfield have to play on Sunday? The answer is, a massive one.
It's been Dundalk v Cork for the last five years, but it's also been Stephen Kenny against John Caulfield, and that rivalry has been almost as fascinating to watch as the games.
Caulfield accused Dundalk of trying to do a Rosenborg, monopolising the Dublin market and signing players they didn't even need. Kenny, unlike in previous years, refused to respond, saying he didn't care what anyone else thinks.
The Dundalk boss always keeps his cool on the line, though the same cannot always be said for his counterpart. If Caulfield loses his head, his team are likely to do the same.
In order for this match to go how Cork want it go, they need to remain calm, control their aggression but play with the intensity needed.
If it becomes a blow for blow game, Dundalk will win hands down.
It's up to the managers to control those outcomes, and I think it will be Kenny who is lifting the trophy at 6pm on Sunday night.
It won't be without a fight...