Karl Sheppard has offered a vigorous defence of the Cork City team ahead of Sunday's FAI Cup final, saying not even Dundalk can match them if they perform to their best at the Aviva Stadium.
In a lengthy interview to be broadcast on RTÉ2 as part of nearly seven hours of live coverage, Sheppard said City have not been given enough respect in analysis of their rivalry.
Asked what is needed to stop the Lilywhites on Sunday, he said: "Play with the Cork City intensity. Any time we've played Dundalk and had success, it's when we put our stamp on the game. In the matches where they beat us, we haven't really been at it.
"When we're at it, I don't think any team in this league can match us. We have let our league go too easily. We handed it back to Dundalk.
"That has been a bit disappointing but I think if we can get the Cup for the third time in a row then it wouldn't be too bad a season.
"It definitely makes us more motivated that people do speak about this Dundalk team being among the greatest ever. In fairness to them, I think they are a very good team and I'll always give them the respect they deserve.
"But I think maybe we don't get the respect we deserve. We are a very good team and did the double last year. We're in another Cup final now - our fourth in a row - looking to make it three wins in a row. If we get this Cup win, we might get a bit more respect.
"We're winners. When we're not winning, we're not happy. I think you can see when we're written off, we never know to lay down and die. We fight to the last whistle. We're a very determined group."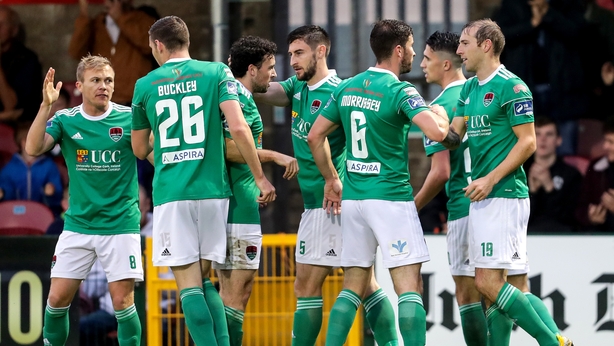 Sheppard thinks that winning the Cup again might see the Rebels get some credit for how they've matched Stephen Kenny's side, apart from that drop in form in the second part of the campaign.
"This year we have sometimes dipped below the standard we set for ourselves. We have been disappointed in recent weeks. In saying that we have sort of turned a corner since the Bohs semi-final replay.
"We're on a good run of wins now. Dundalk are a very good team and the fact people say they are one of the best ever and we're going toe-to-toe with them each year must mean we're not a bad team.
"We got a lot of stick from pundits and press on how we were playing. I think people forgot what type of team we are and how good we are.
"Up until about three or four weeks before the Bohs game, we were toe-to-toe with Dundalk, and people need to remember that it wasn't for this Cork team then nobody would be near them.
"That is the respect we are trying to get and winning the Cup final would get us a little bit more."
Sheppard also defended manager John Caulfield who has come under pressure for relinquishing the title they won last year.
The former Reading man added: "When people ask me about John, I always say his best quality is he is a winner. He demands it every day, whether it's piggy backs outside or whatever. It's everything to him.
"He got a bit flak this year which for me is a bit crazy. He sets such high standards and people want him to hit them. We've all bounced back since then."
Follow both FAI Cup finals this Sunday via our live blog on RTÉ.ie/sport and the News Now app, or watch exclusive live coverage on RTÉ2 and worldwide on the RTÉ Player from 11.45am.
Live national radio commentary of Cork City v Dundalk on RTÉ Radio 1's Sunday Sport.