Leicester vice chairman Aiyawatt Srivaddhanaprabha visited the King Power Stadium to pay tribute to his father and club owner Vichai Srivaddhanaprabha following his tragic death.
The emotional Leicester squad also paid their respects to the 60-year-old at the ground on Monday.
The Thai billionaire was among five people killed when his helicopter crashed shortly after taking off from the King Power Stadium on Saturday evening.
Manager Claude Puel joined his players while vice chairman Aiyawatt returned to see the tributes after arriving earlier in the morning while around 200 fans broke into spontaneous applause.
Aiyawatt had been joined by his mother and Vichai's wife Aimon at the ground and they laid a floral tribute.
Club officials, including director of football Jon Rudkin and chief executive Susan Whelan, also attended as they viewed the floral tributes and the family laid their own.
The president of the Thai FA, Somyot Poompanmoung and his wife, Potjaman Poompamoung, were also among the group, while various personalities from sport and showbiz - including Kasabian signer Tom Meighan - also arrived.
The Air Accidents Investigation Branch has recovered the helicopter's black boxes, voice and data, and are working on them at their Farnborough base.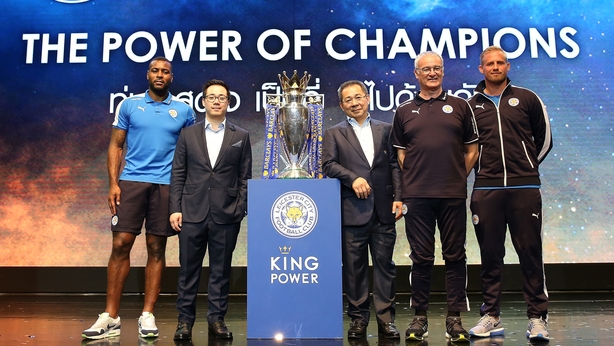 Goalkeeper Kasper Schmeichel was visibly upset at the scene, having earlier paid an emotional tribute to the man who "changed football forever."
Denmark international goalkeeper Schmeichel, who was reported to have witnessed the accident, thanked Ms Srivaddhanaprabha for making his football dreams come true in an emotional post on his Instagram account.
"Dear Mr Chairman. I cannot believe this is happening. I am so totally devastated and heartbroken. I just cannot believe what I saw last night. It just doesn't seem real," he wrote.
"It is difficult to put into words how much you meant to this football club and to the city of Leicester. Never have I ever come across a man like you. So hard working, so passionate, so kind and so generous in the extreme.
"You changed football. Forever! You gave hope to everyone that the impossible was possible. You literally made my dreams come true.
"We now have a responsibility as a club, as players and fans to honour you. From knowing you we do this by being the family you created."
His powerful words were echoed by his teammates, who came out of one of the turnstiles at the King Power Stadium to observe a memorial.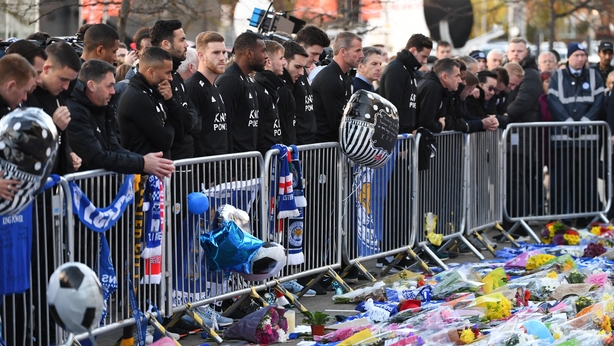 Schmeichel, Jamie Vardy and Harry Maguire, as well as manager Claude Puel and the rest of the squad, did a lap of the cordon placed around the flowers.
The team then stood at the back of the shrine and looked out on the hundreds of flowers, cards and messages laid on the floor.
Some had arms around each other's shoulders and some bowed their heads to pay their respects.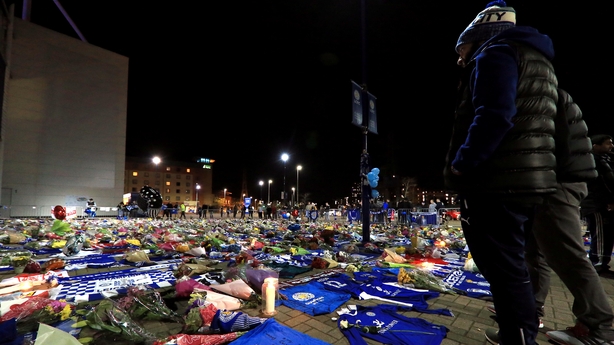 Republic of Ireland manager Martin O'Neill has also paid tribute to Mr Srivaddhanaprabha.
O'Neill, who managed the Foxes from 1995 to 2000, told BBC Radio Ulster: "He went into the community, he made donations to the universities, donations to the hospitals, and the Leicester people took to him.
"You can see that outpouring of grief at the moment, it's as genuine as they come, and I think that speaks volumes for the man that we're talking about.
"This was a normal practice for the owner to come in, park the helicopter in the middle of the pitch and everybody thought it was great.
"The very fact is he was just an incredible gentleman as well, his popularity was far beyond Leicester but Leicester would have taken the bulk of that.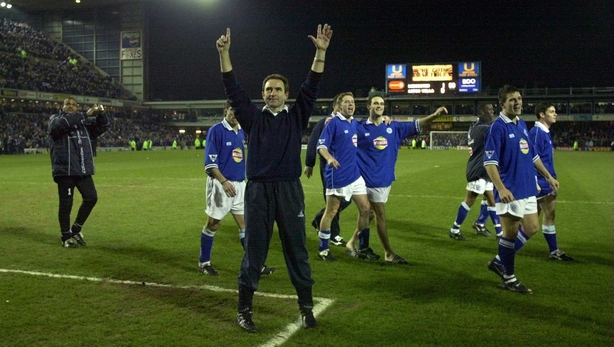 "For the disaster to happen so close to the football club is very difficult to take in at the moment. It's a desperate day.
"The winning of the Premier League a couple of years ago was absolutely phenomenal and the manager has to take great credit for that.
"But let's be fair, I don't think any of that would have happened had it not been for the owner. I think all of Leicester are well aware of that.
"He gave them the opportunity, he gave them everything that they needed - a fantastic achievement and one that was well merited."
We need your consent to load this Instagram contentWe use Instagram to manage extra content that can set cookies on your device and collect data about your activity. Please review their details and accept them to load the content.Manage Preferences
"Words can't describe how I feel. A truly great, kind, loving man who will be missed so much by everyone. I will never forget the Chairman's support, not only during my time @LCFC but also during the World Cup," England defender Maguire wrote on Twitter.
Fellow City defender and England left-back Ben Chilwell hailed "one of the best people you could wish to meet".
Writing on Twitter, he said: "I can't believe it. I am heartbroken to hear that no-one survived the crash yesterday."
Vardy - whose meteoric rise through the leagues was matched step-by-step by the club as they came from nowhere to win the Premier League in 2016 - called Srivaddhanaprabha a "legend".
He said on Instagram: "Struggling to find the right words, but to me you are a legend, an incredible man who had the biggest heart, the soul of Leicester City Football Club. Thank you for everything you did for me, my family and our club. I will truly miss you, may you rest in peace."
Wes Morgan was the captain of that side and said: "Absolutely heartbroken and devastated regarding the news of our chairman. A man that was loved and adored by everyone here at LCFC and someone who I personally had the utmost respect for."
Those sentiments were echoed by former Foxes and England striker and Leicester native Gary Lineker, who saw the club claim the Premier League title at odds of 5000/1.
He said on Instagram: "A quiet, unassuming man who will always be remembered with great fondness and respect. He also helped to bring the most magical, miraculous title win in the history of football.
"Thank you, Chairman, for all you did for our football club. #RIP"
The Football Association turned the Wembley arch blue and white out of respect, while clubs all around the world, ranging from Real Madrid to non-league sides, paid tribute.
October 28, 2018
Saturday's opponents West Ham said: "The thoughts of everyone at West Ham United are with the directors, players, staff, supporters and all connected with Leicester City Football Club following the devastating events at the King Power Stadium on Saturday evening.
"We would like to send our sincere condolences to the family of Vichai Srivaddhanaprabha at this sad and tragic time. His immense contribution to Leicester City FC, the city of Leicester and English football will never be forgotten. Our condolences also go to the other families affected by the tragedy.
"We would also like to express our admiration for the emergency services who responded so swiftly and with such bravery, and offer our support to anyone, including any West Ham United supporters, who may have witnessed the tragedy."
Premier League executive chairman Richard Scudamore, who handed Srivaddhanaprabha that most unlikeliest of trophies two years ago, said: "Vichai was a gentleman who graced the game with his civility and charm and we will miss him enormously.
"His impact on Leicester - the football club and city - will be remembered forever."
RIP Boss. You were a great person who cared so much about our club, city and everything which came with it. Thank you for enabling us to make our dreams a reality and I hope you were as proud of your club as we were of you. We will miss you ?????? pic.twitter.com/Chc2OfFaO2

— Andy King (@AndyKingy) October 28, 2018