For the first time since 2007 Sunday's Clasico between Barcelona and Real Madrid will not feature either Lionel Messi or Cristiano Ronaldo.
           
Real coach Julen Lopetegui has come in for fierce criticism this season, having presided over a run of five games without a win - the team going eight hours and one minute without scoring - before Tuesdays unconvincing 2-1 triumph over Viktoria Plzen that saw the team whistled off the pitch by their own fans.
           
Local media reports suggest that any sort of negative result away to their great rivals could spell the end for the 52-year-old at the Bernabeu.
           
"We haven't always won when we deserved to but football is like that," Lopetegui said.
           
"We came from a run of quite a lot of games without winning and the objective was to win in circumstances that were not at all simple.
           
"We need to gain a little tranquillity bit by bit: we have to keep going. On Sunday we have a game that motivates us a huge amount."
           
Barca, who will be without the injured Messi, sit top of La Liga on 18 points, just one ahead of the chasing pack in what is shaping up to be the tightest title race in years.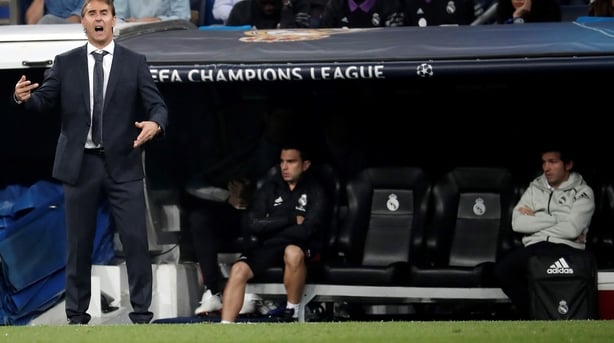 The Argentinean has been in scintillating form this season, scoring seven and laying on another five goals in Spains top flight, while also hitting five in the Champions League.
           
Criticism has been levelled at the Catalan side that in recent times they have become too reliant on their talisman and they now face the ultimate test to show they can function with Messi sidelined, too.
           
"We always want to play as a team, but when Messi is there he gives us a touch of brilliance that is extraordinary," coach Ernesto Valverde said.
           
"Of course we miss him, but we want to miss him while winning.
           
"Messi often gets us out of jail in difficult games against low blocks and obviously we want him to get better as soon as possible. Madrid will be such as dangerous opponent.
Lopetegui's side will come here and looking to show their strength and I'm not taking anything for granted."
           
On Friday, second-placed Espanyol visit in-form Valladolid looking to put pressure on their city rivals Barca ahead of the Clasico.
On Saturday, Athletic Bilbao host fellow surprise strugglers Valencia, while Real Sociedad visit Atletico Madrid in the days late kick-off.
           
On Sunday third-placed Alaves welcome Villarreal, while Sevilla host bottom of the table Huesca.