Cristiano Ronaldo is confident he will be cleared of an allegation of rape, with the Juventus forward pledging to keep smiling and enjoying his life ahead of facing former club Manchester United.
The 33-year-old is being sued by Kathryn Mayorga in the United States, who claims he raped her in the penthouse suite of a Las Vegas hotel in 2009.
Ronaldo firmly denied the allegation of rape in a Twitter post and did so again on the eve of Tuesday's Champions League clash against former club United when he made a surprising appearance at the pre-match press conference at Old Trafford.
"I know I am an example," Ronaldo said. "I know, 100 per cent. On the pitch and outside (of) the pitch, so I am always smiling, I am a happy man.
"I'm blessed that I play in a fantastic club, I have a fantastic family, I have four kids, I am healthy.
"I have everything, so the rest doesn't interfere...so I'm very, very glad."
When asked another question about the rape allegation, Ronaldo said: "You didn't listen to what I say. I am a happy man.
"This is not...we did the statement two weeks ago, if I'm not wrong. So, I am glad... of course, I'm not going to lie on this situation. I'm very happy. My lawyers, they are confident, and, of course, I am, too. So, most important is I enjoy the football, I enjoy my life.
"The rest...I have people who take care of my life and, of course, the truth is always coming in the first position. So, I'm good."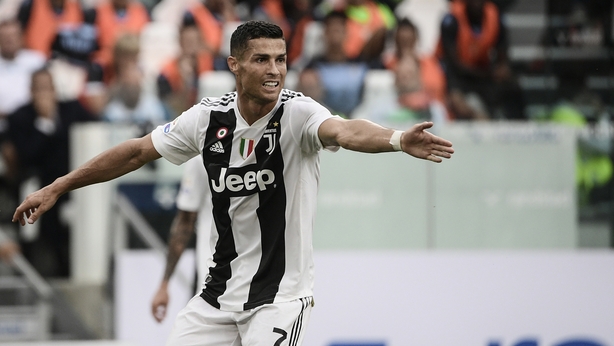 Local journalists' hopes of questioning the forward were ignored at the press conference, despite answering almost entirely in English at his old stomping ground.
Ronaldo was in jovial mood, flashing smiles throughout the press conference at the No.7 Lounge, where his face adorns the walls alongside fellow greats like George Best, David Beckham and Eric Cantona.
The 33-year-old remains a fans' favourite at United after a medal-laden spell between 2003 and 2009, meaning he will not celebrate should he score in Tuesday's Group H encounter.
"It is a huge, emotional thing for me to come back," Ronaldo said.
"I mean, I can remember what it was like when I was here in Manchester and know all about the history.
"I won lots of trophies here - the cups, leagues, the Champions League.
"I remember also the support as well. The support is fantastic and Alex Ferguson is someone I will never, ever forget. Someone who gave me a huge lift in my career and I would like to express my best possible wishes to him.
"When I knew that we were going to be playing against Manchester United, it was huge for me."
Follow Manchester United v Juventus on Tuesday night via our live blog on RTÉ.ie/sport and the News Now app, or watch it live on RTÉ2.