Another disappointing home defeat for Ireland as Martin O'Neill's side went down to Wales for the second time in a month, losing 1-0 at the Aviva Stadium.
Meanwhile, 150 kilometres away in the heart of the country, the Ireland Under-19 side had just secured their third consecutive victory to top their group in the first stage of their qualifying efforts to reach the European Championships, which are being held in Armenia next summer.
Hosting the four-team Group 10 matches, Ireland easily accounted for Bosnia and Herzegovina in their first match, winning 3-1, before strolling past the Faroe Islands, winning 3-0.
But the real eye-catching performance, and result, came in their final group game at Longford Town's home venue, City Calling Stadium, as they came back from behind to beat the Netherlands 2-1, which sends them through to the Elite qualifying stage.
Back in the Aviva Stadium, Matt Smith was selected to play the holding role for Ryan Giggs' side in their Nations Group clash with Ireland.
The Manchester City midfielder is currently out on loan at FC Twente, perfecting his craft away from his parent club, playing in the second tier of the Dutch league system.
Smith slipped in possession on the edge of his box early in the first half, almost letting Cyrus Christie in to open the scoring for Ireland, but otherwise, the sitting midfielder had an excellent night in the heart of competitive action for Wales' senior side.
The Man City loanee is 18 years old and is still qualified to play for the Wales Under-19 side.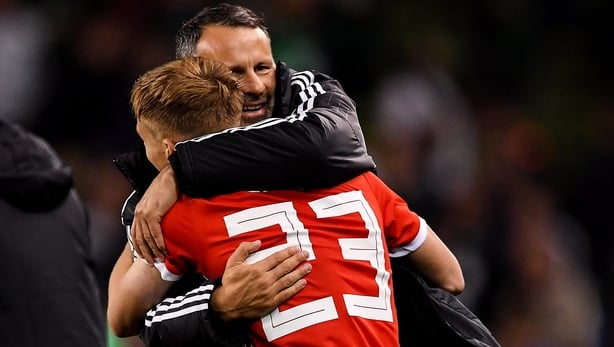 Tyler Roberts led the line for Wales. The Leeds United striker is 19 and also still eligible for the national under-age side.
Twenty-one-year-olds Harry Wilson and David Brooks were also named in the starting XI, while George Thomas, also 21, came off the bench.
Ethan Ampadu would have started if he was fit. The Chelsea youngster was 17 when he showcased a commanding performance in Wales 4-1 thumping of Ireland last month.
"I've got no qualms about age or if they've not played many games," said Giggs after the game.
"If they're good enough, then I'll give them the chance and then it's up to them to take that chance and stay in the team."
As a player, Manchester United invested in their young players when Giggs was coming through and the manager admitted that it helped his career to blossom.
"I think we've got a really talented group coming through. I was given the chance at a young age, I was under a manager for many years who would give young players the chance and I believe in that.
"But also the balance. I keep saying you can't do it without the experienced players, you can't just do it with all young players."
Martin O'Neill admitted after the game that he was impressed with what Giggs had done with his young players, "blooding" them in important matches.
"Wales have some exceptional youngsters at the moment," said O'Neill.
"Ryan has used that opportunity here in this particular league to blood those players. and he is blooding them pretty successfully."
And O'Neill hinted that he may follow the Wales manager's example and look to bring players through from the Ireland underage level.
"There have been a couple of great results by the Under-19s and a couple of the Under-17 lads have actually progressed into the Under-19s at this moment, which is really good.
"I'll certainly have a look at the game. It's really encouraging from Under-19s to senior level; it's still a big step, but it's certainly a consideration to have a look at them and even bring them in for training."