Stephen Ward may be back at Burnley, recuperating from his recent knee surgery, yet the legacy of the leaked WhatsApp message still lingers around Ireland's preparations for the clash with Denmark.
The defender unintentionally revealed, in detail, via the messaging App what is alleged to have happened between Roy Keane and Harry Arter, which led to the latter withdrawing from last month's clash with Wales.
And while the story is well worn in these parts, the naturally curious, travelling Danish media wanted to know more about the situation.
"In terms of his WhatsApp, I think he has, is there such a thing as taking himself off the WhatsApp?" said O'Neill.
"I'm sure he will," he added.
But the manager re-confirmed that all is well in the camp now as that situation had been resolved between player and assistant manager.
"We had the situation with Harry Arter before [the WhatsApp]. That has been addressed and it is fine.
"Harry is training here at the moment. The player and assistant manager are on good terms now, and the rest is up to Harry."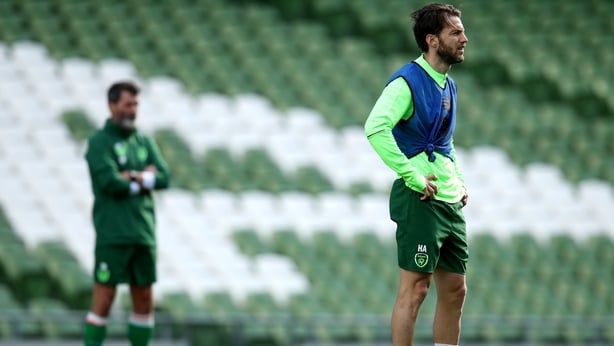 O'Neill, however, must look back before looking forward, and the manager admits that there is one other major factor that needs attention.
"Denmark obviously beat us convincingly last year. We'd like to redress that if we can naturally.
"This is part of the preliminary stages of the Nations League, so there are a few points up for grabs as well. We'll try to win the game if we can."
O'Neill will be anxious for a performance first and then hope the result follows as his side attempts to put back-to-back bad defeats in competitive games behind them.
And yet the manager still rues a missed opportunity in that fateful match with Denmark, which he believes, ultimately cost Ireland their play at the World Cup.
"We had drawn in the match in Copenhagen. We had come back here and had confidence going into the game," recalls O'Neill.
"We took the lead and my own view is that – it's supposition now anyway – but we had a chance to make it 2-0.
"And if James McClean's shot had gone inside the post and [with Denmark] away from home, I think we would have gone to Russia."
But the manager had no complaints in relation to the subsequent result, acknowledging that his side were well beaten on the day and deserved to travel to the World Cup.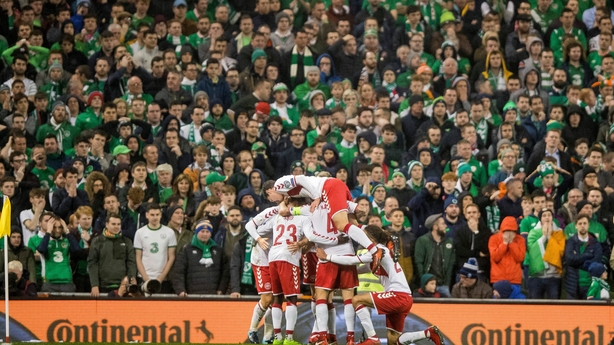 "That said, Denmark fought back, great credit to them and they scored two goals in a minute, which meant that we had to chase the game in the second half.
"We chased the game and got picked off in the match and we had a world class performance from a world class player who simply was sublime on the night and played very well.
"In the end, we were well beaten in the match."
That world class player that the manager speaks of is, of course, Christian Eriksen, however, the Tottenham play-maker is missing from this match through injury, and while O'Neill admitted before that it would be a bonus for Ireland if he was ruled out, he likened the situation to Ireland's ongoing injury woes.
"He's a world-class player of course," admitted O'Neill.
"At the same time, they'd look at some of the players that we have missing; players who did brilliantly for us.
"A world class player and our captain Seamus Coleman. And we haven't had the services of Robbie Brady and James McCarthy for some time.
"But we have some terrific footballers, like the man beside me [Jeff Hendrick], who has some experience now.
"He did great in the Euros and I think he's capable now of taking on that mantle, not only in his own career, but obviously for us at international level."
There has been plenty of talk throughout the week of which system O'Neill would employ on Saturday night and while the manager hinted that Matt Doherty might see some action, he would not clarify his thinking on the matter only to say that he believes the player can cope with either.
"I think the players are able to adapt to it," said O'Neill.
"We've played a back-four system for a considerable period of time. We tried the back three, so players are comfortable with it.
"I think because some of the players, like young Doherty playing so well in the wing-back role for Wolves...I don't think players are uncomfortable playing in either role."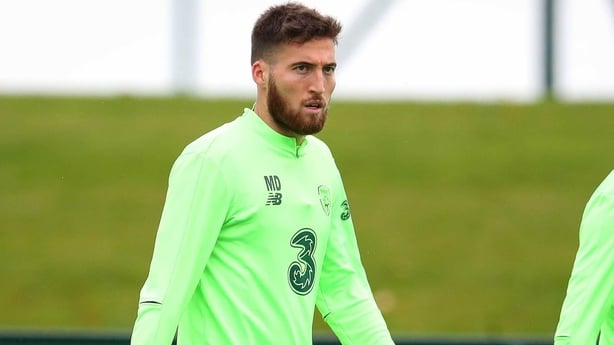 Despite the recent set-backs to the team with the demoralising defeats to Denmark and Wales, the manager believes that the Irish support has not left them, and that it was now up to his side to re-energise the normally vociferous home crowd.
"Sometimes these things can happen," explained O'Neill, in relation to his side's poor home form throughout the last campaign.
"You can have some home games where you don't pick up the points. It obviously puts a lot of pressure when you go away from home.
"We need to re-energise the crowd. There have been some great nights there, terrific nights.
"We're going to get a really decent crowd again on Saturday so I would think the fans are really supportive of the team. It's up to us on the field of play."
Follow Republic of Ireland v Denmark via our live blog on RTÉ.ie/sport and the News Now App, or listen to national radio commentary on Radio 1's Saturday Sport.