Parity in the SSE Airtricity League appears to be quickly becoming a thing of the past. The gap between the haves and have nots is constantly growing.
The controversial re-introduction of a 10-team Premier Division for the 2018 season was supposed to create a tighter, more competitive league but it has been less so than ever.
Every league across the world has bigger clubs who invariably have greater chance of success, but the scale of the domination and gap to the smaller clubs in Ireland is becoming bigger than ever.
Dundalk clinched the league title on 5 October this year – that is the earliest the title has been won since the summer era began.
The relegation of Bray Wanderers was also mathematically confirmed last Saturday. Other than 2017 when three teams were relegated and the season Galway United were cast adrift in 2011, this is also the earliest confirmed relegation.
Cork City made it back to the FAI Cup final a few days later, meaning that European places were also confirmed, as was the relegation play-off place, leaving nothing to play for over the final three weeks of the season.
There are currently five gaps of at least 10 points from one position to the next which cannot now be caught.
1st to 2nd
2nd to 3rd
4th to 5th
8th to 9th
9th to 10th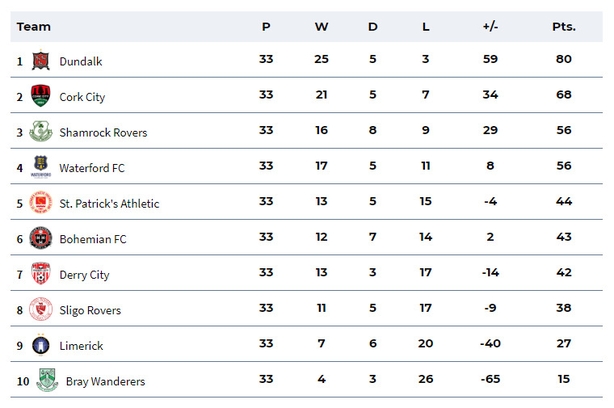 Every other season since the introduction of the Premier Division has ended with either none, one or two gaps of 10 or more points.
We have looked into several metrics to analyse how much parity there is in the league and they all show it to be reducing, with a significant change in the last three years.
We looked at the difference in points from the top team to the bottom of the Premier Division table, the average points for a top half of the table team compared to a bottom half team, the number of games won by more than one goal, the number of games drawn and changes in which teams are qualifying for Europe.
Only 15% of Premier Division games this season have ended in draws. Not since 1936 has the percentage dropped below 14% and it is 44 years since the percentage of drawn games dropped below 20%.
This goes back to a time when football was a much higher-scoring game, making draws less likely.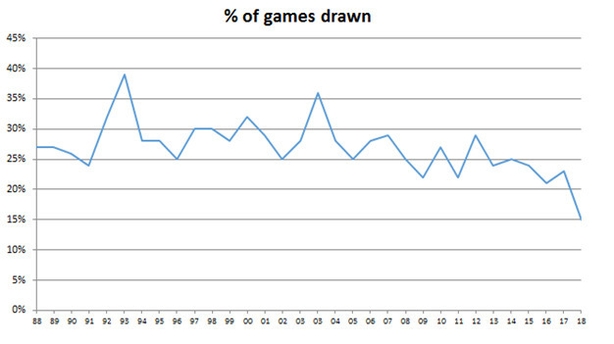 In the last six years the percentage of drawn games has not been below 25%. From 1983 to 2009 it only went below 25% twice and did not once between 1991 and 2009. This could indicate that more teams are taking risks to win games while they are level which would be a positive.
The average number of goals per game has been above 2.5 for every season since 2010.
That mark had only achieved once in the 22 years prior.
However, these additional goals could be due to another factor which also shows the reducing closeness in the league.
This season, 46% of games have been won by more than one goal. That is the highest figure of the summer era.
In the last three years it has been 41%, 43% and 43%. Only one other season in the summer era had a figure higher than 40% - that was 2011 when the historically poor Galway United squad conceded 115 goals and had some very heavy losses.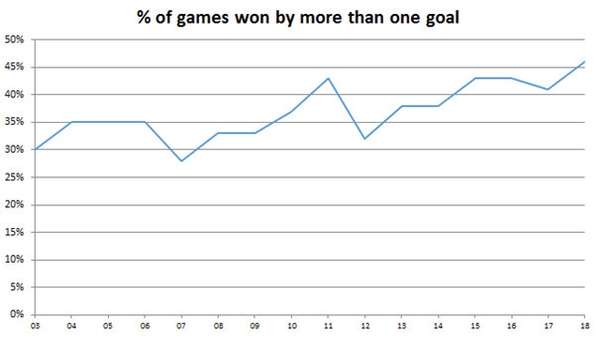 The gap from top to bottom is also widening. To get a realistic comparison we only looked at seasons with 30 or more games played per team which covers from 1988 to date.
We also assumed three points per win in the early years when this was not actually the case. The points gap from first place to last has been at least 50 points for each of the last six seasons - averaging 55.5.
In the 25 years before the average gap was 45.7 with only eight seasons above 50. The last three years in particular have produced the three highest differences across all 31 years examined – 63, 54 and a record 64 so far this season.
Unless Bray Wanderers can match the results of Dundalk in the final weeks, this will go up.
The average across those three years is greater than what is seen in the Scottish Premiership after its initial 33 games over the same period – a league typically seen as lacking in parity.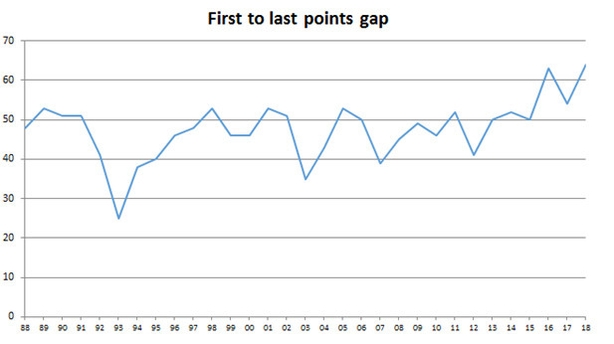 In terms of the difference in the average points of a top half team to a bottom half team, the gap has gone up in the last decade.
For this, we discounted the sixth place team in any 11-team seasons. Since 2008 the average difference has only gone below 25 points twice and one of those was the short 2012 season.
Between 1992 and 2004 the gap was never higher than 25.
Again Galway United's 2011 season created a spike with a 30-game season in 2012 causing the following drop.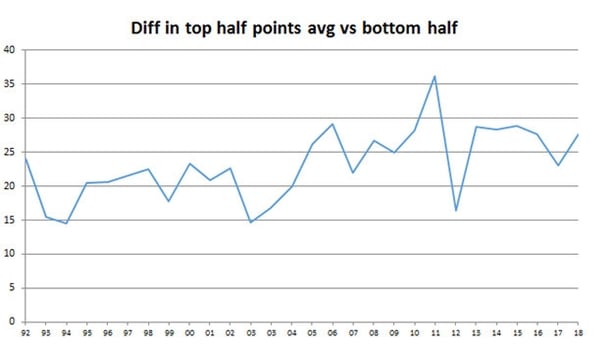 Finally, we looked at the year-to-year changes of which teams qualify for Europe.
We discounted UCD's qualification as it was not based on league position or a cup win (Fair Play award).
From 2004 to 2014 typically two of the four teams in Europe each year made it back the following year. Two did not. This has changed significantly.
The four teams who qualified for Europe in 2014 all made it back the following year. The next year it was three out of four and then all four again the year after.
This year Derry City will not make it back but three out of four was confirmed by Waterford taking their place.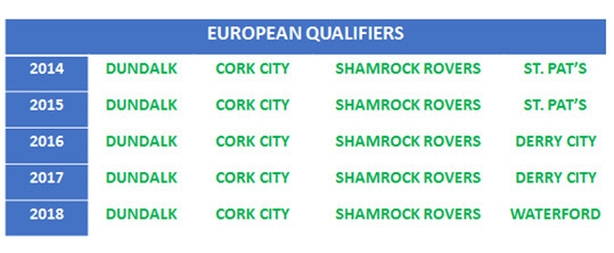 In addition to the SSE Airtricity League, similar results are happening in the FAI Cup. Cork City and Dundalk are now the first pair of teams to contest four consecutive finals.
Only twice before had the same teams met twice in a row (1932/33 and 1965/66).
Over the last ten years only nine different teams have made it to a final (Sporting Fingal, Sligo Rovers, Shamrock Rovers, Shelbourne, Derry City, St Patrick's Athletic and Drogheda United are the others).
This is the fewest for a decade since eight teams were finalists in the 1960s, but that was when there was much fewer teams in the league and Shamrock Rovers dominated with seven wins in eight years.
Previous decades had 10, 12, 11 and 12 teams making the final. Also, the teams on that list have won the last 14 EA Sports Cups.
So what happened in 2014? A huge increase in UEFA prize money.
When Pat's played in the Champions League in 2014 as champions of the previous year they were guaranteed a minimum of €225,000.
The following year Dundalk, without getting through a round, were able to earn €550,000.
That went up to €800,000 for Cork City this year – a 350% increase in just four years. And the new format actually saw them earn €1.2m in total thanks to dropping into the Europa League qualifiers.
In the Europa League a guaranteed minimum of €120,000 jumped up to €200,000 in 2015. As of 2018 that is now €240,000.
These are huge amounts to a League of Ireland club and are consistently going to the same few. And European rewards appear to only be on an upward curve.
Dundalk, Cork City and Shamrock Rovers have all used these funds to create a gulf in class to the rest of the league that only an outside injection of funds (as seen in Waterford) can hope to match.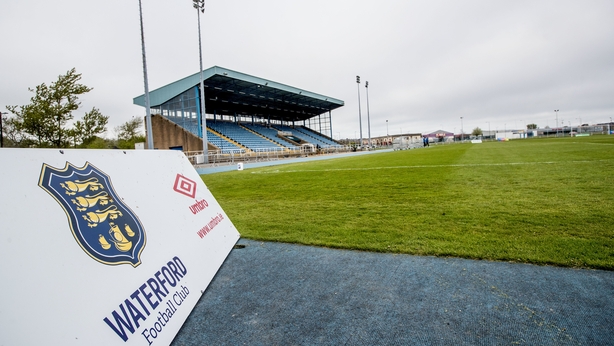 Bray Wanderers and Limerick have shown how difficult it can be to operate in a league where you are so far behind its best teams.
There has been a suggestion of removing league prize money from teams who qualify for Europe.
It would not even things out and nor should it but it could go a little way to having a more competitive league.
This week in Holland it was mooted that Ajax, PSV and Feyenoord would have 10% of their European prize money distributed throughout the league in order to maintain a competitiveness and this may be needed in Ireland.
It may not be popular with them but could be a decision necessary for the greater good of the league based on recent trends.