Harry Arter is back training with Ireland, bearing no psychological scars from his self-imposed international exile.
The Cardiff City midfielder – on loan from Bournemouth – made himself unavailable for last month's inaugural Nations League encounter with Wales as a result of, in part, at least, an altercation with assistant manager Roy Keane.
Time heals all wounds, some might say, and while there may still be an ill-fitting band-aid covering this particular wound, it must be said, the resolution has been remarkably effective.
Arter was back in green – albeit of the luminous lime green, training top variety – and once again lined up alongside the rest of the Ireland squad, easing into his warm-up routine as the first training session of the week commenced amid unseasonally pleasant autumnal sunshine in Dublin 4.
"I think he's absolutely fine," confirmed O'Neill, when asked did the midfielder bear any psychological scars from the short sojourn away from the squad.
"The two of them have been talking, they met up again last night. It's good to put any sort of rancour behind him. He and Roy have made up.
"It's good to put [the incident] behind him and it's nice to see him back."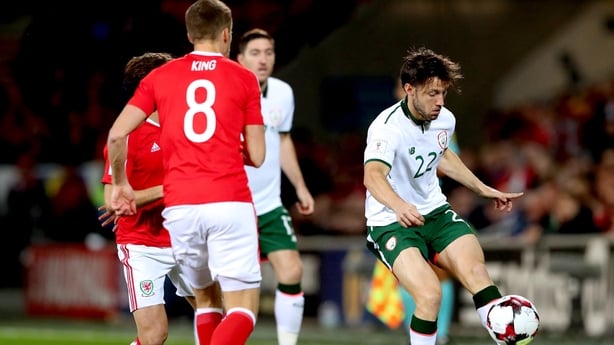 So with the Roy Keane business apparently done and dusted, the manager is evidently happy to see the return of one of his Premier League players, especially when both recent Wales' performances are looked at side by side.
Arter was instrumental in Cardiff at the back end of 2017 when Ireland fought their way to a well-earned 1-0 victory, while back in the Welsh capital last month, the Irish midfield was ripped apart as O'Neill's side were outclassed and outfought, losing 4-1 to Ryan Giggs' team.
The Ireland manager believes that the entire episode with Keane will stand to Arter in a positive sense and make him stronger for both club and country.
"I probably believe that it should make Harry stronger for it all," added O'Neill who is convinced that Arter will play with added purpose over the next two fixtures.
With any rancour now behind them @Corktod reports from the Irish camp ahead of two crucial games in the #NationsLeague #FAI #rtesoccer pic.twitter.com/UcrvUoxz5e

— RTÉ Soccer (@RTEsoccer) October 9, 2018
"If there is criticism coming your way, take it in some sort of spirit and attempt to prove someone wrong if the criticism is levelled at you, and if someone is praising you, then try to prove them right.
"In this case, I think Harry wants to do that – I think he wants to do it not just here, but in that Bournemouth were wrong to let him leave or certainly go out this year on loan, so he's got a bit to prove, which is great.
"I think players should always have something to prove, as we should as managers as well."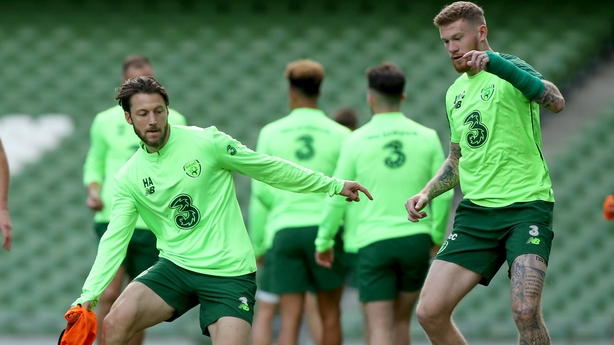 One player who has absolutely nothing to prove to the Ireland cause is James McClean, and while the main story of Arter-gate revolved around player and assistant manager, the Derry native was happy to have his say on such matters.
"I'd tell Harry myself that I don't agree with it," said McClean.
"You'd have to put a gun to my head for me to not show up and play for Ireland."
But the real message from McClean was that he was 100 per cent behind Arter in affairs of the team.
"I'm pleased to see him back," said McClean. "Obviously, he's a good lad. He's a good player. At the minute, we need all the good players we can get. The morale in the squad is good. It's always been good.
"He's here to play for his country. As long as he's here, he's got my full backing."
McClean is another who missed the Wales hammering and another who proved most effective in the last visit to Cardiff as the left winger scored the vital goal in the 1-0 victory.
But since that memorable night in Cardiff, there has been a couple of not-so-wonderful results as Ireland went from a 1-0 positive aggregate against their Nations League opponents to a 9-2 negative over the last two outings.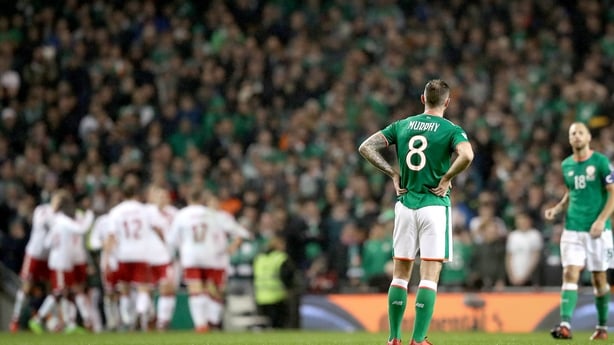 "Nothing is going to right the wrongs of that night (against Denmark), especially given what was at stake," said McClean, when asked was Saturday's fixture a grudge match of sorts.
"It was a night that cut very deep, it was very painful, they went on to the World Cup at our expense.
"No matter the result on Saturday, it won't right the wrongs of that night. That's gone. We have to let that go."
The Stoke City midfielder did admit that Ireland had something to prove over the next seven days to bounce back from the two "pastings" that they have received from Denmark and Wales.
"We're up against two good sides. Two sides who in the last two games gave us a pasting. So we've got something to prove, especially to ourselves."
To finsh, McClean was asked for his views on the Nations League, prompted by Liverpool manager Jurgen Klopp's comments ridiculing the competition.
"We're here to play for our country. It doesn't matter whether it's a friendly, a UEFA Nations League game or a qualifier. It means something, well to me anyway," said McClean.
"I couldn't care less what Jurgen Klopp says, to be honest. I'm here to represent Ireland. And that means everything."