Those of us who harbour great reservations about social media can only look back on the past couple of days and wonder if we could survive without it.
On Wednesday, Manchester United captain Antonio Valencia apologised for liking an Instagram post which called for manager Jose Mourinho to be sacked.
The 33-year-old, reported to have fallen out with Mourinho, was in the team for Tuesday's 0-0 draw with Valencia in the Champions League, after which he liked a picture of himself which had the caption: "It's time for Mourinho to go".
The Ecuadorian later wrote he liked the post "without reading the text". He must be trigger happy.
So what about Declan Rice? Before we get to Twitter, let's reflect on what happened on Thursday.
Republic of Ireland boss Martin O'Neill said that no decision had been made on the international future of Rice, and that more time was needed.
"I've spoken to Declan and the family. They want a little bit more time to make his mind up. He hasn't made a decision yet. I am hopeful," he said.
However, speaking from St George's Park the same morning, Sky Sports reporter Rob Dorsett said: "My understanding is that Declan Rice has decided his future, internationally, lies with England rather than the Republic of Ireland."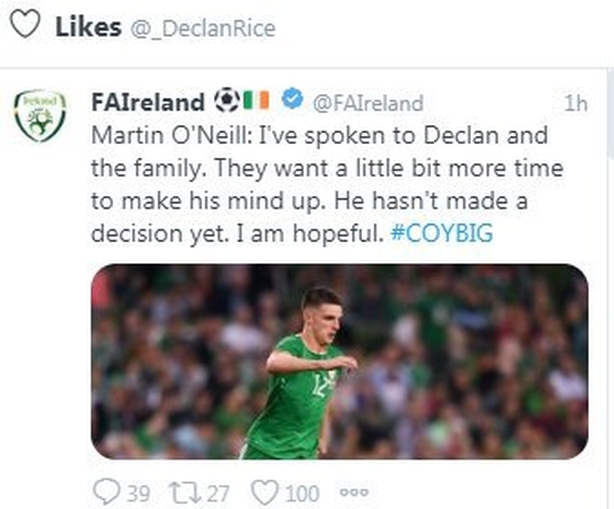 O'Neill then had to respond. "I'm told that Sky are going to change it [the report]," said the Derryman.
"Young Rice couldn't have rejected our call-up because we never called him up. If you have information that I'm unaware of then I'll have to go and check it through."
Then it got strange. In an FAI tweet, O'Neill was quoted as saying he'd spoken to Rice and his family and had agreed to give the 19-year-old more time to make up his mind.
Rice liked the tweet - such joy in Ireland! - only to unlike it some time later. More despair!
If Irish fans and media came across as rather desperate when they saw he was not in the squad for the Wales game, that is because they were.
We have little in the way of hope. Even our Under-21s seem to lack any really exciting top-level talent.
What is demoralising is that Rice's stock has risen pretty rapidly even since the Wales game. He was excellent in matches against Chelsea and an admittedly out of sorts Manchester United in a holding midfield role for West Ham United.
Essentially, he looks like the player we want and need but do not have: a top-notch Premier League performer with potential to go on to even bigger things. Unfortunately, England boss Gareth Southgate does not need reminding of that and we have to question O'Neill and assistant Roy Keane in how we got to this situation.
It is almost exactly a year ago since we played Moldova and, notwithstanding our limitations, this was a qualifier we expected to win.
Martin O'Neill talks to journalists, including @Corktod, to deny reports @_DeclanRice has declared for @England #RTEsoccer pic.twitter.com/1opoSZJwzi

— RTÉ Soccer (@RTEsoccer) October 4, 2018
Could O'Neill not have taken the most calculated of 'gambles' – if you even want to call it that – and brought Rice in, thereby ensuring he could not transfer to England?
It is hard to know what Southgate was thinking at that time, even if Rice was obviously still - at that stage - potentially an England international. Since then, England made a World Cup semi-final, Southgate has bemoaned the lack of home-grown talent in the Premier League and Ireland have regressed into something of a shambles.
Without even touching on the dire football O'Neill and Keane have us playing, we had the embarrassing results against Denmark and Wales, neither of which was as shocking as the Stephen Ward WhatsApp audio.
So Rice can now play for England, enhance his worth and transfer value, and enjoy a nice calibre of football. 
Or, stay with Ireland, with a team clearly lacking quality and consisting of players who don't get on with our assistant manager.
It doesn't look like a tough choice.