"Teenage dreams so hard to beat," once bawled Fergal Sharkey and the Undertones.
Liam Miller signed for the famous Celtic football club as a youth. A few years later, the mighty Manchester United came calling. And as his career reached its latter stages, the local lad returned home to play with the Rebels of Cork City.
From a footballing perspective, every aspiring youngster in Ireland could only dream of a career like Miller's.
Champions League football, the bright lights of England's Premier League and perhaps the greatest honour of all, lining out for his country – a senior international debut against the Czech Republic, Miller would play 21 times for Ireland.
A combative central midfielder, Miller spent his professional career in the engine room in whichever of those jersey donned his shoulders.
Yet little did he know, that his final battle would come so soon after hanging up the boots - tragically so.
Liam Miller died from cancer in February of this year. He was just 36-year-old and left behind a beautiful young family.
The #LiamMillerTribute match has taken place in Cork, reports @PaschalSheehy #rtesoccer #rtegaa pic.twitter.com/9O4ak1EUK4

— RTÉ Soccer (@RTEsoccer) September 25, 2018
Naturally, a tribute match was arranged, and Turner's Cross sold out in a matter of minutes.
Then the idea was then mooted to play the match at the majestic and newly developed Leeside stadium, Páirc Uí Chaoimh.
For all that Miller achieved in the game, he could never have imagined that such was his popularity in his home town that the match's momentum would melt the hearts of the GAA, who, to their credit, agreed to host the first ever soccer match at the stadium.
And if that would have surprised Miller, the fact that the venue would quickly sell out would certainly have shocked.
And so it happened.
"It's a crazy world," – belted Aslan singer Christy Dignam, as live music welcomed the many who arrived early to celebrate the life of the former Manchester United midfielder.
Three hours ahead of kick-off, all roads out of the city led to the home of Cork GAA for this historic and most special of occasions.
There was no work to be done in the Rebel County this afternoon, and judging by the crowds of Manchester United and Celtic-clad coffee drinkers in the service station just outside Fermoy, it was a similar scenario throughout the country.
The level of football that was about to be produced was perhaps not deemed newsworthy, and with a packed post-match schedule for the travelling players and management, the press conference was unusually slotted into the itinerary ahead of the game.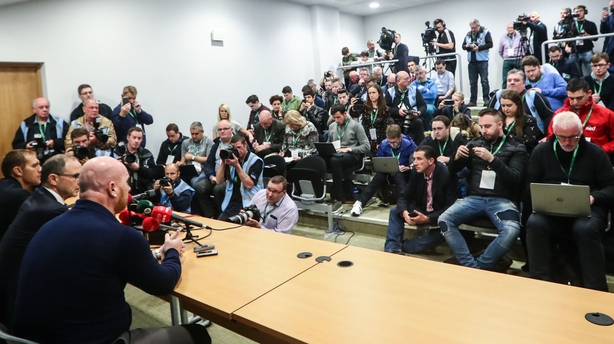 Martin O'Neill would lead the Ireland/Celtic one, flanked either side by two of Miller's former team-mates, who both had their own personal struggle with illness.
John Hartson and Stiliyan Petrov faced similar struggles at the end of their footballing careers as both players were diagnosed with cancer. Thankfully, both lived to tell the tale.
Hartson talked about how he spoke with Liam just a few weeks before he died and said that his former team-mate was ready for the fight, before adding that cancer does not discriminate.
Petrov spoke about the support he got through his own illness and sent a message to anyone who is in a similar situation, saying that today's game was the players' way of sending their support to all cancer patients.
O'Neill spoke fondly about his former player, admitting that he will always remember Liam as a young man at Celtic.
The Ireland manager felt that Miller could have turned into a better player if he had stayed at Celtic a bit longer, as he was learning from great players like Henrik Larsson.
"But it was his decision, and I respected that," added O'Neill.
The manager was then, perhaps insensitively, asked about Declan Rice.
That talk was for another day, said O'Neill, and thus ended the first part of the press conference.
Next up was a very relaxed looking Roy Keane with fellow international-management sparring partner Ryan Giggs, and another lad who may or may not have been David May.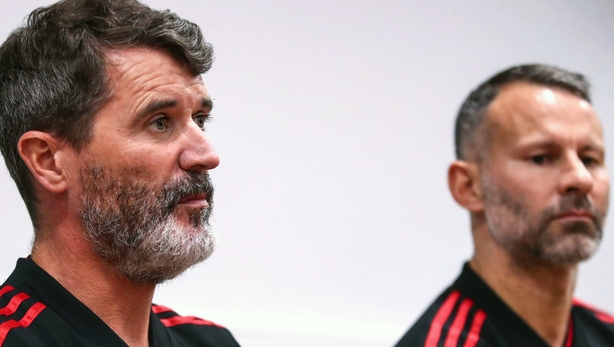 While Ryan Giggs looked as though he could still give a greyhound a run for its money, former centre-half May appeared to be enjoying life since retiring.
The self-deprecating answers brought some welcome humour to the occasion.
Roy being Roy, didn't heap too much praise on all those who had answered the call, stating that they would give it there all, "for the first three minutes".
But ultimately you could sense the gratitude that he was offering to all those who did turn up, stating that it was one thing being great players, but much more important to be great people and friends.
The match lived up to its expectations, in that we expected to see players who were a former, well-fed shadow of themselves running around at medium pace, with the inevitable comedy fallover occurring on more than one occasion.
O'Neill had laughed earlier that they had to widen the roof to get some players in, but spare a thought for the poor groundsperson whose turf had never experienced such heavy trodding.
The pace throughout, even those early enthusiastic stages, was naturally pedestrian, while the sombre atmosphere was gradually replaced by a more celebratory mood with a lively rendition of that old football classic, "Ole, Ole, Ole, Ole" ringing around the ground.
Gary Neville would prove the pantomime villain, as the former Manchester United defender got roundly booed upon his first touch– the now television pundit stopped and comically looked to the bench as if to say, "you said they'd be nice, Roy."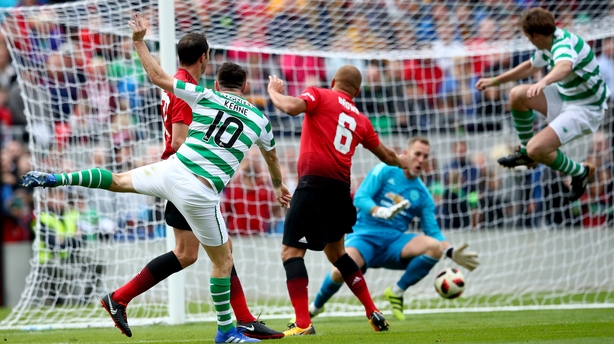 But so it continued, as we got to, once again, see the majestic Ian Harte stroke the ball around with that left-foot wand of his – still in fine fettle as it you would expect.
Robbie Keane looked like Robbie Keane; lively, tricky and very hungry in and around the penalty box – he would get his goal later in the first half.
Nicky Butt, Paul Scholes, Ryan Giggs – a midfield missing a man.
Miller of course, was more than able to hold his own in such company.
Another man of the middle decided to sit out the start – Roy would arrive for the second act.
The opening goal came moments after Butt was chopped down inside the box.
Several red jerseys were sniffing around, looking to relive some of their former glories, but there was only one man who would be allowed to take this particular spot-kick.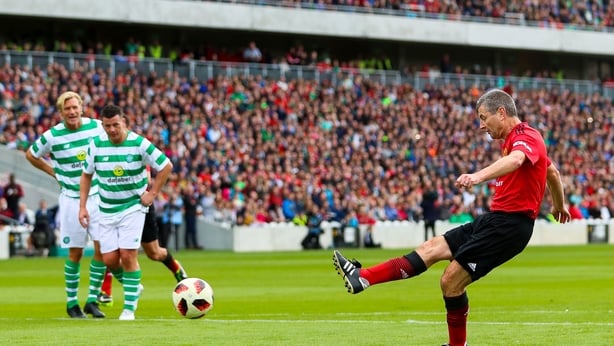 Another returning Rebel, Denis Irwin, was summoned by the 40,000-plus crowd, and if you ever watched Man United's Mr Reliable take a set-piece, you'd know the outcome.
Remarkably, it was 25 long minutes before one of the old pros gave the signal to the bench – Johan Mjallby would have been short odds, and he duly obliged.
Half-time approached and the smell of the food stalls was evidently drifting down to pitch-side – the lads had put in a shift and they had earned their oranges, and crisps and Mars bars, no doubt.
The famous red and amber colours of Liam Miller's schoolboy Éire Óg GAA club brightened up proceedings at half-time.
Two makeshift pitches constructed on either side of this most spacious playing area.
A strange idea in the planning of this event perhaps, yet it actually proved to be a very well-worked and worthwhile exercise, as either side of the stadium was treated to a lively game of football and hurling/camogie.
A great day for the club and the children to get to run out in front of a full house at this great Cork arena, and perhaps a future Liam Miller was out there enjoying his or her native game, before heading out into the world of professional football.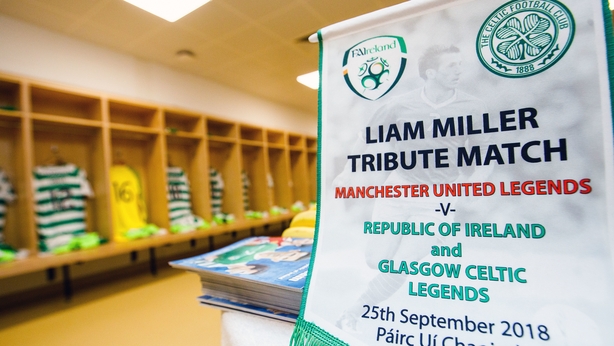 Back out for another 45 – the Celtic/Irish XI had changed strip and were now clad in the famous green Ireland jersey.
More new faces as Colin Healy, Kevin Doyle, Graham Kavanagh, Andy Reid and others entered the fray, while Dion Dublin was out to lead the line for Manchester United.
But the biggest cheer of the afternoon was reserved for the man who made it all happen.
There was already one Keane-o on the pitch but these decibels were certainly aimed at the man in red who marched onto the pitch with around 30 minutes left to play.
The Ireland assistant has endured a tough time of things over the past month on the international front.
But that's up there in that Dublin.
A football match in a special surrounding was the celebration of Liam Miller's life for almost 45,000 people today. @corktod reflects on the day's events. pic.twitter.com/yih8HRgzDf

— RTÉ Sport (@RTEsport) September 25, 2018
Down here in the "real capital" the man can do no wrong, which was quite evident outside the stadium earlier on, when almost every young lad and lassie enthused about the prospect of seeing Roy Keane in action.
The match was respectfully level at 2-2 as the game reached its final stages and the prospect of a penalty shootout gave the crowd an added level of enthusiasm as a Mexican wave rolled around the stadium – possibly another first for a GAA arena.
The penalty shoot-out was duly served up – it looked like a scene from Korea 2002 to be brutally honest.
The special occasion ended with a lap of honour by both sides to the soundtrack of that famous Celtic football anthem, sung by Gerry and the Pacemakers.
Up on the big screen at the city end of the ground, Liam Miller's image looked down on proceedings.

You'll never walk alone, Liam.