Jose Mourinho accused his Manchester United side of taking their foot off the gas and ignoring "the basic law of football" after they were held 1-1 at Old Trafford by a tenacious Wolves.

Having strung together wins over Burnley, Watford and Young Boys, United seemed to be finding a groove but were brought back down to earth by a sluggish display in front of the returning Sir Alex Ferguson.

They were comfortably second best in the opening exchanges but took the lead after 18 minutes when a classy, instinctive pass off Paul Pogba's instep teed up Fred for his first goal in English football.

The Brazilian's crisp finish lifted United but not sufficiently to make the game safe and Wolves grabbed a deserved point in the second half when Portugal midfielder Joao Moutinho curled a fine finish past David De Gea.

The afternoon started with a heartfelt ovation for Ferguson, back in the directors' box for the first time since undergoing brain surgery in May, but it was the travelling support who were celebrating by the final whistle.

A frustrated Mourinho said: "Not a good performance, not a good result. But a fair result.

"They (Wolves) play like I like to play which is like the World Cup final. That's the attitude I like my teams to have every match. We didn't have that, they did.

"They play every ball with every second with the maximum intensity and desire and we didn't.

"This is something you learn when you are a kid in the academy, you don't need experiences at the highest level to learn that."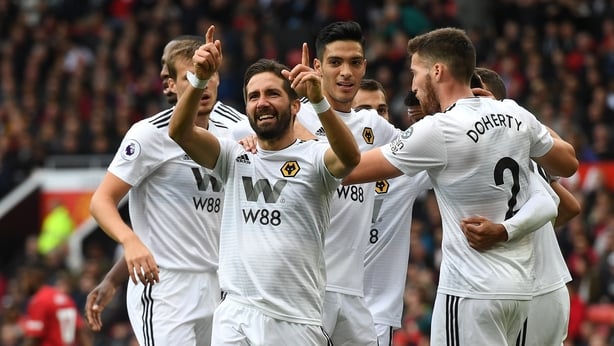 Mourinho bristled at a suggestion that senior players had let him down, happily spreading the blame far and wide.

Only his redoubtable goalkeeper De Gea, without whom United would surely have been staring at a first defeat in the fixture since 1980, will feel able to rise entirely above the criticism.

"It's not about the biggest names, it is my team. And I expect my team to play better than we did," the manager continued.

"It is a basic law of football, you have to play at the maximum of your potential, unless you are playing in such a weak league against such weak opponents where playing at 30 percent of your potential is enough. We all know that is not the case.

"I can't explain difference of attitude because I never had a difference of attitude. For me is difficult to explain that."

Wolves boss Nuno Espirito Santo, who once played under Mourinho at Porto, cut a satisfied figure at the end of the match but cautioned against hubris.

His side sit comfortably mid-table with nine points from six games in their first season back among the elite but he declined to indulge the away fans' chants of "Nuno's the special one".

"It's not easy to come to Old Trafford - a fantastic club, fantastic players, fantastic manager - and OK, we did it, but let's improve," he said.

"Let's get better so we can play every week like this. What we want now is to work harder than we did before because we have another game on Tuesday and again on Saturday."