Former Republic of Ireland boss Mick McCarthy says Roy Keane is getting too much attention as the assistant manager of the national team.
The ex-Millwall and Wolves coach was in charge of Ireland from 1996 to 2002, and took the Boys in Green to the World Cup in Japan and South Korea.
Famously, Keane and McCarthy fell out on the eve of the tournament but subsequently made up.
Recently it has been Martin O'Neill's number two who has been making the news with details of a row between Keane and players Harry Arter and Jon Walters leaked.
"It's like Roy Keane's Ireland. It's bonkers, in my view," McCarthy said in an interview at a Paddy Power event with former Ireland international Eamon Dunphy.
"He should be assisting Martin O'Neill. It shouldn't be Martin having to mop up anything else that's going on.
"Me and Roy have had our issues, of course, but I'm not in there with him, I don't see what's going on.
"All I will say is this, he's the only assistant manager in the whole of the world who gets this much publicity, nobody else. TC [Terry Connor], my assistant [at Wolves and Ipswich] never got a mention."
McCarthy also revealed more details of what happened before the 2002 World Cup.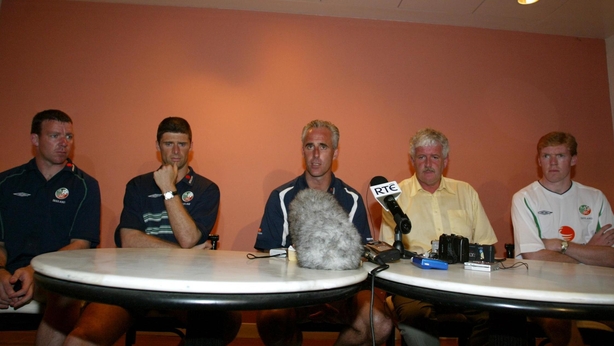 "The pitch [in training base Saipan] wasn't great. It was horrible," he said.
"The surface was crap, the kit didn't turn up. That was it.
"I took them to Saipan for a holiday. Seriously. We went there for four days, and I let them off on the piss for two nights.
"I was not bothered about the surface. We were going to Isamu, and I'd been there and inspected that, they were five-star facilities.
"So all we had to do for four days was go and have a little kickabout on the shitty pitch, and then we'd go to Japan to prepare.
"That was my modus operandi. If I didn't let them go on the piss there, they would've done it in Japan. So I let them have a blowout, before we go, then we're down to the serious business."
McCarthy, who ended a six-year spell as Ipswich boss earlier this year, added that he would love a chance to take charge of the team again.
"If their contracts came to an end in two years' time and the job is available and I'm out of work, I would love it again," he said.
Ireland's next games are against Denmark and Wales in the Nations League in October.